A Snapshot Of Innocence
Condé Nast Traveller India
|
August - September 2020
A grandparents' home remains a treasured place in the mind.
I can close my eyes and be there in an instant. I am 12, sitting in the front seat of my grandparents' powder blue classic Hindustan Ambassador, windows rolled down, sunlight and a steady, fresh breeze pouring in. The car ambles along narrow streets, cuts through lush rice paddies and then follows the railway tracks that lead into town, making its way to Dutta Bagan, my grandparents' house in Dibrugarh, Assam.
The chauffeur, Nasim, is at the wheel, never going more than 40kmph on my grandpa's express instructions. In the backseat are my mother and sister, sitting with Dadubhai (grandpa) who picked us up from Dibrugarh's Mohanbari Airport. He is dressed in one of his signature grey safari suits that he wears on days he sees patients at his clinic. None of us is particularly chatty, but the smiles on our faces are a clear indication of just how pleased we are to be there with each other.
It was the summer of 2000, and we were on our annual break to visit my grandparents. None of us knew then that this would be our last time here.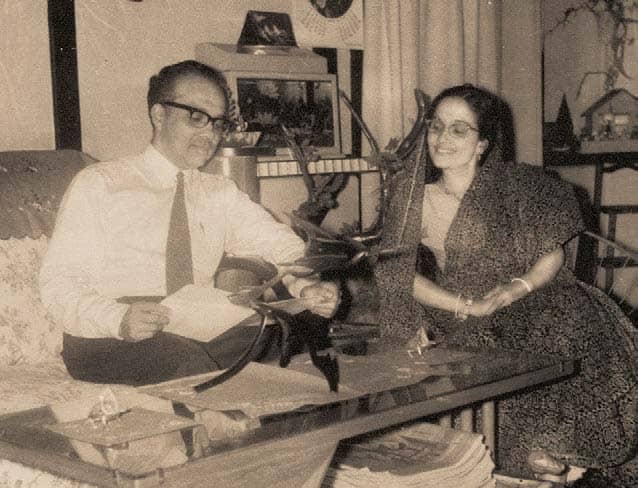 Few places leave such an impression that even years later, a familiar sensation triggers a memory so powerful that you are transported back to that place in time. A familiar texture of tablecloth takes you to your grandparents' dinner table; a whiff of freshly cut grass and you're back to a childhood game of tag with your cousins; the taste of raw mango overwhelms you with memories of spicy mango pickle like only your grandma could make; the sight of Phantom candy cigarettes in a corner-shop display feels like the end of summer break because your uncle would buy them for you at Mohanbari Airport.
You can read up to 3 premium stories before you subscribe to Magzter GOLD
Log in, if you are already a subscriber
Get unlimited access to thousands of curated premium stories, newspapers and 5,000+ magazines
READ THE ENTIRE ISSUE
August - September 2020