Caravan clinic
Caravan & Outdoor Life
|
June - July 2020
Our expert answers your technical questions & gives camping advice
CARAVAN CLEAN UP
Being an avid caravanner/camper, as well as enjoying detailing my cars, I decided to try out my skills on my 17-year-old Gypsey Rapier – and was very impressed with the results.
Car detailing is a painstaking process which involves the thorough cleaning, polishing, and buffing of all the external and internal surfaces, as well engine externals with the aim of making it look better than new. The benefit of this is the protection of your investment from decay and degradation.
Basically, I used good old Handy Andy, Meguiars shampoo, and Meguiars ceramic polish. I also used an assortment of microfibre towels, a microfibre mitten, soft brush, and a bucket of clean warm water. A good spray nozzle for a garden hose is sufficient for cleaning. A high-pressure sprayer is not recommended as it could damage the soft exterior.
The process involved a thorough rinse to remove all loose dirt and grime. Thereafter, an initial wash with the car shampoo was undertaken. The textured finish of the sides makes it difficult to remove surface oxidation and dirt. The paint finish needs care as an abrasive cleaner would scratch or remove the paint.
This is where good old Handy Andy outshines the rest. Using a soft brush, microfibre towel, and a bit of elbow grease, the surface oxidation was easily removed bringing the paint colour back to original, without any damage.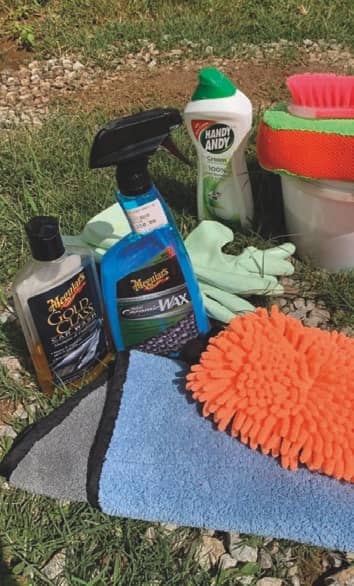 A good cleaning with Handy Andy also helped to expose areas where the caulking/sealant had come away and would eventually lead to the ingress of water and dirt, and, worst of all, wood rot.
The last process, after a thorough rinse and dry, was the application of Meguiars ceramic polish. The ceramic polish provides an excellent barrier against pollution, oxidation, as well as minor scratches. Additionally, it brings the colour alive as the silicon dioxide ceramic particles interact with the light.
It's a simple process of spraying it on. Usually, the process involves simply spraying the ceramic coating on the surface and then hosing it down with water – allowing it to disperse over the surface on its own. However, on a first application, it is recommended to apply by hand.
Being blue, it was easy to see that the surfaces are sufficiently coated. Thereafter, using a microfibre mitten, the polish was spread over the entire surface and finally buffed with a clean microfibre towel.
The finish is amazing and it's hard to say the Gypsey is actually 17 years old. So, detailing one's caravan is a worthwhile and rewarding exercise.
Thanks for the great magazine and happy birthday for your 60th.
Wayne Holt
Many thanks for a great letter and kind wishes! I'm going to give this a try!
You can read up to 3 premium stories before you subscribe to Magzter GOLD
Log in, if you are already a subscriber
Get unlimited access to thousands of curated premium stories, newspapers and 5,000+ magazines
READ THE ENTIRE ISSUE
June - July 2020