Navigating The New Normal
Business Traveller UK
|
September - October 2020
We're offering this story for free to read so that you can stay updated on the COVID-19 outbreak
Robot cleaners, health screening and contactless technology – here's how the coronavirus pandemic is reshaping the airport experience
As border restrictions begin to ease, airports and airlines are looking to restore confidence in travel. To use corporate speak, they are "redesigning the passenger journey".
Before Covid-19, there was already a push for technology to help speed us through the airport – self-service check-in, for instance. Now, with the added incentive of minimising interaction between staff and passengers, that momentum has become even stronger. (Airport and airline executives talk a lot about "frictionless" travel. Unfortunately, Covid-19 has also introduced lots more friction.)
A word, first, about whether travel at such a time is a good idea at all. Some people will not return to travelling until a vaccine has been found, but most are looking for reassurance. In an IATA (International Air Transport Association) survey in July (see box overleaf ), travellers identified concerns such as queuing at check-in/ security/border control and boarding, and said Covid-19 screening at departure airports would make them feel safer.
For those potential passengers, there is a recognition within the travel industry that for confidence to return, there needs to be a consistent approach to the various protocols that have been put in place.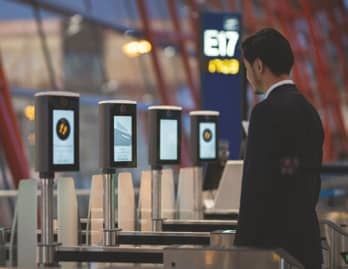 IATA has been lobbying governments to avoid quarantine restrictions, promoting what it calls a "layered approach of measures" at airports and national borders. "There are policy alternatives that can reduce the risk of importing Covid-19 infections while still allowing for the resumption of travel and tourism that are vital to jumpstarting national economies," says Alexandre de Juniac, IATA's director general and CEO.
One of IATA's suggestions is to discourage passengers from travelling if they are unwell. It says airlines are helping to make this possible by offering travellers flexibility when booking, allowing them to adjust dates and avoid being penalised if they do not fly at the original time.
It also says health screening should take place "in the form of health declarations" and encourages measures which many airports have introduced including temperature checks, which may, in turn, "act as a deterrent" to those who might otherwise consider travelling despite feeling ill.
For travellers coming from countries perceived to be higher risk, IATA advocates considering Covid-19 testing prior to arrival at the departure airport – a measure adopted by France, Austria and Iceland – with documentation to prove a negative result, so as not to add to airport congestion and avoid the potential for contagion in the travel process. It admits that for this to be viable, "tests would need to be widely available and highly accurate, with results delivered quickly. Test data would need to be independently validated so as to be mutually recognised by governments and securely transmitted to the relevant authorities."
In addition, IATA is promoting the "Take-Off " guidelines published by the International Civil Aviation Organisation (ICAO). These include mask wearing throughout the travel process, sanitisation, health declarations and social distancing where possible. Here's a closer look at how Covid-19 is changing airports around the world, including some of the initiatives being put in place.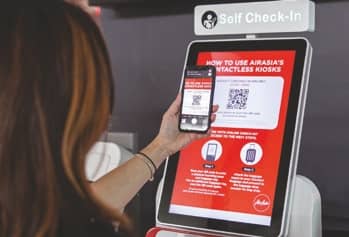 LOW-TOUCH TRAVEL
It looks as though the coronavirus crisis could speed up the adoption of technology that offers a low-touch or even touch-free airport experience. Many airlines are introducing contactless kiosks and payment systems so that passengers can check in and make purchases without touching anything.
For those airports hoping that technology will provide the answer, the risk is increased congestion if passengers aren't used to the technology or it breaks down. One solution may be that a lot of the activities that happen across airports could entirely be pushed out of terminals in the future, according to Sumesh Patel, president of Asia Pacific at SITA, an IT company that provides services to the air transport industry. An early example is the way that physical check-in desks have been partly replaced by online or mobile services.
You can read up to 3 premium stories before you subscribe to Magzter GOLD
Log in, if you are already a subscriber
Get unlimited access to thousands of curated premium stories, newspapers and 5,000+ magazines
READ THE ENTIRE ISSUE
September - October 2020