LITTLE ITALY
Business Traveller UK
|
September - October 2020
The lesser-known northeastern region of Friuli Venezia Giulia boasts unspoiled vistas and sail-friendly waters
Each time we rounded a blind corner on the Strada Costiera – the spectacular coastal road that winds around the Gulf of Trieste, where sharp cliffs drop into the turquoise waters of the Adriatic Sea – our driver would sound his horn three times. "For good luck", he told us; a tradition of the Triestini community in this northeastern enclave of Italy.
Little did we know, as we took in the vista, that just a few months later that luck would run out. Initially the European epicentre of Covid-19, Italy has seen over 35,000 deaths, though the highest number of cases were located in the northern region of Lombardy, miles from Trieste. Following a strict early lockdown and subsequent contact-tracing and safety measures, the country has bounced back before its neighbours, opening up in May and, at the time of writing, seeing a low rate of new infections. Tourism will be crucial to its economic recovery, and it is hoped that autumn will replace the lost summer of 2020.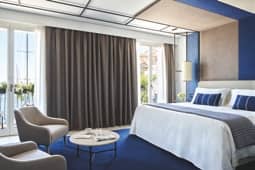 The autonomous region of Friuli Venezia Giulia, in which Trieste is nestled, will also be planning to tempt visitors back – and, in that, it will be aided by its picturesque setting and rich cultural heritage. Describing this cosmopolitan area merely as Italian would be doing it a disservice. Bordered by Austria to the north, Slovenia to the east and Italy's Veneto region to the west, it is steeped in the traditions of its neighbours. Trieste, as its capital, has been fought over for centuries – once part of the Habsburg Empire, it was handed to Italy in 1918, subsequently occupied by Germany during the Second World War and then divided between Britain, the US and Yugoslavia before returning to the Italians in 1954. Today, the region is a melting pot of nationalities, reflected in its mixture of neoclassical Austrian architecture and Venetian canals.
You can read up to 3 premium stories before you subscribe to Magzter GOLD
Log in, if you are already a subscriber
Get unlimited access to thousands of curated premium stories, newspapers and 5,000+ magazines
READ THE ENTIRE ISSUE
September - October 2020