THE FUTURE OF TRAVEL IN THE MIDDLE EAST
Business Traveller Middle East|April 2020
THE FUTURE OF TRAVEL IN THE MIDDLE EAST
Transport
SUSPENDED SKY PODS
The #OnlyInDubai hashtag rings true when you consider the emirate's forward-thinking plans for public transport. Dubai's Roads and Transport Authority (RTA) recently signed an agreement with UK-based BeemCar Ltd to develop sky pods, a futuristic urban mobility system that operates on steel wheels moving on suspended rails. There are two Dubai Sky Pod project models: the Unibike can accommodate up to five riders, travel at 150km/hr and carry 20,000 people per hour and the Unicar can carry up to six passengers for a distance of up to 200km at a maximum speed of 150km/hr and support around 50,000 riders per hour.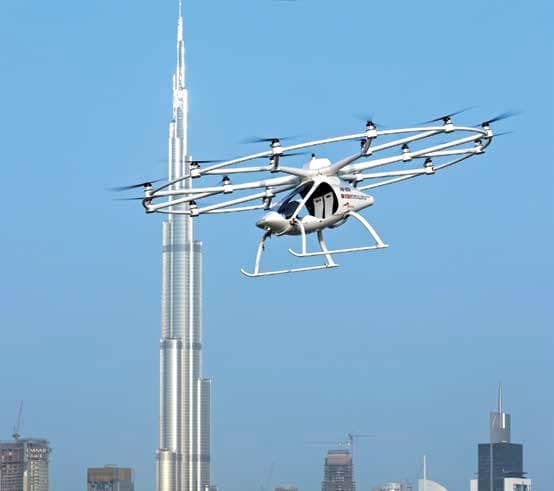 AUTONOMOUS VEHICLES
By 2030, 25 per cent of all trips in Dubai will be smart and driverless. That's the goal of the Dubai Government, which has already successfully rolled out Dubai Metro, one of the largest self-driving public transportation systems globally. The emirate is also trialling driverless buses, taxis and even the Volocopter – the world's first unmanned air taxi (pictured).
DESIGNER AIRPORTS
The Red Sea Airport will be the gateway to one of the world's most unique resorts, Saudi Arabia's Red Sea Project, and integral to the visitor experience, according to the British architectural firm behind its concept, Foster + Partners. Its design will be inspired by the colours and textures of the desert landscape to give passengers a sense of place and to take them on a calm and luxurious journey through the terminal. Smart technology and building systems, with a focus on conserving energy, will also be a focus and reflect the modernisation of the kingdom. When completed, the airport will be able to handle one million passengers annually, but designed to feel like a small terminal with intimate and luxurious spaces. The airport aims to achieve a LEED platinum rating and will be powered by 100 per cent renewable power.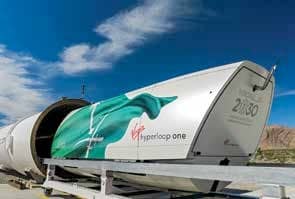 HIGH-SPEED HYPERLOOP
Saudi Arabia could be the first country in the Gulf to pioneer a new hyperloop network to move people and cargo around the kingdom at speeds exceeding 1,000 km/hr. The Ministry of Transport recently signed a deal with Virgin Hyperloop One (VHO) to conduct a ground-breaking pre-feasibility study on the use of hyperloop technology in the country. The study is the first to be carried out at national level anywhere in the world and will examine viable routes, expected demand, anticipated costs and socio-economic benefits. Talks are under way to create a 'Connected Gulf ' network that could see journey times of under one hour between key cities. A Jeddah to Abu Dhabi trip, for example, would take just 48 minutes. The autonomous system would be 100 per cent electric, have zero direct emissions, leveraging solar panels covering the hyperloop tube, and could move close to 45 million passengers annually.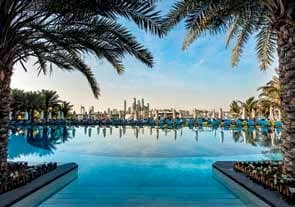 Lifestyle destinations
ULTRA-ALL-INCLUSIVE, ALL-EXCLUSIVE
You can read up to 3 premium stories before you subscribe to Magzter GOLD
Log in, if you are already a subscriber
Get unlimited access to thousands of curated premium stories and 5,000+ magazines
READ THE ENTIRE ISSUE
April 2020