Carry-On In Comfort
Business Traveller Middle East
|
September 2020
As travel resumes, fresh ideas for luggage and accessories will come along for the ride
With global travel at an all-time low, luggage was bound to follow. Brands, such as Away and Samsonite, continue to reel in the wake of the damage wrought by the novel coronavirus as travel bookings saw a near 90 percent plunge.
However, those in the know also know that good luggage does not go out of fashion. Well-made travel accessories can outlast pandemics, recessions, shut-downs and delays, and will be ready to roll with stylish ease and inventive efficiency once the going gets going again.
At the 2020 Travel Goods conference held in the pre-pandemic days of March, the luggage innovations were out in force offering solutions to travellers who, at the time, were jet-setting more than ever and needing convenient answers from the luxury end, as well as the everyday luggage lines.
Whereas in past years, the conference was dominated by smart luggage embedded with trackers, chargers, and drivers that turned bags into handsfree rollies that follow owners around the airport, and other bags that would morph into small transport vehicles with seats, this year's lot proved to be lower key.
The focus was one of usability and functionality rather than splash – which proved to be a good move as countries around the world began to shut down.
"We definitely have seen a hit in sales but luckily we offer everyday bags and goods and that has made it easier for us to stay afloat," said Jacob Durham, co-founder and CEO of Nomatic, a boutique line of smart-looking travel packs, camera bags and roll-on luggage in the midpriced range. "Our mission since we launched in 2014 has been simple: function, innovation and quality, and that has kept us going."
The company backs that up with a no-questions-asked exchange for any defects and also with an affordable three-year extended warranty that allows easy exchanges for any damage a customer might do to a bag for what basically amounts to the cost of a scone and latte at Starbuck's.
While the company is doing business online and partnering with such companies as Best Buy for distribution, Durham says he sees a shift for this year, although he remains confident that travel will return with force, and with it, the joy of upgrading one's luggage.
"Pre COVID, our customers were traveling at least every month if not more. But now as people are not yet comfortable getting on planes, travel is shifting to car trips so investing in bags is not so much on people's minds. This will change, especially as business travel comes back. Then people will be looking for the right bags with the right look, feel and weight, with all the smart pockets in the right place," he says.
At the travel goods show, several interesting and innovative luggage options stood out from the crowd and could be seen as solutions toward smoothing the discomforts of travel – whatever route that travel might be taking.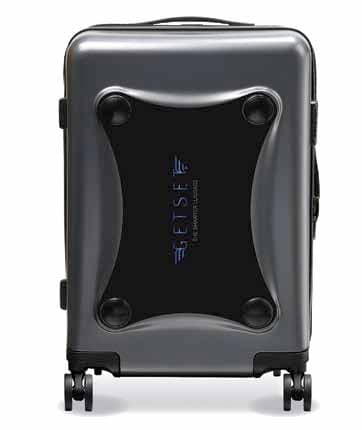 1. GETSET
The Problem: You arrive at the check-in counter at the airport with luggage in tow and prepare to check that bag in when the check in attendant tells you your bag is overweight and you owe an extra $100 on that ticket.
You can read up to 3 premium stories before you subscribe to Magzter GOLD
Log in, if you are already a subscriber
Get unlimited access to thousands of curated premium stories, newspapers and 5,000+ magazines
READ THE ENTIRE ISSUE
September 2020