Airlines Sweeten the Upgrade
Business Traveler
|
September 2015
Global carriers are making major investments at the front of the plane to bring in more of those precious highend passengers.
Advances in premium cabin product tend to follow a predictable trajectory; more real estate, improved seclusion from other passengers, larger IFE screens, new gastronomic concoctions, all tastefully accessorized with a sprinkling of designer-name amenity kits and lubricated with tip top bubbly.
The current and imminent pick of premium inflight offerings and product enhancements doesn't disappoint, and it's not surprising. The quest for consolidating passenger loyalty and upping the competition is unceasing. Now, there's an additional factor in the mix — Premium Economy. This ubiquitous oxymoron proliferating at the rear of the fuselage has been snapping at the heels of business class, propelling the quality and specification of front-of-house offerings to even loftier altitudes.
But before we hit those enormous reclining seats, let's kick off with some food for thought.
A Taste for Travel Food and travel have always been delectably symbiotic: Foodies love to travel, and passengers love their food; hence the rise of culinary tourism to the far flung corners of the world. When it comes to onboard catering, social media is a decisive catalyst driving competition and ingenuity. The trending habits of passengers Instagraming, Snapchatting, Tweeting and Facebooking photos of the food they encounter at 30,000 feet has brought about an increased consciousness of the diversity, quality and presentation of what airlines are serving. A great piece of culinary creativity can go viral. But by the same token, if your onboard sommelier's recommendation doesn't quite hit the spot,that cabin WiFi could be relaying an online rant to that passenger's network before touch-down.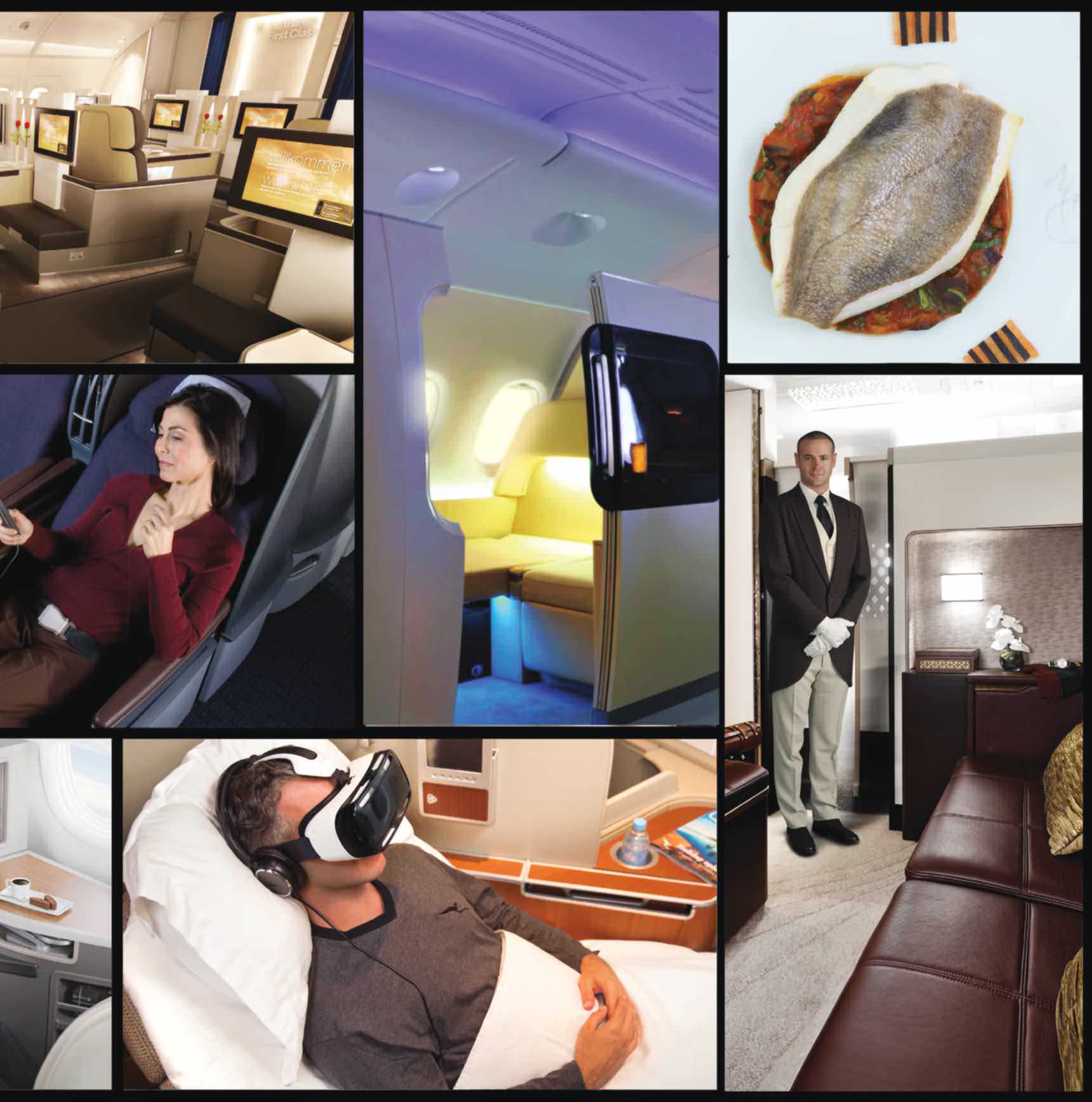 Social media and culinary tourism are pushing airlines to be creative, responsive and to devise palettable points of differentiation and brand engagement. One example: All Nippon Airways. First class passengers on flights from North America have recently been experiencing orange-flavored dressing using tomatoes from Fukushima.
"So what?" you might ask. But here's the thing: It's all part of the airline's 'Tastes of Japan by ANA' campaign which focuses the light of the rising sun on many of Japan's more esoteric locales, from Fukuoka to Toyama. A pre-flight visit to their website at ana.co.jp/tastesofjapan/en/ outlines the exotic dishes on offer, the prefecture from where they originate, and the aircraft cabin/lounge/route combination on which they're available.
Airline branding pioneer Singapore Airlines also enlists regional flavors with "Singapore Heritage Cuisine" this summer as the carrier celebrates the nation's 50th birthday. "Peranakan food" – on which the promotion is based – "is a unique blend of Southeast Asian and European cultures that have evolved over centuries into a cuisine that is subtle, sophisticated and complex. It truly reflects our heritage," explains SIA's celebrity food consultant Shermay Lee, owner of the eponymous Shermay's Singapore Fine Food.
During September, premium passengers can 'Book the Cook' to order Ayam Buah Keluak, Itek Siow or Nonya Pork Satay. Book the cook is SIA's specially curated menu concept enabling premium passengers to ensure their favorite meal will be on their flight. (Remember to preorder at least 24 hours before departure.)
One of the key challenges in replicating onboard the gastro delights that are available in terrestrial-based eateries is having the right equipment in the kitchen. But as Julie Jarratt, Cathay Pacific's communication manager Americas explains, the airline came to grips with galley technology before many of its competitors:
"In first class, Cathay was one of the first airlines to have rice cookers, toasters and skillets on board our aircraft, enabling our flight attendants to prepare freshly steamed rice, toasted bread and eggs cooked to passengers' liking. Also in first class, our passengers can dine à la carte by choosing when they prefer to eat."
You can read up to 3 premium stories before you subscribe to Magzter GOLD
Log in, if you are already a subscriber
Get unlimited access to thousands of curated premium stories, newspapers and 5,000+ magazines
READ THE ENTIRE ISSUE
September 2015