The View at The End
Backpacker|May - June 2020
Three scientists chronicle life, death, and the last stand of the Grizzly Glacier.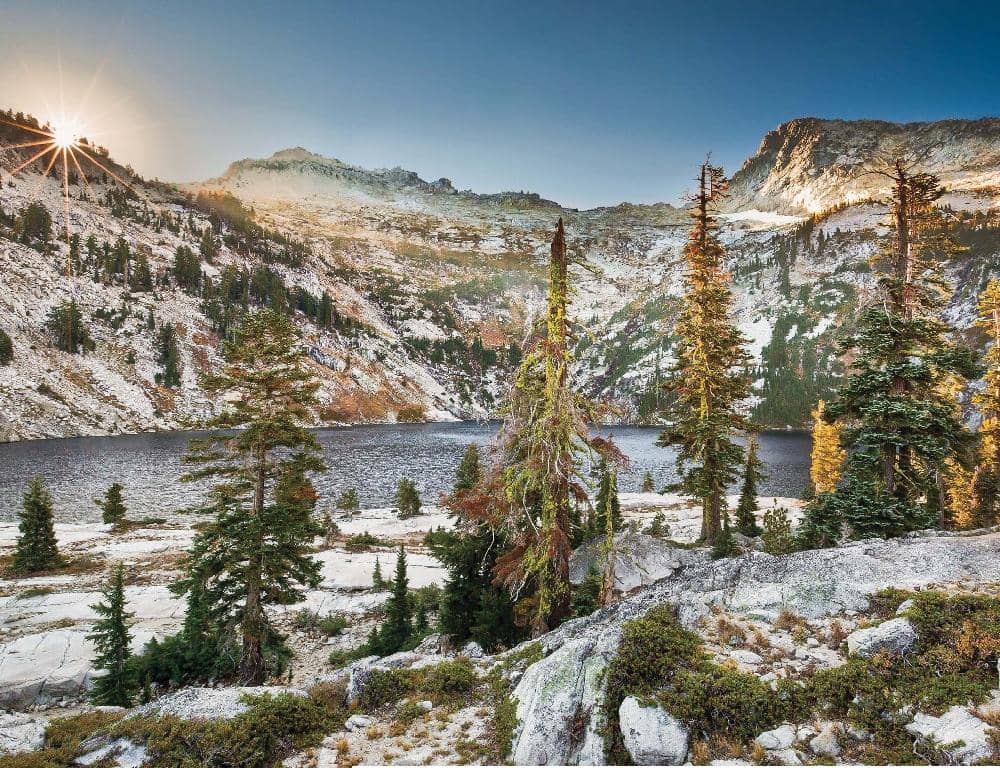 Usually, geology is a slow drama, large and impersonal, unfolding over millennia. On the evening of September 12, 2009, however, the movement of rocks and ice sped up crazily on the steep slope of Grizzly Glacier, 8,000odd feet above sea level in the remote Trinity Alps of northern California. It was as though the cacophonous sound of frozen blocks crashing and the low grinding of ice against bedrock granite was a geologic symphony directed at a single man.
Justin Garwood, a wildlife biologist, was camping solo at the foot of the glacier that night, just uphill from Grizzly Lake, a deep reservoir of glacial melt. He was 35 years old and days removed from completing his master's thesis, which involved censusing an amphibian, the Cascades frog, in the high lakes of the Trinity Alps, a subrange of the Klamath Mountains that sprawl across an area the size of Maryland.
Garwood is a fervent believer in field science, so that even then, on a six-day Klamath Mountains backpacking trip conceived as an escape from the rigors of thesis writing, he was keeping a journal whose neat all-caps block lettering revealed a hunger to imbibe and decipher the wonders of the natural world. "Here," the journal reads, "the stream is very low gradient and sinuous with small cobble substrate. … On the third low gradient shelf is a grove of quaking aspen. ... Last frog seen @ 2135M elevation."
Garwood was strolling the edge of the glacier when he heard the first crash. "It was a shock, like a train going by when you didn't know it was coming," he says now. "It was a heavy, loud, bassy boom coming from deep within the ice." At 6:14 p.m, Garwood grabbed a sweat-stained scrap of paper from his pack and wrote, "1814 Huge Boom," for he knew that he was witnessing something momentous. Glaciers calve, chunk off, and collapse in on themselves all the time, but not like this. The Grizzly Glacier was sounding off, as if raising the alarm that it was beginning to die, like so many glaciers are now. And for Garwood, climate change isn't some nebulous, nefarious force; it's something he can see at the end of a trail.
The Grizzly, which is today still a glacier covering roughly four acres, likely first began to form in about 1300 AD, when the warm climes of the medieval period ceded to what geologists now call the Little Ice Age. First, snow lingered all summer, then the snow compacted, and soon (geologically speaking) it met the official definition of the word "glacier:" It became a single mass of slow-moving ice. When the Little Ice Age ended in about 1885, the Grizzly was 60 acres in size, according to a 1960 paper by Robert P. Sharp, a geologist at the California Institute of Technology. It soon began to diminish. Then, in the 1970s, as the grotesque warp of climate change took hold, the Grizzly's diminution accelerated. In 1972, it covered 15 acres. By 1994, it was down to 11. Soon—almost certainly within the next 50 years—it will break apart and stop moving. It will become just a snowfield. The exact timing of the Grizzly's endgame is unclear, though. "We can predict when a turtle will die, because there are so many turtles," Garwood says. "But we can't do that here. This is a unique situation. The microclimate around every glacier is localized."
Garwood is tall and scruffy, with blue eyes and a hint of white in his sideburns. When he hiked into Grizzly Lake basin in 2009, it was almost as though the world was on fire. The preceding winter had been scant on snowfall; the summer had been warm. And now it was the end of the alpine snowmelt season, which is when glaciers move most. He didn't expect to hear the Griz groan, but he was ready to record its death rattle nonetheless. "1822 Small Crack," he wrote. "1825 Big Crack."
Over the next three hours, until he curled into his sleeping bag at 9:14 p.m., he heard the glacier sound 30 more times. "Big Crack," he wrote. "Small, Small, Small … Big Boom. .. End."
Garwood's documenting was rooted in his devotion to the Klamaths. He grew up in Trinity County, California, and first ventured into the Trinity Alps in 1987, on a seventh-grade field trip that saw several students—not him—floating their own private icebergs out onto a cold lake. He attained both his undergrad and master's degrees at nearby Humboldt State University and came to regard the Klamath as "one of the most beautiful and biodiverse places on the planet." He is now so attuned to the range that in his free time he is, for Backcountry Press, co-editing a 400page book, The Klamath Mountains: A Natural History, due out next year.
Professionally, Garwood, now 45, is a herpetologist and fish specialist for the California Department of Fish and Wildlife. The book project is extracurricular for him, as is his continued focus on Trinity Alps glaciation. For the past decade, with the help of two fellow wildlife biologists, Garwood has returned to the Alps nearly every year to map with GPS both the Grizzly and a static snowfield a kilometer to the east, that was, until 2015, rightly called the Salmon Glacier. The trio has also studied satellite imagery of the glaciers and shot their own aerial photos from planes. Their work, scheduled to be published this spring in Northwest Science, yielded a fine-grained, incremental look at two glaciers in their death throes.
The Northwest Science paper comes at a pivotal time. Last year, in a letter to the journal Nature, 15 of the world's leading earth scientists noted that, between 2006 and 2016, nine of the earth's 19 glaciated regions lost between .5 and 3 percent of their ice volume every year. "Under present iceloss rates," they wrote, "most of today's glacier volume would thus vanish in the Caucasus, Central Europe, the Low Latitudes, Western Canada and the USA, and New Zealand in the second half of this century."
Garwood's paper delivers the same rigor and precision, but it is not the work of professional glaciologists. It's an amateur production, a labor of love, and as such it suggests a new way of looking at climate change: What if all of us moved beyond our apocalyptic, big-picture take, beyond our fixation on the Greenland Ice Sheet and faraway islands in the Pacific, and instead focused on the incremental changes transpiring in the places we love?
Paying attention to nearby nature requires us to look up from our computers and phones. We won't unmelt the planet doing it, but we could at least render the changes affecting our earth more tangible, more personal. We might even feel a little less paralyzed by climate change's ominous force.
Like almost everyone else, I 've tended to think of climate change in terms of headlines about the latest wildfires. I wanted to register it on the ground. I wanted, also, to see what's likely in store for the majority of the at least 200,000 glaciers scattered across the earth's seven continents. So perhaps hypocritically, I upped my carbon footprint last September and flew all the way across the country, from my home in New Hampshire to the California coast, to meet up with Garwood and his two coauthors—Michael van Hattem and Ken Lindke, who also work at CDF W—for a three-day backpacking trip to Grizzly Glacier and Salmon snowfield.
"YO, ARE THE BEERS on ice?"
"Where'd you get those sweet binocs, dude?"
"How many miles this car have on it, anyway, Woody?"
We're wending a long back roads, traveling four hours east from Arcata, California, to the incredibly remote Klamath wilderness. Slumped in the back seat of Garwood's weary 2002 Toyota 4Runner and snacking on beef jerky, Michael van Hattem will spend the majority of the journey zinging wry insults up toward the driver's seat. "Woody's always got an ulterior motive," van Hattem says, invoking Garwood's nickname as he laments his friend's proclivity to turn every backpacking trip into a laborious exercise in field research. "There's no such thing as chilling with Woody."
Forty-six years old with a medium build and a salt-and-pepper beard, van Hattem is the most famous of my three co-travelers, being a CDFW enforcement specialist who frequently shows up in the media to excoriate criminals who have, say, stolen a rare coastal succulent, Dudleya farinosa, to sell in Asia. Beside van Hattem in the back seat, Ken Lindke—who is 41, black-haired and bearded—is the team's data cruncher and tech specialist.
You can read up to 3 premium stories before you subscribe to Magzter GOLD
Log in, if you are already a subscriber
Get unlimited access to thousands of curated premium stories and 5,000+ magazines
READ THE ENTIRE ISSUE
May - June 2020