Heading to a Greek Island With No Reservations
Backpacker|December 2015
A sure way to make a two-week vacation more exciting? Bring a backpack but no plans. On a Greek island trek, Senior Content Editor Rachel Zurer learns the best adventures are the ones you don't expect.
EVEN MY TOES ARE TENSE AS I SIT ON A ROCK AT THE EDGE OF OUR CAMPSITE, WAITING FOR MY HUSBAND DANNY TO FINISH LOADING HIS PACK SO WE CAN FINALLY START WALKING.
Our fourth day of backpacking around the Greek island of Crete will be our longest yet with at least 11 miles and 4,000 feet of elevation gain, I have no idea where we'll be able to sleep tonight, we have only enough food for lunch, we're running out of money, and the few other people heading our direction left an hour ago, like sensible hikers.
I try to calm down by focusing on my breath, the trees overhead, the sound of the waves lapping the beach 50 yards away. This campsite, in an olive grove just outside the village of Agia Roumeli, is basically paradise. Yesterday was the kind of perfect day we imagined when we decided to take a hiking vacation to Crete's southwestern coast: an exquisite balance of nature and culture, of hard work and relaxation. We woke up in a tiny town accessible only by boat or foot that looked like something out of a Greek Islands calendar, all white-washed walls and blue shutters. After a morning dip and breakfast in a café, we loaded all our gear on our backs and walked an 8-mile wilderness trail along the coast. Just as we were thinking it might be nice to stop to eat lunch, we passed a tavern on the beach, next to a Byzantine chapel. The tavern wasn't open for the season yet, but the owner still scrounged us a small Greek salad to share, some crusty bread, and one stream-chilled beer. We ended our walk at this spectacular free campground in Agia Roumeli, also only served by trails and boats. We arrived after 5 p.m., just in time to see the ferry disappear with the swarms of tourists who finished the popular day-hike down Europe's longest canyon, 10-mile Samaria Gorge. With them gone, we found a sleepy hamlet. We ended the day with a swim in the 70°F sea and a lavish meal at a tavern that served fresh, local fish, goat cheese, tomatoes, cucumbers, and eggplant.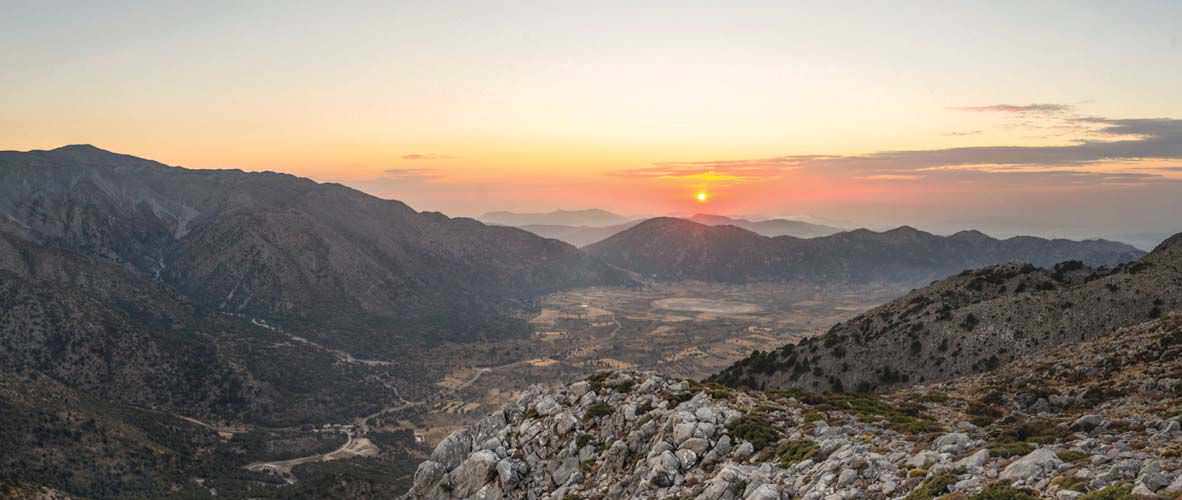 Yesterday I was having the time of my life. But today, the full weight of our decision to forgo all planning for this vacation crashes over me in waves of anxiety that no glorious yesterday can soothe. My eyes laser into Danny's back as he applies sunscreen in slow motion. Of course he's perfectly calm and happy. He's the go-with-the-flow half of our relationship. This whole no-plans thing was his stupid idea.
Danny has many great qualities. He's smart, funny, and kind, to name a few obvious ones. But when it comes to our attitudes about moving through time, it's like the universe brought us together just to annoy each other. I set an alarm on the weekends so I can get to the optimal yoga class, then make a list of the relaxing, fun things I want to make sure to fit into my leisure time. He wakes up whenever, and then decides what he feels like doing. Thinking back, it makes total sense that he did some of his first backpacking trips in Denali, where your only choice is to show up and get assigned a trail-less zone to explore; you couldn't map out your route ahead of time if you wanted to. Even though he was a beginner, he forged in with gusto and had many adventures thanks to his willingness to embrace uncertainty and trust that it would all work out. I, on the other hand, once got named "Queen of Plan Ahead and Prepare" by the conservation corps crew I worked with and spent formative months in Yellowstone, where you sleep in designated campsites you reserve in advance— just the way I like it.
For the nearly 10 years Danny and I have been backpacking together, we've mostly done things my way: each day's mileage and elevation change carefully choreographed in advance, each night's campsite Googled for beta and waypointed into the GPS. It's worked out fine. Great, in fact. Thanks to my affinity for planning, we've seen sunrise over a volcano-ringed lake in Guatemala, trekked amid lions and elephants in South Africa's Kruger National Park, and wandered a full week in the Canyonlands' Maze District without schlepping our water.
But my way has had its downsides, too. The process of planning often stresses me out, especially because I have a hard time getting Danny to provide input on my early-bird timeline. And once we have a plan in place, I can turn into a grump about sticking to it, at the expense of enjoying where we are or adapting to conditions I could never have predicted.
I know all this, and I know change is good for a person, and I like experiments. So as this trip approached and I sat surrounded by guidebooks and overwhelmed by choices and frustrated that Danny didn't want to get into the nitty-gritty with me, I was perhaps more receptive than usual to the idea he threw out one night: "What if we just don't plan it? What if we don't book any hotels, don't map out our route, don't talk to a guide, and just let it unfold as we go?"
You can read up to 3 premium stories before you subscribe to Magzter GOLD
Log in, if you are already a subscriber
Get unlimited access to thousands of curated premium stories and 5,000+ magazines
READ THE ENTIRE ISSUE
December 2015