Catalonia Dreaming
Backpacker
|
November - December 2019
Last fall, a BACKPACKER team traveled to northeast Spain to explore one of Europe's undiscovered adventure centers: Catalonia. We planned a route to hopscotch through the best of the peaks and foothills on a seven-day trek that crossed mountain passes, ancient villages, and pastoral countryside. Everyone came away with a favorite story to tell. By the Editors
IN THE ZONE
Explore the alpine for endless vistas, mountains galore, and a touch of class. By Stasia Stockwell
WE STEP OUT of our shuttle van and onto the sloping streets of Boi—a tiny mountain village a few hours north of Barcelona. The skies are blue overhead, the temperature is comfortably warm, and we've got 7.8 miles and 3,000 feet of elevation gain between us and our camp for the night: a stone refuge tucked in some of Spain's most scenic mountains in Aigüestortes i Estany de Sant Maurici National Park.
The late-fall daylight is burning, so we lace our boots at a trailhead inside the park and begin our trek through the craggy peaks, rolling hills, and open pastures of Catalonia.
Our local guide maintains a sunset-beating pace as we climb from a subalpine forest to an exposed saddle above treeline. At the top, we gaze over a small, crystal blue alpine lake, the maroons and golds of fall's fading foliage, and sweeping views of Les Encantats: twin peaks that jut up from the valley floor, making a gunsight-perfect notch that's blushed with the season's first snow.
I'm seeing possible tentsites everywhere, but wild camping is prohibited here—and everywhere in Spain—so we press on. Daylight softens into dusk, and we arrive at our stone mountain refuge at headlamp hour. We're tired but not too tired to indulge in a bottle of Spanish red wine and a three-course meal prepared by the refuge host.
As I sip the last of my dessert liqueur and massage my quads, I think to myself that by swapping a nylon shelter for a stone one, the Catalonians got something very right.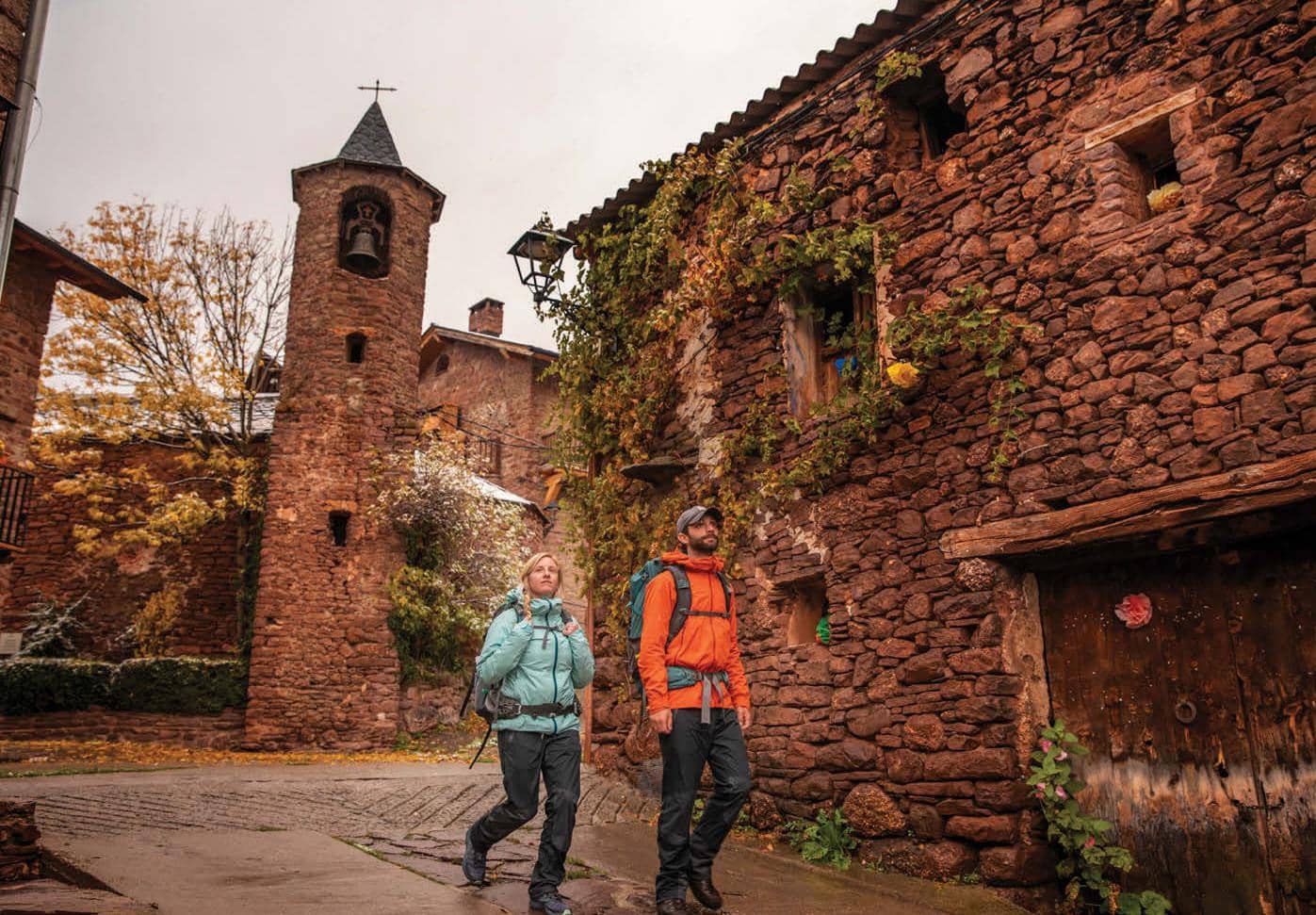 INDOOR/OUTDOOR HIKING
Trek through villages that still have one foot in the past. By Dennis Lewon
THE CHURCH WAS LOCKED. No surprise, really. It was late afternoon in a small village that has only a handful of full-time residents and no full-time clergy. Still, I was disappointed. Not because of any sudden need to pray. I was simply struck by the elegance of the stone construction, the classic bell tower, and the way the building sat both in the middle of Llagunes and on the edge, overlooking the green folds of the Siarb Valley. Even with no one around, the centuries-old church was clearly the heart of the village, which has no stores, no restaurants, no cafés.
From a distance, Llagunes, which we hiked to on day three of our trek, looks like it's painted red, so colorful are the rocks used to build the village. The 8-mile trail from the riverside town of Sort to Llagunes ascends modestly along a creek, skirts crumbling stone walls, and passes through the forests and agricultural fields that dominate the foothills of the Pyrenees. In truth, it wasn't very dramatic scenery— which is exactly why I loved it.
Don't get me wrong: I like alpine terrain as much as the next hiker, and I was glad our route took us through the high country on the previous two days. But one of my favorite things about trekking in Europe is walking the in-between zones—the obscure trails used only by locals, and which weave in and out of villages that were established when footpaths were the main form of travel.
You can read up to 3 premium stories before you subscribe to Magzter GOLD
Log in, if you are already a subscriber
Get unlimited access to thousands of curated premium stories, newspapers and 5,000+ magazines
READ THE ENTIRE ISSUE
November - December 2019