ALMOST FAMOUS
Thanks to COVID-19, big-name national parks are drawing larger crowds than normal this year, leading to busy trails and hard-to-get permits. So skip 'em and set your sights on these sleeper alternatives instead. Not only will you still nab beauty to rival any national park, but there's a good chance your social distancing will extend for miles and miles.
SIERRA SKYLINE
SKIP Half Dome, Yosemite National Park, California HIKE Mt. Ritter, Ansel Adams Wilderness, California
A permit to summit Half Dome is practically currency in California (also, the famed chunk of glacier-ground granite is on the state quarter), but 13,150-foot Mt. Ritter is the true king of the peak-rich Eastern Sierra. This pyramid blends moderate scrambling with snow-slope trekking up the Southeast Glacier, all nestled in a wilderness far off the tourist radar. The 20-mile out-and-back starts by climbing 1,100 feet into a deep granite bowl that cups the summit-reflecting waters of Ediza Lake. Meadows freckling the western shore make for excellent camping (choose an impacted spot). Next day, ascend to a dark glassy volcanic saddle, bookended by Mt. Ritter and Banner Peak, the latter a favorite subject of Ansel Adams. Hopscotch to the left of the grassy ledges before ascending class-2 granite slabs that dump you at the base of the glacier. Secure your crampons and kick step up the crevasse-free snow toward the summit. You can see the entirety of Yosemite to the north—but far enough away that no cables or crowds mar the view.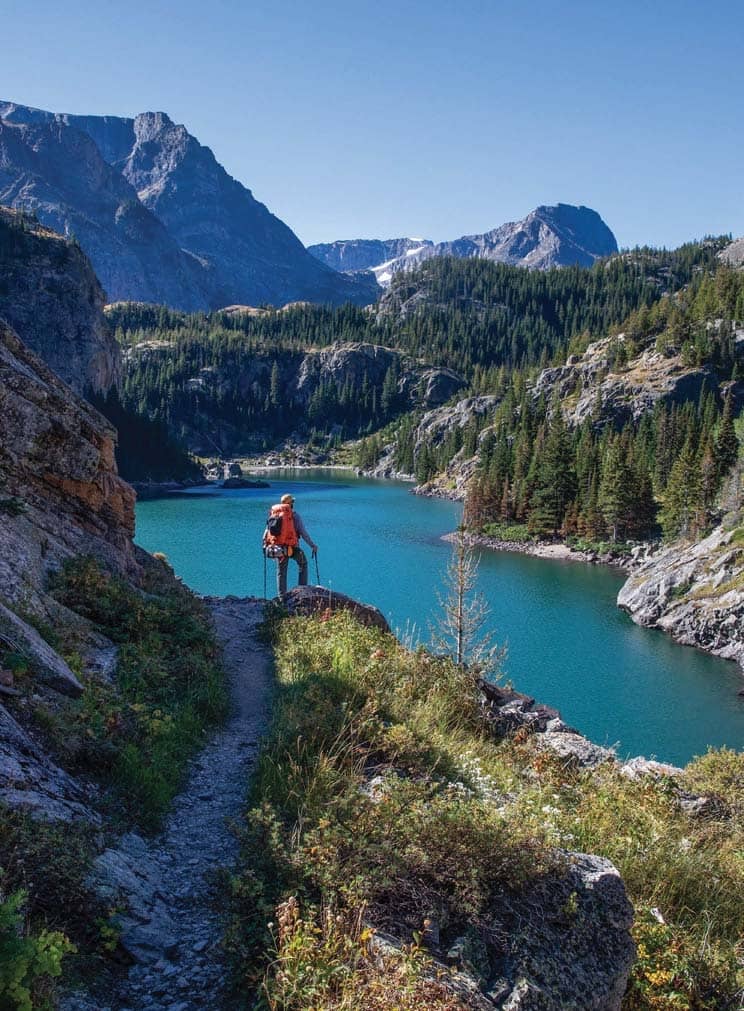 TAKE A PASS
SKIP Gunsight Pass Trail, Glacier National Park, Montana HIKE The Beaten Path Trail, Absaroka-Beartooth Wilderness, Montana
The sharp peaks and mesmerizing lakes of Glacier National Park are safeguarded by limited permits on the most popular hiking route in the park. So venture off the beaten path to, well, The Beaten Path Trail. On the 26-mile point-to-point between East Rosebud Lake and Cooke City, the path dances around cerulean waters teeming with rainbow and cutthroat trout, like Rainbow Lake at mile 8 (camp here). Waterfalls plunge toward enchanted shorelines, the most impressive of which can be found at mile 12's Impasse Falls near Duggan Lake. At roughly 16 miles, Fossil Lake (the high point of the trek at 9,750 feet) appears as a world-class foreground to some of the behemoth Beartooths, including 12,779-foot Granite Peak, the tallest in the state. How do you soak in so much beauty? Spread the trip over at least four days. Then you can slow down to take full advantage of the huckleberry-laden shrubs (fruiting July and August) on your hike out.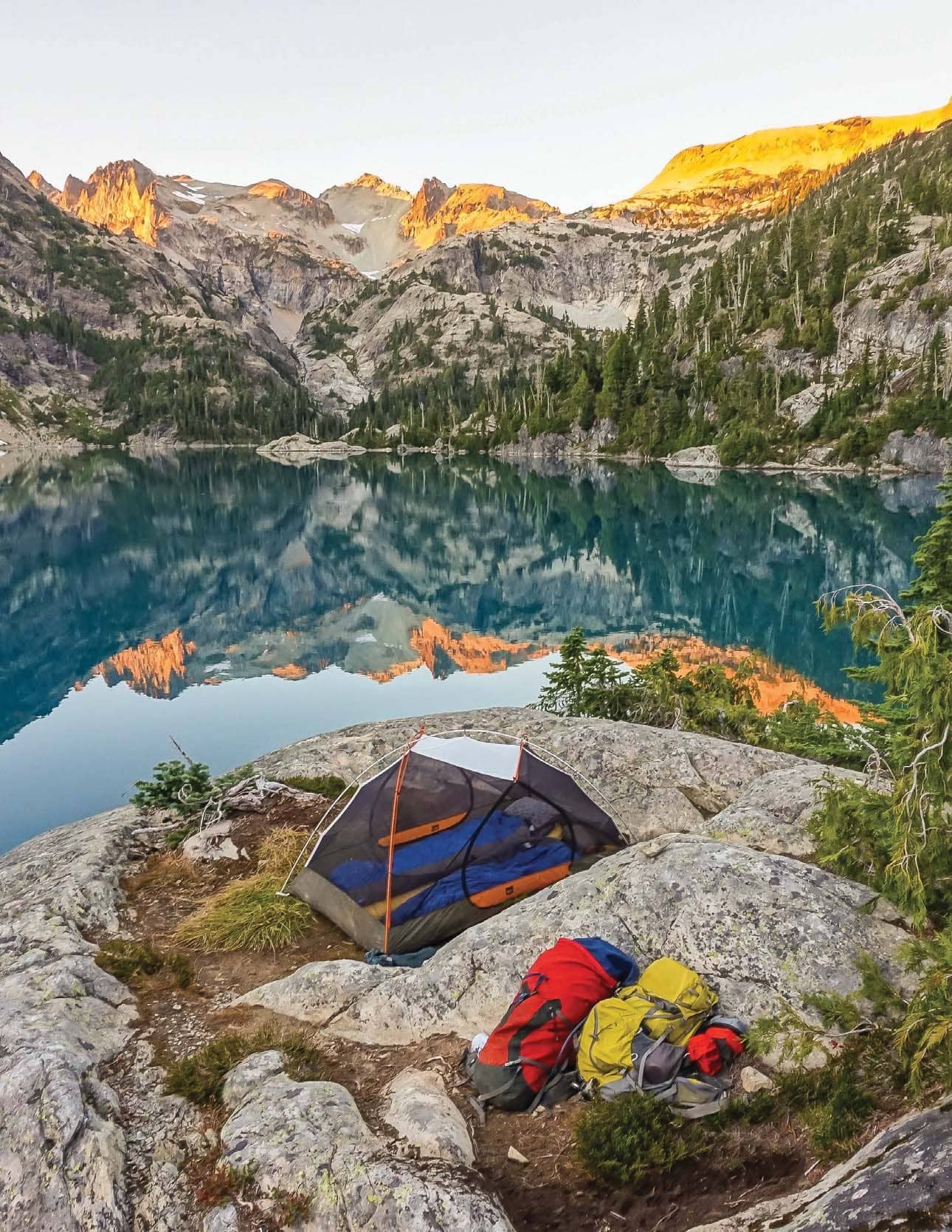 WATER WORLD
SKIP 7 Lakes Basin, Olympic National Park, Washington HIKE Spade Lake, Alpine Lakes Wilderness, Washington
If you're willing to sweat for your solitude, then hike heaven-ward to the lonely stained-glass pool of Spade Lake, four hours east of Olympic. As one of the most pristine bodies of water in the seldom-seen Alpine Lakes Wilderness (150,000 annual visitors versus 3.4 million to Olympic), Spade owes its enduring isolation to a hefty 14-mile approach to access the rocky cirque high on 7,959-foot Mt. Daniel. The trail starts by tracing a mellow path beside the Waptus River through old-growth cedar—the climbing doesn't begin until the halfway point. Ford the slow-and-easy river at mile 8 then follow it until you reach the two-milelong Waptus Lake, where the fun begins. The grade grinds up nearly 2,300 feet in 4 miles before depositing you at the shore of Spade Lake itself, where low-lying greenery fringes the water and campsites perch on the rocky bluffs a dozen yards above the teal pool. Once you camp here, the congestion at 7 Lakes will seem like a silly fiction.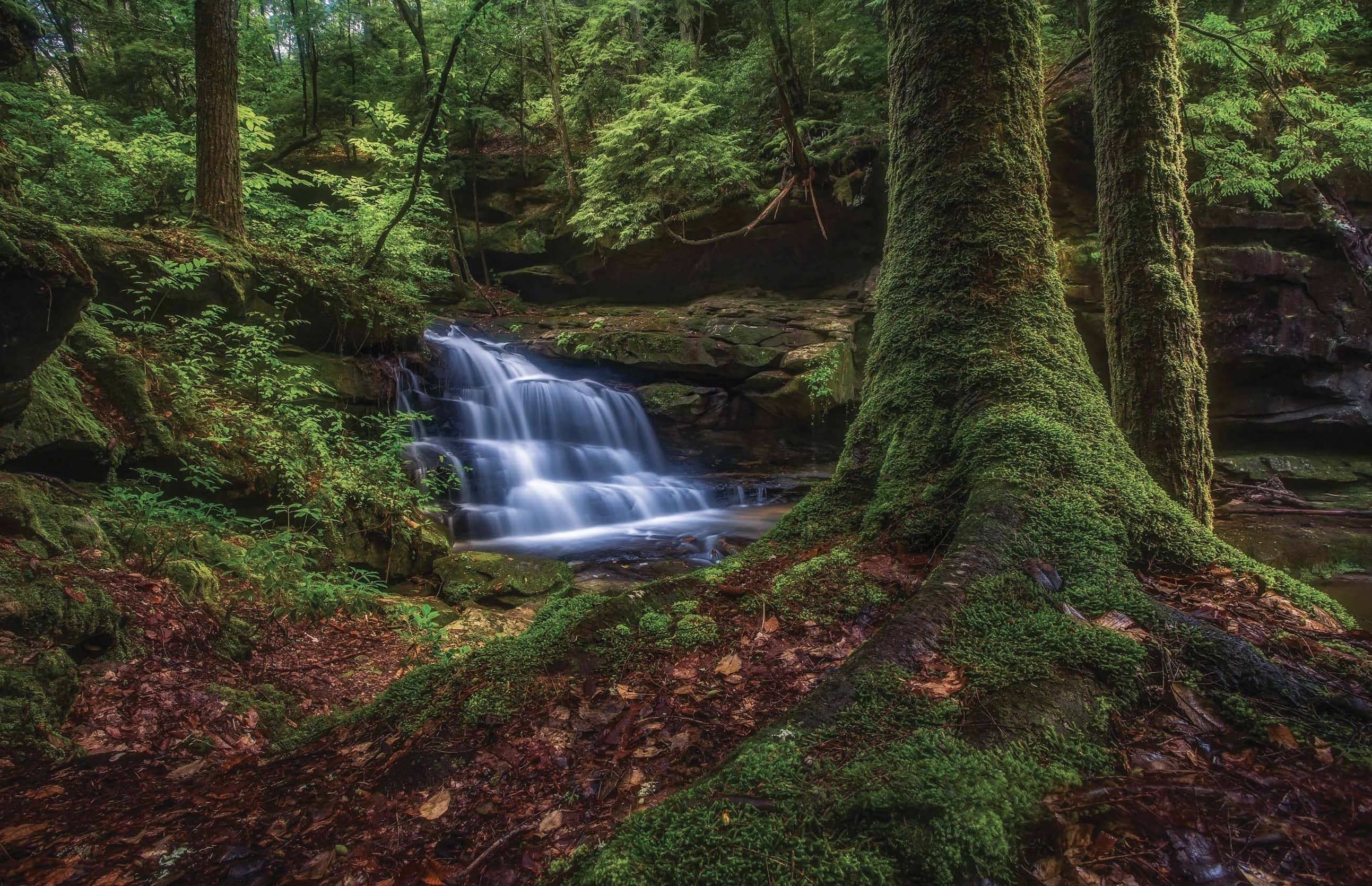 RIDGERUNNER
SKIP Shenandoah Loop, Shenandoah National Park, Virginia HIKE Sipsey Wilderness Loop, Bankhead National Forest, Alabama
Finding solitude in the East's parks is harder than it is out West—not least because there are fewer parks—so get ready to ramp up your effort if you want to score alone time. Ditch the hiking highway that is Shenandoah's portion of the Appalachian Trail and travel 600 miles southwest to the Sipsey Wilderness, a 25,000-acre paradise buried deep within Alabama's Bankhead National Forest. It's a long haul from Virginia, but the wild-flowing river (61 miles of Sipsey Fork are designated Wild and Scenic) and chimneys of limestone and sandstone create a region flowing with cascades, earning it the nickname "Land of 1,000 Waterfalls." Piece together the nine trail segments that create the park's perimeter and you'll have a 22-mile weekend loop filled with mysterious sinkholes, sun-dappled hardwood forests, and pocket waterfalls with primo campsites. The green-tunnel effect is palpable, as is the utterly remote feeling in many sections: If you hear something rustling underbrush, it's more likely a wild boar than another hiker.
DESERT DWELLER
SKIP Under-the-Rim Trail, Bryce Canyon National Park, Utah HIKE Egypt-25 Mile Wash, Grand Staircase-Escalante National Monument, Utah
You can read up to 3 premium stories before you subscribe to Magzter GOLD
Log in, if you are already a subscriber
Get unlimited access to thousands of curated premium stories, newspapers and 5,000+ magazines
READ THE ENTIRE ISSUE
Fall 2020