2020 Editor's Choice Awards
Like you, we routinely seek out the wildest places as the settings for our big trips.
But what if evidence of past inhabitants can enhance a place, rather than detract from it? That's the theory we tested in Utah's Bears Ears National Monument, which counts rich indigenous history among its treasures. Walking through Arch Canyon, in the monument's southern unit called Shash Jáa, is akin to visiting an open-air museum. As we hike, we spy centuries-old granaries and dwellings tucked into the cliffs above. We marvel at the permanence of these structures, which have stood for centuries high above this hardscrabble terrain.
The tribes who have called this area home for generations knew how to build things that last. The desert is as harsh on people as it is on stone, making this an ideal place to put hiking gear to the test.
We don't have centuries to test these latest crafts of humankind, of course, but our methods pack years of use into five months. Out of the hundreds of new hiking products our team has used this year, we've whittled the list down to the top-performing handful, with the ultimate goal of separating out the very best. The gear that emerged from this final trial excels in comfort, durability, and on-trail problem-solving. We can't guarantee it'll last as long as the dwellings in Arch Canyon, but precious little ever does.
— Eli Bernstein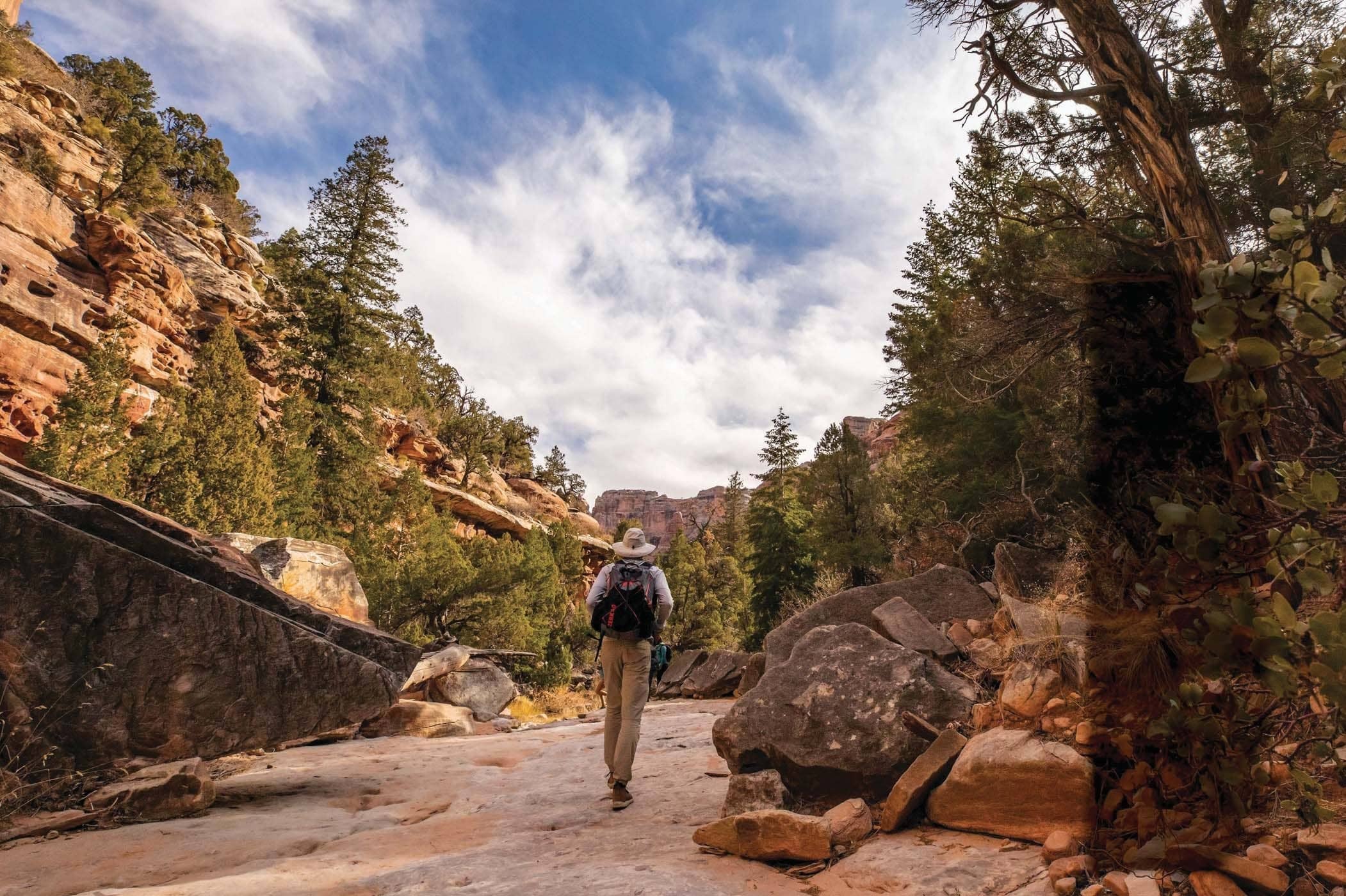 MOUNTAINSMITH ZERK 40
OUR FAVORITE PARED DOWN, LONG-TRAIL-READY HAULER
THE ZERK WAS DESIGNED in conjunction with The Hiking Viking, a Triple Crowner who clearly knows his stuff. He and Mountainsmith created a veritable backpacking control center. Let us explain.
Running-style vests on multiday packs are becoming more common, as they provide instant access to all the things a hiker might need on the go: snacks, lip balm, sunglasses, a phone. The harness on the Zerk is the best of the bunch. Its wide straps spread out loads up to 30 pounds without shoulder discomfort during long water hauls on the CDT, and they have a constellation of little stretchy and cinchable pockets that keep everything at hand. (Bonus: The pockets also give you an easy place to tuck microtrash you pick up.) Pair that with easy-access waterbottle pockets and a mesh shove-it pocket on the back and you have a medium-volume pack with a layout that will keep you moving whether you're out dayhiking, camping overnight, or on a thru-hike bid. (One tester hiked 1,700 miles in the Zerk on the CDT.)
The packbag is large enough to fit a camping kit (a bear can sits on top with removable straps), and the rolltop secures everything down nice and clean. The Zerk's nylon-and- Spectra material stood up to bushwhacking, but a few glissades opened holes in the mesh shove-it pocket. Stick mostly to trails and we expect the Zerk to give years of comfy, quick-access service on a wide variety of low-pack-weight trips. $220; 1 lb. 12 oz.; one size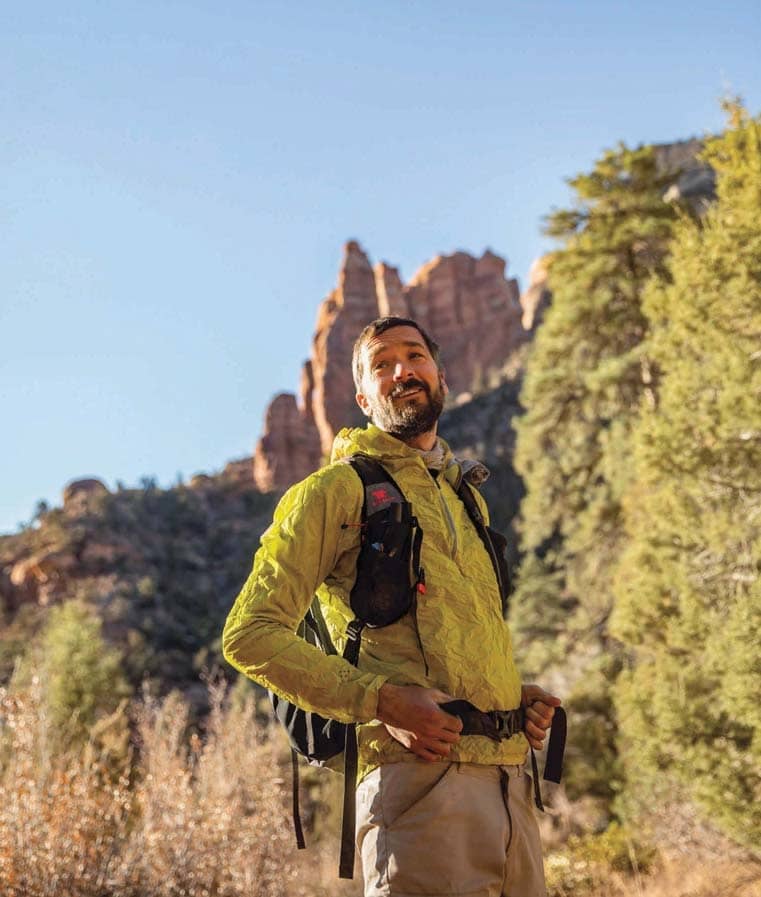 RAB PHANTOM PULL-ON THE LIGHTEST—AND PERHAPS
LAST—SHELL YOU'LL EVER NEED
OVER THE LAST FOUR or so years, Rab has been on top of the technical fabric world, churning out shell after category-smashing shell. That streak continues with the Phantom, which, as the lightest waterproof/ breathable shell on the market, has the weight of a trashbag poncho, the rain protection of a hardshell, and yet somehow the airy feel of a softshell. Oh, and it packs down to the size of a kiwi.
The Phantom is made of a 2.5- layer Pertex Shield fabric that designers paired with a minimalist feature package that includes elastic cuffs, a tiny wire brim on the elastic hood that shielded us from pelting rain in the Pacific Northwest and 70-mph wind gusts in the Colorado Rockies, and an itty-bitty storage pocket at the chest that fits a gel pack or set of keys. We don't normally love anoraks due to lack of venting, but even without pit zips, we stayed comfy on humid uphills in three seasons thanks to supreme breathability. Note: It's too thin to be warm enough for winter.
Weather protection balances blocking rain and inhibiting sweat—in deluges that lasted more than 90 minutes, we felt some drops sneak through at the shoulder and lower back, but every tester agreed that the weight and functionality in the majority of cases more than offset its uneven performance at the watery extreme. We can only wonder what Rab will cook up next. $200; 3.1 oz. (M); unisex XS-XL
CLIMATE NEUTRAL A NONPROFIT HELPING US DO BETTER BUSINESS
OUTDOOR COMPANIES toss around words like "ecofriendly" and "green" and "sustainable" pretty liberally. But without widespread agreement as to the technical meaning of those terms, they're really just marketing.
You can read upto 3 premium stories before you subscribe to Magzter GOLD
Log-in, if you are already a subscriber
Get unlimited access to thousands of curated premium stories and 5,000+ magazines
READ THE ENTIRE ISSUE
March - April 2020