Stay Healthy En Route With These Energizing Travel Tips
Amazing Wellness
|
Summer 2015
Traveling can tax your body, especially as you get older. But a few natural secrets can keep you energized, healthy, and ready for new adventures.
Travel can be unkind to your body. As you age, jet lag may hit you harder, exposure to foreign germs may frighten you, and an exotic diet may make you queasy.
What's the key to carefree travels? Beyond following a few basic healthy habits—getting enough rest, drinking plenty of water, eating wisely, and doing some form of exercise—there are several natural solutions that can give you a leg up on traveling, leaving you refreshed and able to enjoy any vacation or business trip to the fullest.
TRAVEL HAZARD:
POOR LEG CIRCULATION
One of the most alarming possible risks frequent travelers face is deep vein thrombosis (DVT), a serious condition involving blood clots in the legs. These clots can break away and travel through the bloodstream to the lungs, causing potentially fatal pulmonary embolism. Sitting for an extended period of time while riding in a car or airplane appears to raise the risk of DVT.
NATURAL SOLUTIONS:
To reduce DVT risk in flight, it's important to regularly change your leg positions and periodically move and stretch your legs and feet while seated by rotating your ankles and flexing and stretching your calf and thigh muscles. Drinking plenty of non-diuretic fluids (e.g., water, decaffeinated teas) is also vital.
Pycnogenol, a proprietary pine bark extract, has been shown to help reduce DVT risk. In a double-blind, placebo-controlled study involving 198 people already at risk for developing blood clots and on a flight lasting four hours, four people taking a placebo experienced superficial blood clots and one developed DVT; there were no blood clots in the Pycnogenol group.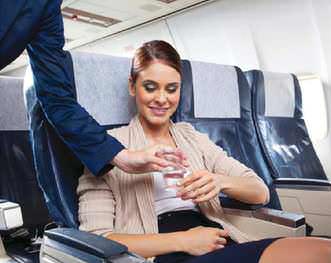 TRAVEL HAZARD:
JET LAG
If you are traveling by plane over several time zones, you may experience difficulty falling asleep and daytime fatigue. To acclimate yourself to the local time, move your mealtime forward or back for about one week before your trip. Also, starting a few days before the trip, go to bed a little earlier each night. This especially helps if you are traveling westbound.
You can read up to 3 premium stories before you subscribe to Magzter GOLD
Log in, if you are already a subscriber
Get unlimited access to thousands of curated premium stories, newspapers and 5,000+ magazines
READ THE ENTIRE ISSUE
Summer 2015