Naim ND 555/555 PS DR
What Hi-Fi
|
September 2020
Music streamer/power supply ₹POR/ ₹POR
FOR
Impressive clarity combined with exceptional dynamic expression and rhythmic coherence
Fine build
AGAINST
Price puts it out of the reach of most
VERDICT
The ND 555/555 PS DR combination isn't cheap, but it is the best-sounding digital streaming source we've heard
Naim is rightly proud of its ND 555 music streamer. It's the first of the company's streaming products to gain 500 series status, and in Naim-speak that means it's the very best it makes right now.
The ND 555 is claimed to be a ground-up new design, but it still focuses on evolutionary thinking rather than trying to reinvent anything. Considering the success the company has had with that approach over the decades, that's no bad thing.
If you spend lakhs on a music steamer, you'd normally expect it to work straight from the box. But that's not the case here; the ND 555 doesn't have a built-in power supply. You'll need to add at least one of the company's 555 PS DR outboard power units – and that costs lakhs more. You can add another if you're really feeling flush, and the claim is of another performance lift.
So what we really have here (in base form) is a very expensive music streamer; and you know what? We love it.

THE FRUIT OF HEAVY INVESTMENT
Naim has been at the forefront of hi-fi streaming for years. It invested in the technology early, when most rivals (apart from Linn) hedged their bets. It has continued to pour resources into R&D to make sure it stays at the leading edge.
Not only do the streaming products themselves need continuous development to keep pace with new technologies, but the control app also demands regular attention to keep on top of changes. While not perfect, Naim's control app remains one of the better examples of such software.
The basic digital streaming module used in this player is essentially the same as that used in the company's other streaming products, and first appeared in the revised Uniti range back in 2017 and then filtered into the new Mu-so wireless speakers afterwards.
So, essentially, this high-end hi-fi streamer is using the same streaming module as a lakh's worth of wireless speaker. Here, though, everything from the product's structural design to the sophisticated power supply arrangement and purist analogue audio circuitry helps to get the very best sound possible.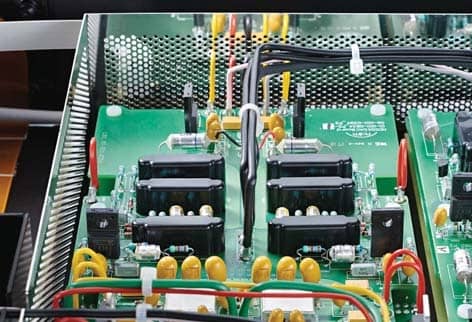 You can read up to 3 premium stories before you subscribe to Magzter GOLD
Log in, if you are already a subscriber
Get unlimited access to thousands of curated premium stories, newspapers and 5,000+ magazines
READ THE ENTIRE ISSUE
September 2020