Wilson Audio Sasha Daw - Loudspeaker
The Sasha model has a history of its own.
Designed as a replacement for the company's successful WATT/Puppy two-box loudspeakers—these combined the Wilson Audio Tiny Tot compact monitor with a dedicated woofer enclosure called the Puppy—the first Wilson Audio Sasha W/P Series 1 loudspeaker was introduced in 2009; Art Dudley reviewed it for our July 2010 issue.1 A follow-up model, the Sasha W/P Series 2, was issued in 2014. The Sasha series retains a direct connection to those earlier designs within the expanding lineup of loudspeakers offered by Wilson Audio Specialties.
I told my editors that I could get two sentences out of the name connection, so here they are: Even though I am legally Alexander Matson, I have always been called Sasha, the Russian diminutive form for my given name. And there's a similar naming convention that runs through Wilson Audio's line of floor standing loudspeakers, from Alexandria, Alexx, and Alexia all the way to their smaller sibling Sasha.
Let's review
The two-box Sasha DAW measures 44.75" tall without spikes, 14.50" wide, and 22.85" deep. These dimensions are slightly larger than those of the first Sasha model. Each speaker weighs 236lb. (The Sasha
There is change, and also continuity, at Wilson Audio Specialties, the company founded in 1974 by recordist and loud-speaker designer David A. Wilson. David's son Daryl Wilson was appointed president and CEO in 2016. David Wilson passed away in 2018. And in 2019, Wilson Audio Specialties released the Sasha DAW loudspeaker ($37,900/pair), designed by a team led by Daryl Wilson and named in honor of his father. W/P Series 1 weighed 197lb.) Thus the latest Sasha is just 24lb lighter than the current Alexia 2 model, though the latter is a bit more than 8" taller.
Why the weight gain? The lower woofer module of the Sasha DAW increased in volume by more than 13% compared to its immediate predecessor, the Sasha W/P Series 2; the thickness of its panels also increased. The upper module, containing the midrange driver and tweeter, gained 10% in volume, and those panels also increased in thickness. The Sasha DAW cabinets are constructed from Wilson Audio's proprietary composite mixes of resin and cellulose: XMaterial for most of the panels, with their newer S-Material formulation used for the midrange baffle. Permanent bonding, not bolts, holds everything together. The exteriors of the cabinets, the many subtly beveled edges of which add to their sculpted look, hint at the complex voicing and tuning hidden within.
The binding posts mounted on the rear of the bottom enclosure—in light of Wilson Audio's lack of enthusiasm for biwiring/biamping, only a single pair is fitted—have been redesigned: Banana plugs are now accepted. While you're back there, you can admire the speaker's machined-aluminum "ultra-low-turbulence" reflex port: This hefty cabinet is not meant to be jammed up against a wall or into corners.
Also on the rear, next to the handsome Sasha DAW logo, is a window that offers a view of the resistors mounted within. These function as fuselike protectors, as well as providing the ability to alter the balance between the upper and lower modules in inhospitable room setups—an adjustment that I'm told is rarely needed.
The specified frequency response of the three-way Sasha DAW is from 20Hz to 30kHz, ±3dB. In the speaker's bottom enclosure, twin 8" paper-cone woofers, fitted with ceramic magnets, are reflex-loaded and wired in parallel; they both see the same signal. One can imagine how such less-than-enormous bass drivers, assuming ample excursion capabilities, could provide both bass depth and outstanding transient response.
The Sasha DAW's crossover is newly designed with all second-order slopes. No circuit boards are used: The wiring is point-to-point. Wilson Audio now makes their crossover capacitors in-house, and the Sasha DAW is their first model to use them.
In the speaker's upper enclosure is a 7" midrange driver with a paper-and-cellulose–composite cone: the same as that currently used in Wilson's flagship model, the enormous WAMM Master Chronosonic. Wilson designer Vern Credille described it to me: "The midrange driver motor has a secondary magnet, which changes the Thiel-Small parameters and gives more control. The midrange design is an acoustic impeded vent, similar to a vented enclosure but with a highly resistive port such that some characteristics of a closed box can be exploited."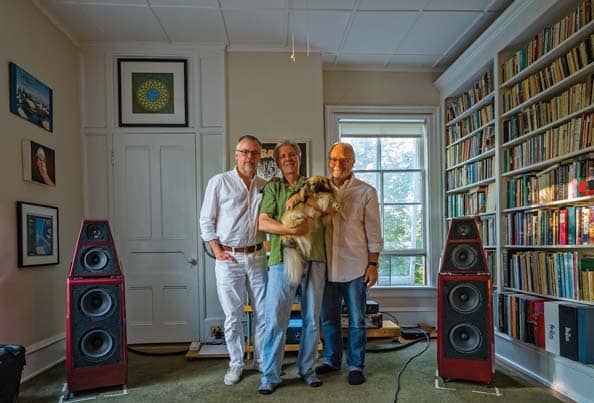 You can read up to 3 premium stories before you subscribe to Magzter GOLD
Log in, if you are already a subscriber
Get unlimited access to thousands of curated premium stories, newspapers and 5,000+ magazines
READ THE ENTIRE ISSUE
January 2020