JAMES TAYLOR AN AMERICAN STANDARD
Stereophile|August 2020
ON ICONIC SINGER-SONGWRITER JAMES TAYLOR'S 20TH ALBUM, AMERICAN STANDARD, THE LANKY CROONER ADAPTS THE CLASSIC AMERICAN SONGBOOK TO HIS EASY-ROLLING MUSICAL WAYS. THE RESULT IS AN AMERICAN MIXTURE OF TIMELESS SONGCRAFT.
Where some popular singers use the songbook canon to increase record and ticket sales, Taylor has no need to change himself or increase his audience. He's as comfortable as any man can be, having sold many millions of records the world over for almost 50 years.
He wasn't always so comfortable. Taylor's breakthrough success of the early '70s, including the albums Sweet Baby James and Mud Slide Slim and the Blue Horizon, came while Taylor was deep in the throes of a heroin addiction that would destroy his marriage to singer-songwriter Carly Simon. But his hits kept coming: "How Sweet It Is (To Be Loved by You)"; "Mexico"; "Handy Man"; "Your Smiling Face"; "Her Town Too." His first compilation album, James Taylor's Greatest Hits, quickly became his best-selling record and one of the best-selling compilations of all time.1
Taylor continued making music and scoring occasional hits until 1997's Hourglass and 2002's platinum-selling October Road established him as a music hero with a new generation of listeners. He has barely left the road since, winning awards and accolades along the way, including American Standard debuting at #4 on the Billboard 200 albums chart, making "Taylor the first act to earn a top 10 album in each of the last six decades," according to Wikipedia.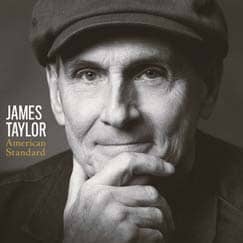 Taylor has nabbed six Grammy Awards and an Emmy Award for The Mormon Tabernacle Choir Presents an Evening with James Taylor. He was honored by the Kennedy Center in 2016, alongside Martha Argerich, the Eagles, and Mavis Staples. He was named a Chevalier of the Order of Arts and Letters by the French government, and he was presented the National Medal of Arts. Then, in 2015, President Obama awarded him the Presidential Medal of Freedom.
The high-falutin' stuff goes out the window when Taylor plays his guitar and sings the songs for which he is loved. Taylor recorded American Standard at his custom-built studio, "The Barn," at his home in western Massachusetts, with a core unit of instrumental all-stars: John Pizzarelli on guitar, Jimmy Johnson on bass, Steve Gadd on drums, with singers Arnold McCuller and Kate Markowitz. Additional parts were performed by Walt Fowler (trumpet), Lou Marini (clarinet, soprano saxophone), Jerry Douglas (guitar), Stuart Duncan (violin, mandolin, guitar), Victor Krauss (acoustic bass), and Larry Goldings (melodica, Hammond B3 organ). With Taylor on guitar and vocals, he and his band recorded such standards as "Pennies from Heaven," "Moon River," "As Easy As Rolling Off a Log," "The Nearness of You," and "God Bless the Child." There's little profundity here, and few revelations, but Taylor's intimate country-folk soul makes the material go down oh-so-easy. Good sound, too.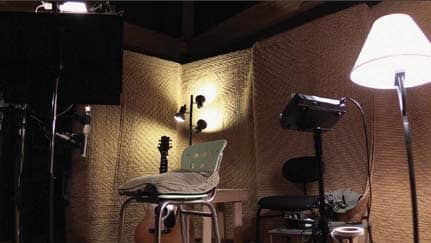 Throughout American Standard, Taylor's musical mastery is subtle yet powerful, his deep well of emotional strength and good-natured attitude as comfortable as a night out with an old friend who both knows your secrets and informs them.
KEN MICALLEF: The songs that work particularly well on American Standard express your gentleness, unique vocal style, and unmistakable rich tone. Where do those traits come from?
JAMES TAYLOR: It's a funny thing. I started writing (and still do write) with a guitar in my hand. It's a very quiet context, I think, probably some of it might be a Southern thing, I guess, a bit, and I think you know what I'm talking about yourself, having grown up in North Carolina.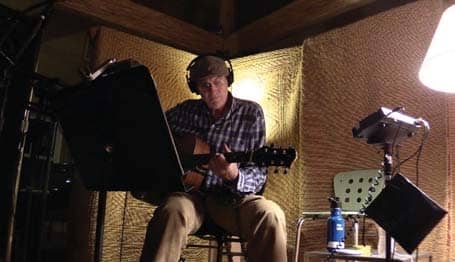 But I do think that a lot of my music is very personal and close-in, and in a way, I was certainly, in the beginning, writing to myself and for myself, and there was something sort of, therapeutic is the wrong word, but it's not far off. Something about it that comforted me, and so I think that came through in the music. That's what I was hoping it would do.
I do think it's all of those things, it's also having come, initially, from a combination of Carolinas' beach music, and also my brother Livingston, the way he introduced me to soul music early on. That was one major influence, and another one was the sort of folk music revival that in the early '60s was on all of the college campuses. It was an easy way into music because it allowed for a young man and a guitar to have a voice.
KM: Your versions of these standards are straightforward and unadorned. You depend on your unique style to bring them to life. But there are also some differences from what one normally hears. You've kept some of the songs' traditional intros that are rarely heard.
You can read up to 3 premium stories before you subscribe to Magzter GOLD
Log in, if you are already a subscriber
Get unlimited access to thousands of curated premium stories and 5,000+ magazines
READ THE ENTIRE ISSUE
August 2020