PowerVision PowerEgg X
RotorDrone|May/ June 2020
A compact, multifunction drone in a unique package
AT A GLANCE
Model: PowerEggX
Manufacturer: PowerVision Robot Inc. (powervision.me)
Type: Aerial imaging platform
Size: 683mm x 483mm
Weight: 862g
Assembly time: Less than 5 minutes
Camera quality: 4K/60P video; 12MP still
Price: $899 (basic); $1,249 (w/ accessory kit)
WHAT WE LIKE
Capable and full-featured at a budget price
Design shows careful attention to details
Versatile applications include ground-based imaging
Accessories allow it to operate when other drones cannot
The PowerEgg X from PowerVision marks a return to the sky for the Chinese manufacturer. Its original egg-shaped drone turned heads a few years back but never caught on in the market, and the company shifted its focus toward tethered, submersible systems. Now the "Egg" is back in the air with a new versatile design that offers substantial features and capabilities as a surprisingly affordable price. Read on to see if it lives up to all that potential.
THE BASICS
When I first encountered the PowerEgg X at the CES show this past January, I must confess that I was worried it would turn out to be a gimmick: It's a drone! It's a hand-held camera! It's a tripod-mounted gimbal! It has built-in image recognition capabilities! It lands on water! It flies in the rain! Prices start at $899! Order now!
However, when I got the opportunity to fly the PowerEgg X for myself, I was pleasantly surprised to find it is a capable aircraft with some unique features that really put it in a category of its own, along with a thoughtful attention to detail that is often absent from even more expensive platforms.
Of course, the most important measure of any aircraft is: how does it fly? The answer: like an aircraft from a top-tier manufacturer. To start the motors, you use a down-and-in control input on the joysticks and it climbs and maneuvers with confidence. The controller incorporates a physical switch to change to one of three flight modes.
The equivalent of Sport mode is engaged when you move the switch to "P," for "Professional" mode. You retain GPS position hold and other advanced features, but the aircraft moves along at a brisk 40 miles per hour. Switch over to "N," for "Normal," and "E" mode, for "Easy," which is downright sluggish compared with the other two and is presumably intended for beginners.
Flight time is typical for an aircraft of its size in its base configuration: about 18 minutes under real-world conditions. The controller, which is included as part of the basic kit, is compact and comfortable in the hand. It features rubber gaskets around the joystick gimbals which, along with other design elements, allow it to meet the IP5 standard for protection against liquid ingress. That goes well beyond flying in the rain: IP5 means it can sustain jets of water in excess of 4 pounds per square inch. I wouldn't recommend cleaning it with a pressure washer, but beyond that you should be good to go.
Another nice feature is that an LED incorporated into the power button changes colors as the controller's internal battery is depleted: from green, to yellow, to red. On the downside, you will likely be seeing this earlier and more frequently than you might expect. The controller battery seems to run down more quickly than comparable platforms I've used. If you're planning a full day of flying, I would definitely bring along an external power source to re-charge the controller, via a standard Micro USB port.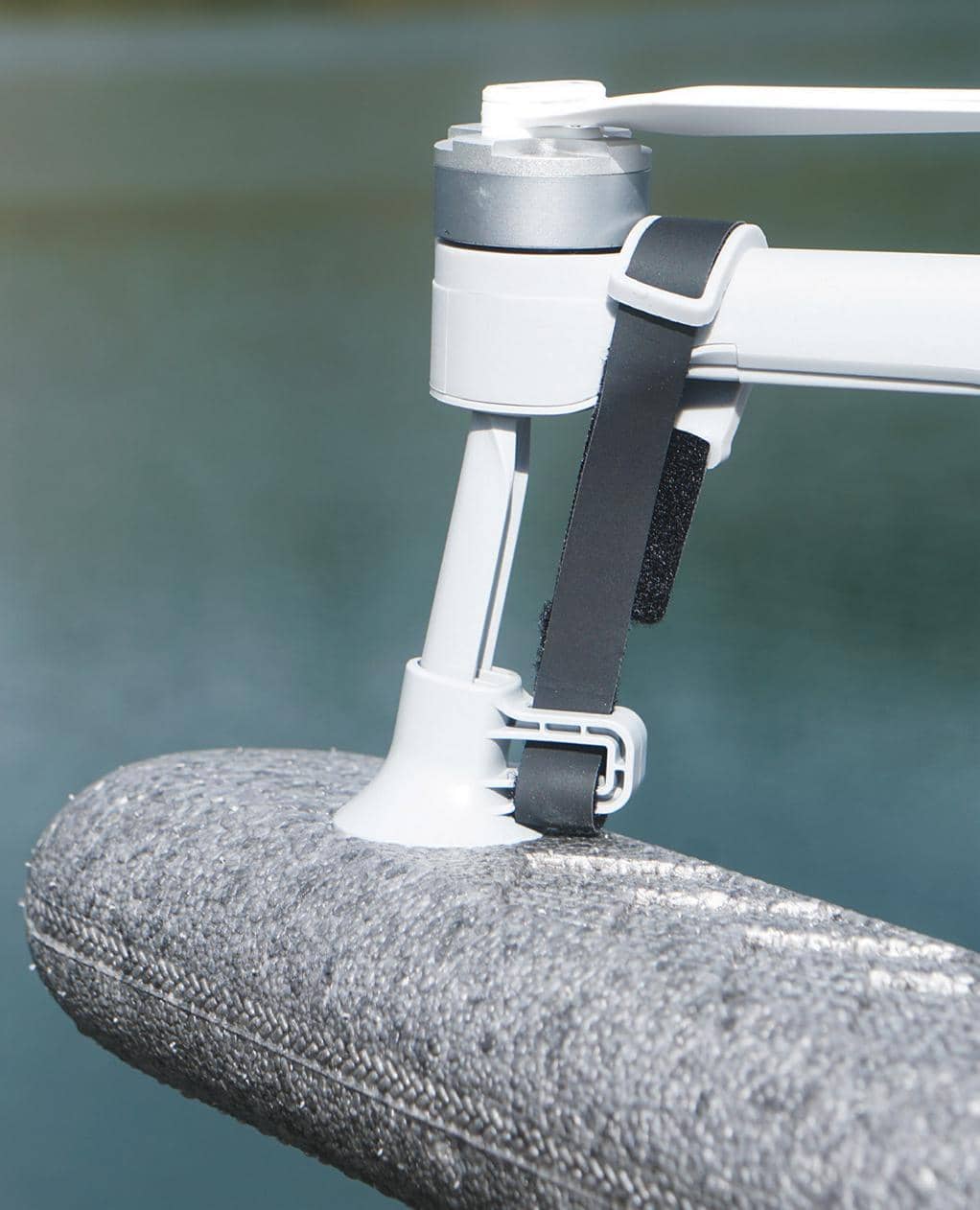 GROUND CONTROL
The PowerEgg X is controlled with the Vision+ 2 app, available for both Android and iOS. It offers a full-featured if somewhat spartan interface that incorporates all of the telemetry data you would expect from a first-tier manufacturer, while leaving ample viewing area for the video downlink. To my delight, I discovered that controller's clamp for holding a display device is large enough to accommodate my vast Galaxy Note 10+ smartphone without removing its protective case. Bravo, PowerVision!
I'm also happy to report that the company seems genuinely committed to supporting its customers. Early in my testing, I discovered that the forward collision avoidance system was prone to nearly constant false-positives, even when flying in open air 200 feet above ground level. The problem was so severe it basically rendered the aircraft unflyable with the system enabled.
You can read up to 3 premium stories before you subscribe to Magzter GOLD
Log in, if you are already a subscriber
Get unlimited access to thousands of curated premium stories and 5,000+ magazines
READ THE ENTIRE ISSUE
May/ June 2020