Drone Careers
Meet six pilots who turned passion into a profession
Media headlines proclaim that experienced drone pilots are in demand, but what does it really take to make a living in this industry? We asked six career drone operators who turned their passion into a profession to share the inside story on how they got started, their education in the field of uncrewed aircraft systems (UAS), and the aircraft and accessories they use most. Aspiring operators, heed their advice and turn your drone dream job into reality.
EMERGENCY RESPONDERS
Peter Scott, Tualatin Valley Fire & Rescue (tvfr.com), Tigard, Oregon
We provide fire protection and emergency medical services to approximately 530,446 residents in 390 square miles and one of the fastest-growing regions in Oregon.
We entered the UAS world as a pilot project to see what benefits could be realized from the use of such technology. We primarily use UAS to gather aerial imagery for the purposes of training, communications, and public information. Second to that, we assist with emergency incidents when possible, by providing incident commanders with aerial imagery on scene of fires or other similar types of incidents. For incident response, our challenge is ascertaining the best way to respond to emergencies in a timely manner to provide effective intel to firefighters. For training purposes, UAS technology has provided an immediate impact and been a game changer.
We currently have two FAA [Federal Aviation Administration] Certificated Remote Pilots (Part 107) as well as an FAA Certificate of Authorization.
We have been using a DJI Inspire 2 and recently acquired a DJI Mavic 2 Dual Thermal, which will give us the ability to see through smoke and monitor fire spread as well as assist with search-and-rescue and hazardous-materials incidents. We've also recently begun to use the AirMap app for airspace authorization.
INSPECTOR
Andy Justicia, lead pilot and trainer for Measure (measure.com), Washington, D.C., and Chicago, Illinois
My primary use of drones is to provide the services we offer here at Measure, including inspection of wind turbines, solar farms, transmission and distribution work, research and development, and training. I started out at Measure as one of their first pilots, and have been a senior pilot and lead pilot and now am a training pilot. I've trained over 150 drone pilots domestically and over 75 internationally. I provide drone-specific training as well as hands-on, application-specific training on real-world scenarios.
I started flying model airplanes when I was 10 years old. I still fly, and I'm 44—that's 34 years of flying. I am also an instrument-rated commercial pilot and am currently working on my Certified Flight Instructor license. This means I can fly people or cargo for hire, and the instrument rating means I can legally and safely operate a properly equipped aircraft in instrument meteorological conditions.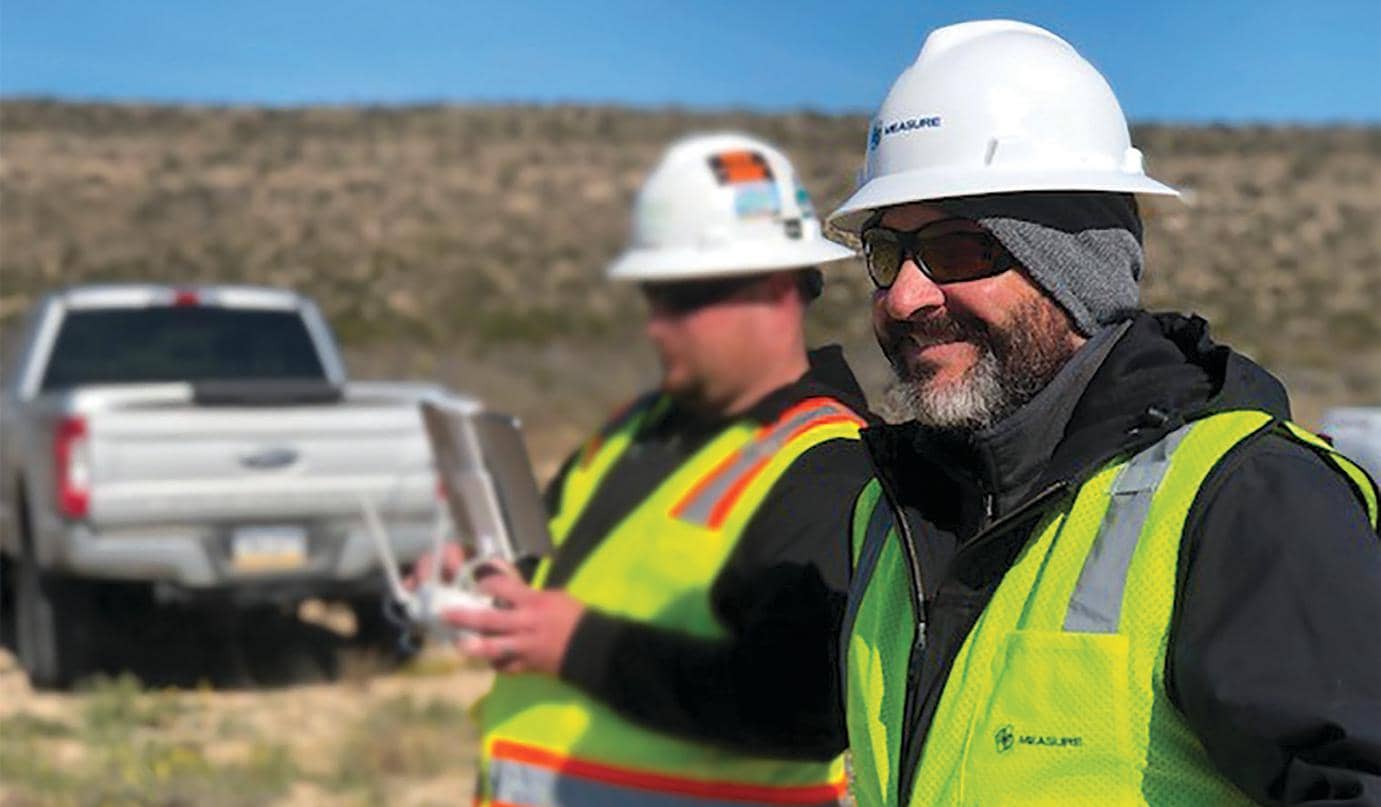 My drone of choice for training is the resilient DJI Phantom 4 Pro. It has a simple onboard system, which is good for teaching students how drones operate.
On missions, such as an inspection, the equipment of choice is dictated by the job requirements. We can pick between quadcopters or fixed-wing drones and standard or thermal cameras. An important part of our equipment is the personal protective equipment, which includes a hard hat, eye protection, ear protection, a high-visibility vest, work boots, and fire-resistant clothing, if necessary.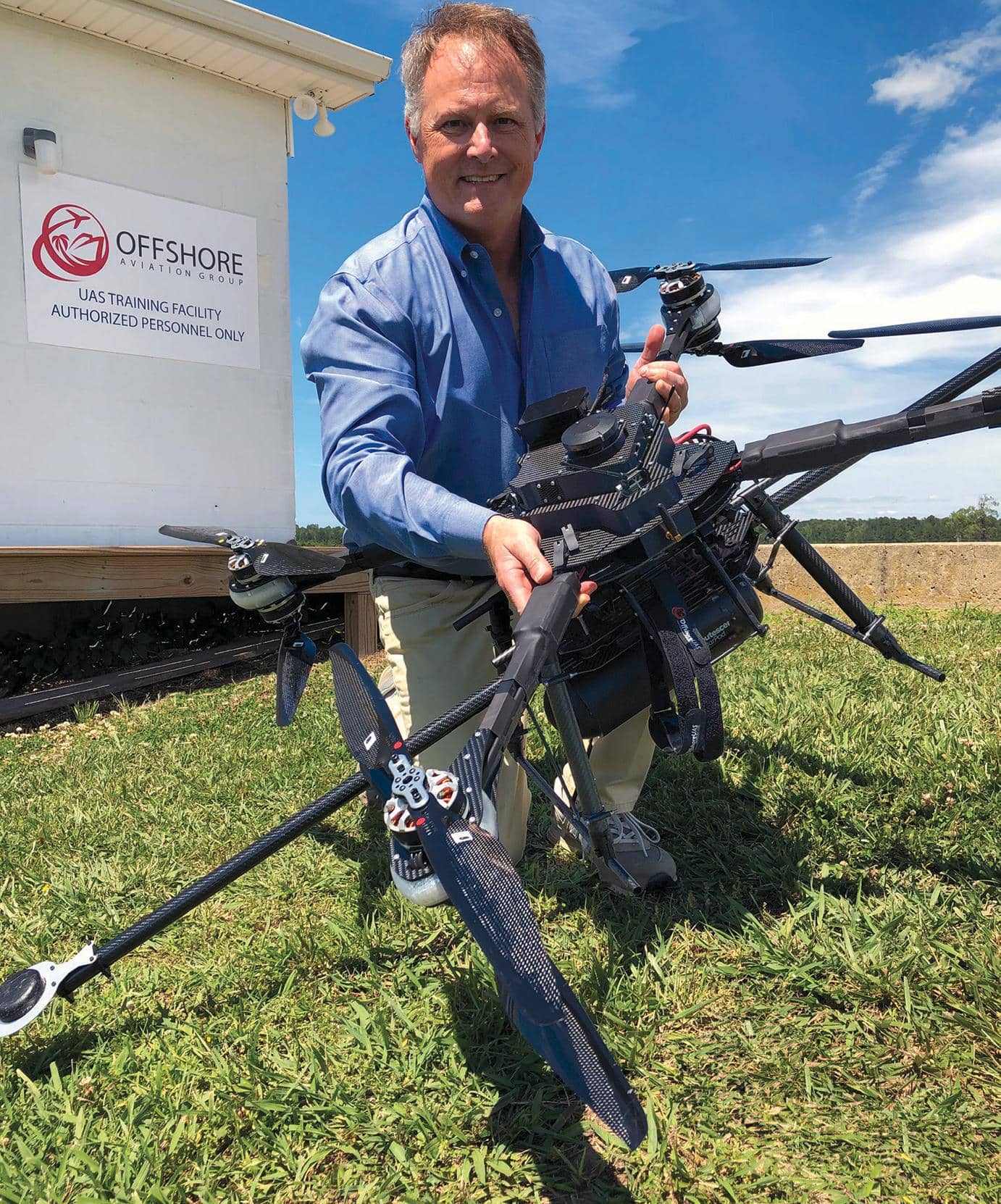 UAS DESIGN AND DEVELOPMENT
Robert Hicks, Offshore Aviation (offshoreaviation.com), California, Maryland
You can read upto 3 premium stories before you subscribe to Magzter GOLD
Log-in, if you are already a subscriber
Get unlimited access to thousands of curated premium stories and 5,000+ magazines
READ THE ENTIRE ISSUE
July/ August 2019