Welcome To Drone-kota
Popular Science
|
May - June 2016
A cottage industry wants to put North Dakota on the map.
IN the downtown Fargo office of the startup Botlink, engineers, code writers, and executives huddled around me, thrusting a tablet to show off their app, an air traffic control interface that allows even the least skilled to fly a drone without crashing it into a plane.
"Real-time data distribution," said one. "The orange circles show restricted airspace around airports. You want a beer? A Coke?" With the exception of the executives, all sharp smiles and good hair, the entourage was pure geek: sneakers and hoodies that limited exposure to sunlight and, in the Zuckerberg era, seemed to suggest imminent innovation and subsequent riches.
I had arrived in North Dakota last June, in the same week MarketWatch declared it the "Silicon Valley of drones." At each stop I was regaled with the vocabulary of promise—disruptive tech, green fields, incubators, and accelerators. In the booming economy of drone technology, North Dakota has been an early and enthusiastic adopter. The Federal Aviation Administration chose it as one of six official drone test sites, and the entire state permits unmanned flights at night and at altitudes of 1,200 feet (as opposed to daylight and up to 200 feet, as per the rest of the nation). The U.S. Air Force, Air National Guard, and border patrol all pilot drones from Grand Forks Air Force Base. Adjacent to that, Northrup Grumman is building a facility as the anchor tenant at the Grand Sky unmanned aerial systems business and aviation park—the nation's first. And the University of North Dakota launched the nation's first undergraduate program in drone piloting in 2009.
The state Department of Commerce pointed me to Botlink as an example of "the vibrancy of the sector," so I followed the team of coders into the creaky elevator of their prewar building and drove with them to a city park. There, they hefted a quadcopter from the trunk, laid it on grass, and fired up the rotors. But something wasn't meshing with the smartphone, so an engineer named Tandy bent over to shut it down. When he reached into the rotors, he yelped—blood shot through the air. He sucked on his finger and spat red, and finally someone asked, "Do you need a bandage, dude?"
The question was moot because nobody had a bandage, but one guy offered a wadded-up napkin from his jeans pocket. It was quickly soaked red. No matter. The drone again whirred to life and soared skyward. Before it could cross the lawn, the pilot detected that the app was not communicating with the drone—an earlier crash broke the antenna—so he landed the thing manually, packed it up, and we drove back to the office. It was not exactly the sort of tech disruption I had imagined. But my tour of North Dakota had just begun—and even the Wright Brothers crashed a few planes, right?
THANKS TO the shale oil boom, North Dakota's economy and population has led the nation in growth—the state leapfrogged Alaska to become our 47th largest. Just as crude is fracked to the surface, so is money fracked to the east, where roughnecks deposit wives and children in the leafy lanes and solid schools of Fargo and Grand Forks, far from the oily man-camps. Now, as oil prices plummet and production drops off, North Dakota sees drones as its chance to develop a bust-proof tech sector.
It is worth noting here that nobody official calls them drones. They say unmanned aerial vehicles (UAV), unmanned aircraft systems (UAS), and remotely piloted aircraft (RPA). Drones, as one pilot told me, is a four-letter word around these parts. Another conceded the word had a "delicate public perception."
Grand Forks exudes warmth and trust—a tidy little city: not too rich, not too poor. As I cruised its broad streets listening to Polka Hour on the ratio, I saw evidence everywhere of prosperity. As just one informal yardstick, the city of 56,000 boasts three sushi joints. I stayed in a spanking-new motel out by the interstate, in a cluster of similar motels plunked down like Monopoly pieces on freshly poured concrete. Upon registration I was required to sign a paper promising not to smuggle a hockey stick into my room. A sign in the elevator read: "We suggest that if your plans are to 'PARTY' after midnight, that you please take it to somewhere else. Be respectful of others and everyone will have a great stay."
That could be the state's motto.
The North Dakotans I met are pursuing their quixotic quest with archetypal Midwestern pluck. A professor of aviation gifted me a school medallion stamped "VENTURUM TEMPUS PROSPECTUS: Looking to the Future." A brigadier general said that folks here were not just nice, but North Dakota nice.
This flat state's chief selling point as a nascent drone industry, though, might not be what it has, but what it lacks: There are fewer people and things to collide with should your craft, as one airman put it, "come into contact with the ground." Indeed, one of the first things you'll see, speeding away from Grand Forks airport, is a red, white, and blue building that screams GENEROUS GERRY'S FIREWORKS SUPER STORE, and you'll think, "Ah yes, come here to do dangerous stuff that is elsewhere banned."
For many years the only drone users were the military and hobbyists, who were largely unregulated. Then in 2014, the FAA began to issue special exemptions to existing regulations. By the time I got to Grand Forks, 664 companies across the nation had been granted exemptions (the figure has since reached 3,000 and continues to climb). But while the companies are allowed to fly—say, for aerial photography or pipeline inspections—they are not allowed to fly out of the pilot's line of sight. Amazon, for example, can't make deliveries here. To test experimental delivery aircraft and techniques, Amazon has been working in Canada, the U.K., and Denmark. Smaller companies with fewer resources would probably have to partner with one of the six FAA-approved test sites, such as the Northern Plains Unmanned Aerial Systems Test Site in Grand Forks.
"Until recently, there was no way for a civilian entity to fl y an unmanned aircraft," the site's executive director, Robert Becklund, told me. Now that's changing, and North Dakota is eager to help it along. Becklund—a lean pilot who's all fighter-jet competence with clipped hair and a crisp black polo—seized my hand. "My suspicion," he said, "is that by the end of the week, you'll be pretty enamored with the place."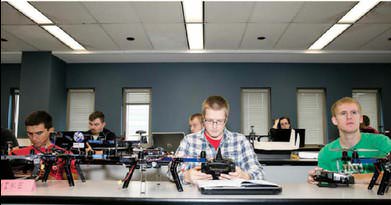 You can read up to 3 premium stories before you subscribe to Magzter GOLD
Log in, if you are already a subscriber
Get unlimited access to thousands of curated premium stories, newspapers and 5,000+ magazines
READ THE ENTIRE ISSUE
May - June 2016