The Race To Build The Hyperloop
Popular Science
|
July 2015
Elon Musk proposed a ridiculously audacious form of transportation. Now, startups are racing to bring the hyperloop to life.
James Vlahos, illustration by Tavis Coburn
Maybe it was the Guns N' Roses pumping from the speakers. Or maybe it was the spell of Dubai itself, a newly minted megalopolis whose explosion from the Arabian sands screamed that the past was dead and the future had arrived. Whatever it was, when Dirk Ahlborn launched into his speech at the Middle East Rail conference in March, he basically gave the roomful of executives the finger. "There hasn't been any real innovation in the rail industry for—I don't know how long," he said. "Either disrupt yourself or you are going to be disrupted."
The audience sitting attentively in the convention hall included men in traditional dishdashas and women in black abayas.Other attendees wore suits and ties or even heels and short skirts. Together they formed the industry's elite, people who built trains and ran railways around the world, while Ahlborn was the CEO of a startup, Hyperloop Transportation Technologies (HTT), that hadn't carried a single passenger or laid an inch of track.
But restraint doesn't come naturally to Ahlborn, who wore, beneath his black suit, a white shirt open several buttons from the collar. Tall, with thinning brown hair and ruddy cheeks, Ahlborn began to pace the stage, TED-talk style, as he explained his vision for the future of transportation."What is the hyperloop?" he asked. "It is a capsule, full of people, in a tube, elevated on pylons, going really fast. It's that simple."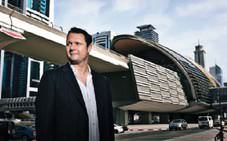 Hyperloop capsules would use either a magnetic field or a continuous blast of compressed air to float above the bottom of the tube.Pumps would remove most of the tube's air, creating an extremely low- pressure environment. Minimal air means minimal friction, so the capsules would travel at up to 760 miles per hour, powered entirely by solar panels. "How would your life be if you could travel 600 kilometers in half an hour, with a ticket price of $30?" Ahlborn asked. "If we achieve that, we really change the way we live." Ah, the hyperloop—the same scheme that Elon Musk, the CEO of SpaceX and Tesla Motors, famously proposed in a white paper back in August 2013. The pronouncement incinerated the Internet, with some awe and lots of are-you-kidding? The technical challenges, while daunting, were potentially solvable, engineers opined. But economists estimated that Musk's projected cost of $6 billion to connect San Francisco and Los Angeles was lowballed by a factor of 10 or more, not least because the cost for acquiring land for the route was grossly underestimated. The hypefaded—but the outlandish idea was still alive.
By the end of the year, Ahlborn had launched HTT.In June 2014, Hyperloop Technologies (HT) entered the field, founded by Silicon Valley venture capitalist Shervin Pishevar and former SpaceX rocket engineer Brogan Bam Brogan. And this past January, Musk himself was back, tweeting his intention to build a hyperloop test track, possibly in Texas. The two startups announced their own test-track plans shortly thereafter, with both hoping to break ground by 2016. The race for near-supersonic land travel was on.
Hyperloop proponents face uncountable hurdles—technological, political, and financial. But the massive challenges seem to inspire rather than intimidate them. The hyperloop, they believe, will be an entirely new form of transportation, one that is quicker, cheaper, and more fuel efficient than anything that has come before. "If you think about the things that have been most exciting in history, that have captured headlines, it's humans taking flight, Lindbergh crossing the Atlantic, going into orbit and to the moon,"said XPRIZE Foundation chairman and CEO Peter Diamandis, who sits on HT's board of directors. "We revel in moving people faster and farther than ever before, and hyperloop is in that same vein but in a different dimension."
In Dubai, Ahlborn finished his presentation, and the audience applauded enthusiastically. He stepped down from the stage, and a man in a traditional white robe approached. I saw that he was Saqqaf AlAttas, a manager with Etihad Rail DB, which oversees operations for the United Arab Emirates national railway.He shook Ahlborn's hand. "Everything starts with a dream," AlAttas said. "And from what I saw, the hyper loop is not just a dream. It is already here."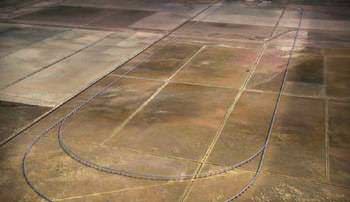 AHLBORN cut a Tony Stark-like figure as he strode through the convention hall after he spoke. The place looked like a giant IKEA showroom devoted to the sole purpose of selling trains. A maze of avocado-colored pathways funneled attendees between brightly lit displays featuring track ties and rail wheels. A German native who had also lived in Italy before settling in Southern California, Ahlborn chatted fluently with vendors in multiple languages.His manner was aloof, his comments sometimes barbed. "Is there anything new at this show?" he asked a person peddling software. "Has there been anything new in the past 10 years?"
In reality, Ahlborn is not a deep-pocketed tech magnate—at least not any longer. Sure, the 38-year-old had been an entrepreneur since he was 18. And he had made millions as, among other things, the CEO of a pellet stove company. Subsequently, though, he lost his fortune when real estate investments tanked in the financial crisis. While he may have looked like Stark in Dubai, back home he was renting his place on Airbnb.
You can read up to 3 premium stories before you subscribe to Magzter GOLD
Log in, if you are already a subscriber
Get unlimited access to thousands of curated premium stories, newspapers and 5,000+ magazines
READ THE ENTIRE ISSUE
July 2015