INDIAN DRONE STARTUPS TURN THEMSELVES INTO FORCE MULTIPLIERS DURING LOCKDOWN
PCQuest|May 2020
Indian drone startups are now acting as force multipliers for the municipal bodies and the police forces. During the lockdown, we have seen them exploring new and innovative ways drone tech can be used in battling the ongoing crisis—by doing surveillance, detecting infections, disinfecting areas, delivering medical supplies and so on.
The conversations about the promises of drone technologies have never been more relevant, especially at a time when governments and local authorities around the world are scrambling for ways to combat and contain the spread of the Coronavirus and that too with minimum human interactions possible. Because the frontline workers who are working tirelessly to safeguard people are at greatest risk of exposure to the infection and if not protected, they can become the vectors of further infection as well.
Drones have proved to be particularly useful in aiding government efforts to curb the spread of the disease, because they can reach areas that are difficult to cover either by foot or by vehicles and can do it much faster. A drone can cover a distance of 10km in just 8 mins. Another advantage is that it keeps frontline workers away from close contact with potentially infected people.
There are few basic ways in which drones can and are being used right now: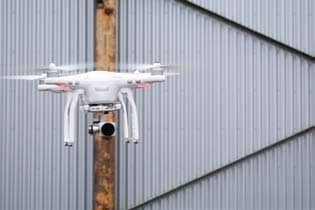 Surveillance and enforce lockdown measures
Drones are now being used for real-time surveillance of public places in major cities and to help local authorities enforce lockdown measures effectively, without deploying any on-ground personnel.
Regular surveillance using drones also acts as a strong deterrent against lockdown violations. A drone carrying an HD camera and a megaphone can be used to disperse gatherings and canvass precautionary messages, such as to put on your mask or maintain social distancing, etc.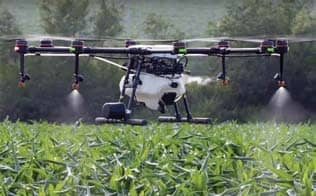 Spraying disinfectants to sanitise places
Crop spraying drones can be utilized to disinfect public areas more efficiently without causing any health hazards. The speed and area covered in the process are unmatched. Disinfectants spraying drones with a 16L tank can sanitise 100,000 square meters in an hour. The spraying activity does not take more than just 2-3 minute and can be repeated as many times as necessary.
Many city municipal corporations have already resorted to this hassle-free surface disinfection technique to sanitize crowded marketplaces, railway stations, areas around hospitals, garbage dumps, etc. If needed, these drones can be used effectively for air disinfection also.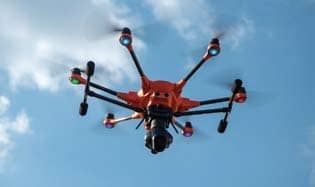 You can read up to 3 premium stories before you subscribe to Magzter GOLD
Log in, if you are already a subscriber
Get unlimited access to thousands of curated premium stories and 5,000+ magazines
READ THE ENTIRE ISSUE
May 2020