The Ultimate Cord Cutter's Guide
Cable TV was once considered the ultimate entertainment necessity, but no longer. Thanks to Internet-based services like Netflix, Hulu, and Amazon Prime Instant Video, you can do away with pay TV altogether. If you have a 5Mbps Internet connection, you can cut the cable easily and efficiently. Here's our most up-to-date look at the best ways to get your favorite TV programming without needing a cable company.
HARDWARE SOLUTIONS
Because most of the major networks are still broadcasting over the airwaves, an HD antenna may be all you need. Start by determining if over-the-air HD is an option where you live by visiting AntennaWeb.org or tvfool.com. If you qualify, buy an antenna—our favorites are the Winegard FL5500A FlatWave Amplified Razor Thin HDTV Indoor Antenna ($59.99) and the Mohu Leaf 50 Amplified Indoor HDTV Antenna ($69.88). Setup for both is easy—you can typically just place the antenna next to your TV—though you may have to play with the position to maximize reception. If you want a DVR for recording, the TiVo Roamio ($144.88) is our Editors' Choice.
Many of today's HDTVs are "smart TVs," which have built-in apps, app stores, and networking that let you get on the Internet and easily download the apps you want. If you don't have a smart TV, there are many media hub options, ranging from game consoles (any of the recent Xbox, PlayStation, or Wii models) and Bluray players to thumb-drive-size units that plug into an HDMI port on your HDTV (such as the $35 Google Chromecast, the $44.99 Roku Streaming Stick, or the $39 Amazon Fire TV Stick). Larger units provide even faster performance and in some cases onboard storage: The Amazon Fire TV ($99) or the Apple TV ($69) are the best of your choices here. Just remember that not every hub guarantees access to every service.
KNOW YOUR CORD-CUTTING SERVICES
The key to being an effective, Internet-only cord cutter is knowing what apps are available on your hardware of choice, the programming to be found on those services, and just how much they're going to cost you. What follows is the list of apps you should have if you want almost-complete programming coverage (at least of prime-time TV across networks and cable channels).
NETFLIX ($7.99 per month with one standard-definition stream; $8.99 for two concurrent HD streams; $11.99 a month for four streams and the 4K content option)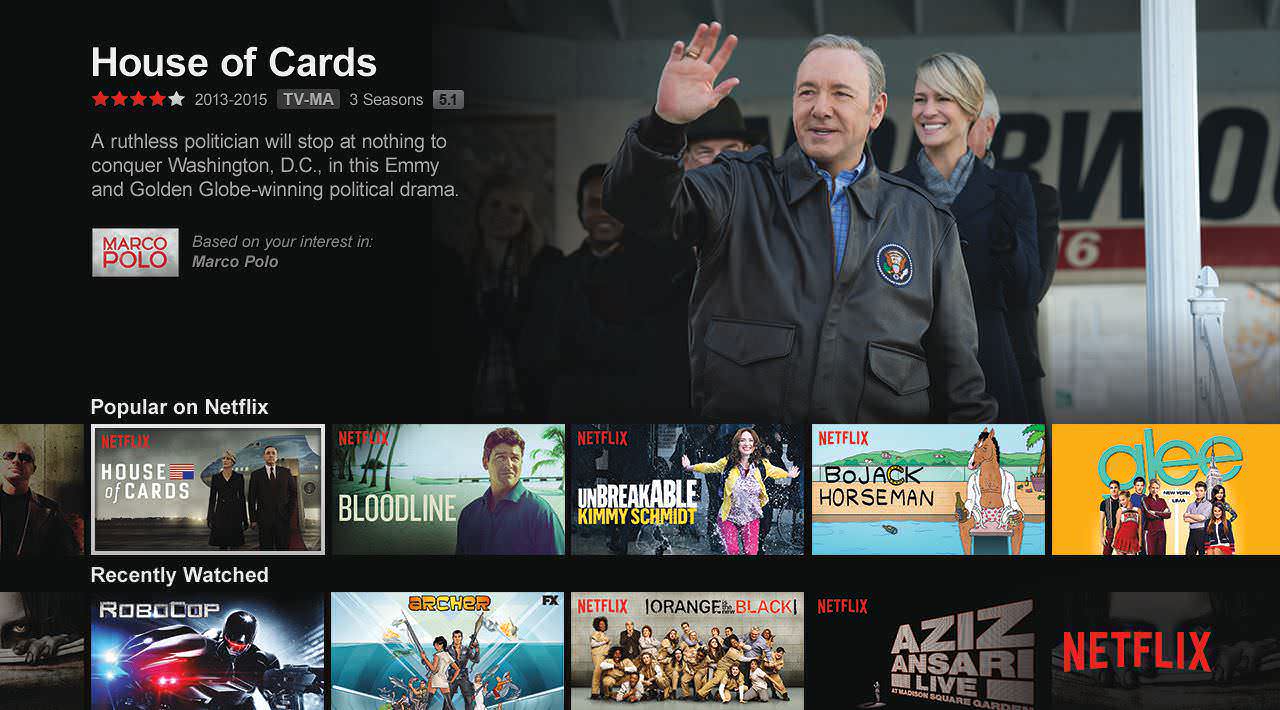 Netflix is the grandpappy of online streaming, and its website just received a long-overdue revamp. It started as a DVD-by-mail rental service, and although that's still part of its business, streaming is what it's known for now.
It has a slew of original shows, including House of Cards, Orange Is the New Black, BoJack Horseman, Hemlock Grove, Unbreakable Kimmy Schmidt, Marvel's Daredevil, and more. It's also "rescued" shows that were killed too soon, like Arrested Development, Star Wars: The Clone Wars, Trailer Park Boys, and Longmire. And the list of new shows it's announced is staggering: Marvel's Jessica Jones, Wet Hot American Summer: First Day of Camp, and a new talk show hosted by Chelsea Handler are among the big ones. And those are just the TV series. Netflix is arguably better known for streaming movies, and it will be making original films with Adam Sandler and Pee-Wee Herman, a film set in the Marvel Cinematic Universe (the same as The Avengers), and a Christmas special staring Bill Murray.
The problem with Netflix is that the catalog of films and TV shows is constantly in flux as the studios and networks play games, look for better terms, or set up exclusives on other services. You can't always guarantee an entire series or movie will be there forever.
HULU ($7.99 per month, with some free content)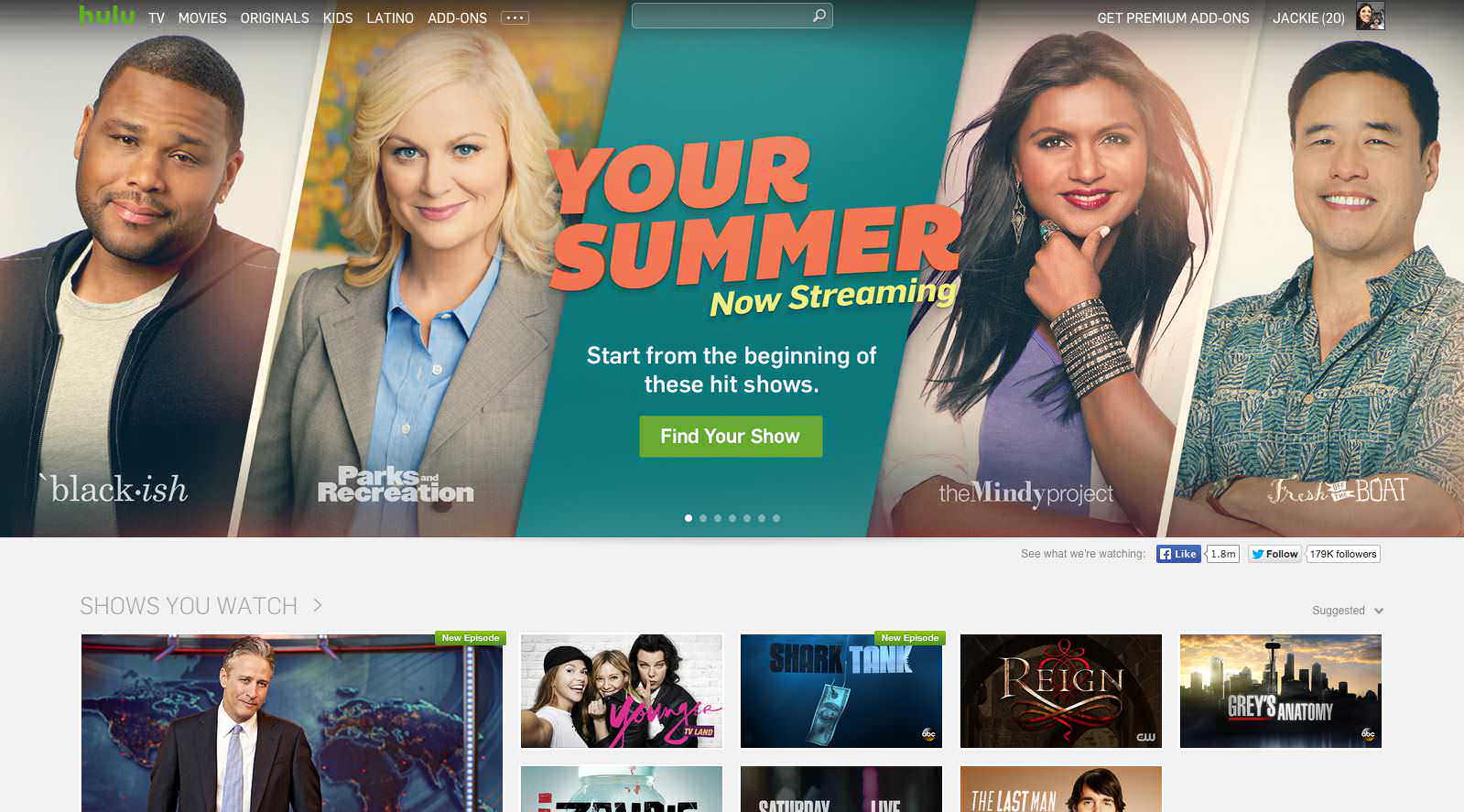 Hulu is literally owned by companies that run three of the major TV networks. So it's the place to go to find the latest TV shows from ABC, NBC, and Fox (plus the CW) the day after the show airs. (CBS has its own service, as we'll see.)
You can read up to 3 premium stories before you subscribe to Magzter GOLD
Log in, if you are already a subscriber
Get unlimited access to thousands of curated premium stories, newspapers and 5,000+ magazines
READ THE ENTIRE ISSUE
August 2015