COUNTER - STRUCK
VALORANT, Riot's first departure from the League of Legends universe, is a surprisingly traditional competitive shooter.
Huddled alone in a corner near bombsite A, I knew I didn't have a chance of sneaking in and planting the package strapped to my back. The defense had just wiped out the other four members of my team, and they knew the bomb was close. They'd be waiting to dome me as soon as I stepped around a corner. So instead I activated my ult, an ability I'd been charging up for half a dozen rounds. After a tense, vulnerable few seconds, I teleported clear across the map to bombsite B and armed the bomb, adrenaline pumping at the thought of pulling off a 1v4 upset.
"Unloseable!" says League of Legends shoutcaster David 'Phreak' Turley, who was helping my team of journalists learn the basics of Valorant, Riot's new competitive shooter. Unloseable for him, maybe. It was meant to be encouraging, but unfortunately, Turley underestimated my ability to choke under pressure. The defence raced to my bomb site and I fumbled my other remaining abilities, throwing down smoke clouds that blinded me as much as they did them. Instead of hiding to scare off an attempted disarm, I went in—and down—guns blazing. They had just enough time to defuse my unloseable victory.
I'm still mad I blew my chance at glory, but the thrill of that moment has stuck with me. It showed how dramatically a well-timed ability in Valorant can alter a match, and made me think 'OK, maybe Riot has something here'. Because at first, I wasn't so sure. Hero abilities allow for clever strategies and exciting upsets, but look past them, and Riot Games has fundamentally spent the last five years building Counter-Strike.

TEAMFIGHT TACTICAL
Valorant is a 5v5 tactical shooter, meaning you move slowly, die fast, and lose any semblance of accuracy when you try to run-and-gun. Weapons have heavy recoil, made more manageable when you stand still or crouch. Bullets penetrate doors and light cover. One round, one life, with one team trying to plant a bomb and the other trying to stop them. You even buy guns and armor at the beginning of every round and run faster with your knife (there is, of course, no sprint). These have been the fundamentals of Counter-Strike for 20 years. Seriously, when I went to Riot Games to play its first new thing set outside the League of Legends universe, I didn't expect to be pulling out a knife to run at top speed in a game released in 2020.
"When you think of everything from old Rogue Spear, to Counter-Strike 1.4 and Counter-Strike 1.6, and even Rainbow Six: Siege now, they're all playing in this tactical tradition of games that force you to play as a team and think about how you're going to break through an enemy line and conquer it. What we really liked is that concept," says game director Joe Ziegler.
"The bits and pieces that we took inspiration from we've molded into our own to create a package that we feel is very unique, but really we were thinking about how to expand on the creativity of it. Because in a lot of those games, historically, it's a game of inches."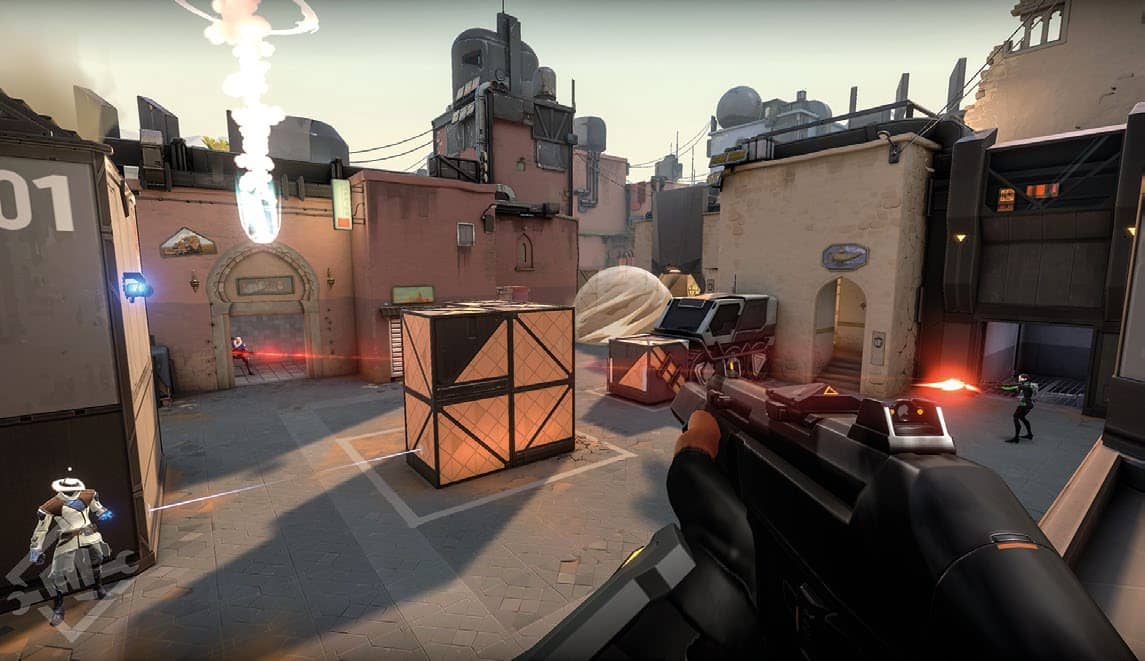 The parts of Valorant that aren't pure Counter-Strike are similarly unoriginal. Character abilities feel straight out of a game like Overwatch (or League of Legends), but are scaled way back to only a few uses per match. Riot emphasized, again and again over two days of playing Valorant and talking to its creators, that the shooting is the main course and the abilities are the side dish.
"An obvious default for us would be like 'Oh, just give agents all the abilities every round,'" says lead game designer Trevor Romleski.
You can read upto 3 premium stories before you subscribe to Magzter GOLD
Log-in, if you are already a subscriber
Get unlimited access to thousands of curated premium stories and 5,000+ magazines
READ THE ENTIRE ISSUE
May 2020