Reaching Out To The Sun
A village in Rajasthan trains poor African women to harness solar energy.
It is 4 pm at the Barefoot College in Tilonia, a village in the Ajmer district of Rajasthan. A pristine white courtyard leads to a room where the large centre table is littered with an assortment of electrical bits and bobs—multimeter, nose plier, wire cutter, soldering iron, resistors, diodes, charge controller and the works. An aerial view of the table might resemble a high-tech multi-coloured world map. The middle-aged women seated around the table have come from Cambodia, Suriname, Guatemala, Namibia, Burkina Faso, Malawi, magically amplifying the imagery of a world enclosed within the four corners of a page to that of a classroom. On the blackboard facing the table, there are names of colours written in Swahili: chokuda, bulauni, chofira, orenji, yero... (black, brown, red, orange, yellow), explaining the standard colour coding in this 'Solar Workshop'.
A lean, upright and slightly frazzled Gordhan Lal, popularly known as 'Masterji', stands in front of the blackboard with his notebook and a crutch— he was afflicted with polio as a child. He repeatedly calls out names of electrical tools and components to help his international students commit them to memory. Not all are interested to diligently repeat after Masterji, though. The soft glow of the evening sun has filtered into the classroom, casting an aura of Saturday sluggishness all around. The class looks like it is going to be dismissed soon. Rosaline, a tall and buxom 36-year-old housewife from Zimbabwe, looks furious. She wants to pack up for her evening repast, but is hard-pressed to express her restlessness in her native tongue, damara nama. Neither is she familiar with Hindi. Magan, a 43-year old trainer clad in a pink bandhej saree is hovering around the table, adjusting her ghoonghat over her head. She wants Rosaline to concentrate and struggles to express her mild consternation and amusement in broken English. Rosaline, not to be admonished, retorts back, "Now my husband at home will do cooking, cleaning, washing. I sleep." Madan stares at her incredulously, "You sleep?" And pat comes Rosaline's triumphant response, "Yes, I am a solar engineer." The women around them burst out laughing.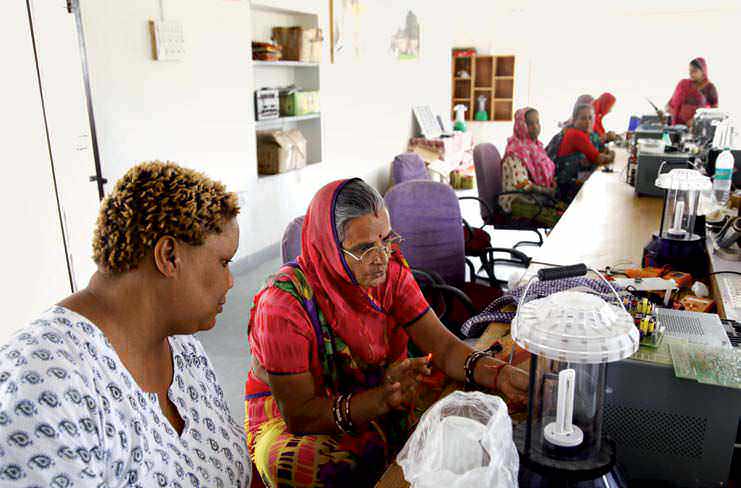 For close to 40 years, Barefoot College— established by Sanjit 'Bunker' Roy—ha been training poor, rural communities to become self-sufficient. Illiterate and semi-literate men and women from different castes live together for short, intensive courses and train to become engineers, teachers, doctors and the like They receive training by teachers who are themselves illiterate and poor, relying on traditional skills and village wisdom. In essence, a college made by the poor for the poor. But the most successful Barefoot solution that has gained worldwide recognition is that of the solar electrification programme, especially the way it has electrified close to 50,000 households in 34 African countries by training 450 illiterate African women as solar engineers over the last 10 years. The unique concept has attracted funds from the Ministry of External Affairs, Ministry of New and Renewable Energy and various other UN agencies, apart from multiple partnerships with several big-ticket NGOs. This year, Barefoot College became the first voluntary organisation in the world to forge a tie-up with Apple, to develop iPads for facilitating a smoother learning experience for solar trainees in Tilonia.
You can read up to 3 premium stories before you subscribe to Magzter GOLD
Log in, if you are already a subscriber
Get unlimited access to thousands of curated premium stories, newspapers and 5,000+ magazines
READ THE ENTIRE ISSUE
November 9, 2015