Welcome To The Post Nuclear Family
Official Xbox Magazine
|
December 2018
OXM travels to West Virginia to get hands-on with the post-apocalyptic MMORPG. Is bringing falloutsworld online and inviting your friends along a blast, or is it a mutation too far?
It's like waiting for a bomb to drop. A moment of lung-bursting anticipation. The familiar cog-edged blast door pulls out of its frame with a rush of air and dust-smoke, and we finally emerge, blinking into the sunlight of a West Virginia morning.
What can we expect to find on Reclamation Day, the day decreed by the dwellers of Vault 76 to be safe enough, 25 years after atomic devastation, to leave the fallout shelter and repopulate the world? And, more importantly, as fans of the Fallout series, what can we expect, stepping for the first time into a post-apocalyptic world with – groan/cheer/delete as appropriate – other gamers?
With Fallout 76, Bethesda is taking the beloved post-apocalyptic survival RPG into the realms of a persistent online multiplayer world. We have spent many, many hours in the Wastelands of the previous Xbox Fallout-ings, and we have some doubts that this ambitious new undertaking will do justice to our beloved Fallout world. After all, letting a bunch of randoms trample all over our previously very personal Fallout experience, and grief us relentlessly like it was Sea Of Thieves, is filling us with more terror than being stalked by a Deathclaw. Nestling in the Allegheny Mountains of West Virginia, The Greenbrier is a very exclusive spa resort built around health-giving sulphur springs, and is inspirational to the nuclear-age game lore of Fallout – even appearing as a location in 76. Below this luxury resort is an actual nuclear fallout bunker, completed in 1962 and intended to shelter members of Congress in the event of nuclear war.
The bunker was never used, even during the Cuban Missile Crisis, but kept fully stocked for 30 years, until its existence was exposed by the Washington Post in 1992. It is now a tourist attraction, filled with fascinating history that never was. This was where the law-making arm of the US government would have attempted to operate post-apocalypse; there's a room for a televisual address to the nation; a kind of senate room, dormitories, decontamination showers, and a massive great blast door, that shuts behind us with a neck-hair raising boom. It's apposite that we should be playing the game here for the first time; Fallout's rich game history deviates after the Second World War, so that its retro-futuristic, atomic-age stylings echo the height of the US's nuclear paranoia, but take it to the alternative historical conclusion of a devastating nuclear conflict.
Atomic bond
Playing in a team of four, including a Bethesda Game Studio 'sherpa' to guide us, we set off across the huge map – four times bigger than Fallout 4's. There are up to 24 players in each instance. We are the only humans in the world – there are no human NPCs in the game this time. Instead, missions will be acquired from holotapes, computers, letters and other information sources found in the world, or by events that crop up that you can choose to engage in, or not. Every human you meet, trade with or fight in the game will be a real human player. It makes for a much more freeform style of play than we've seen in Fallout before.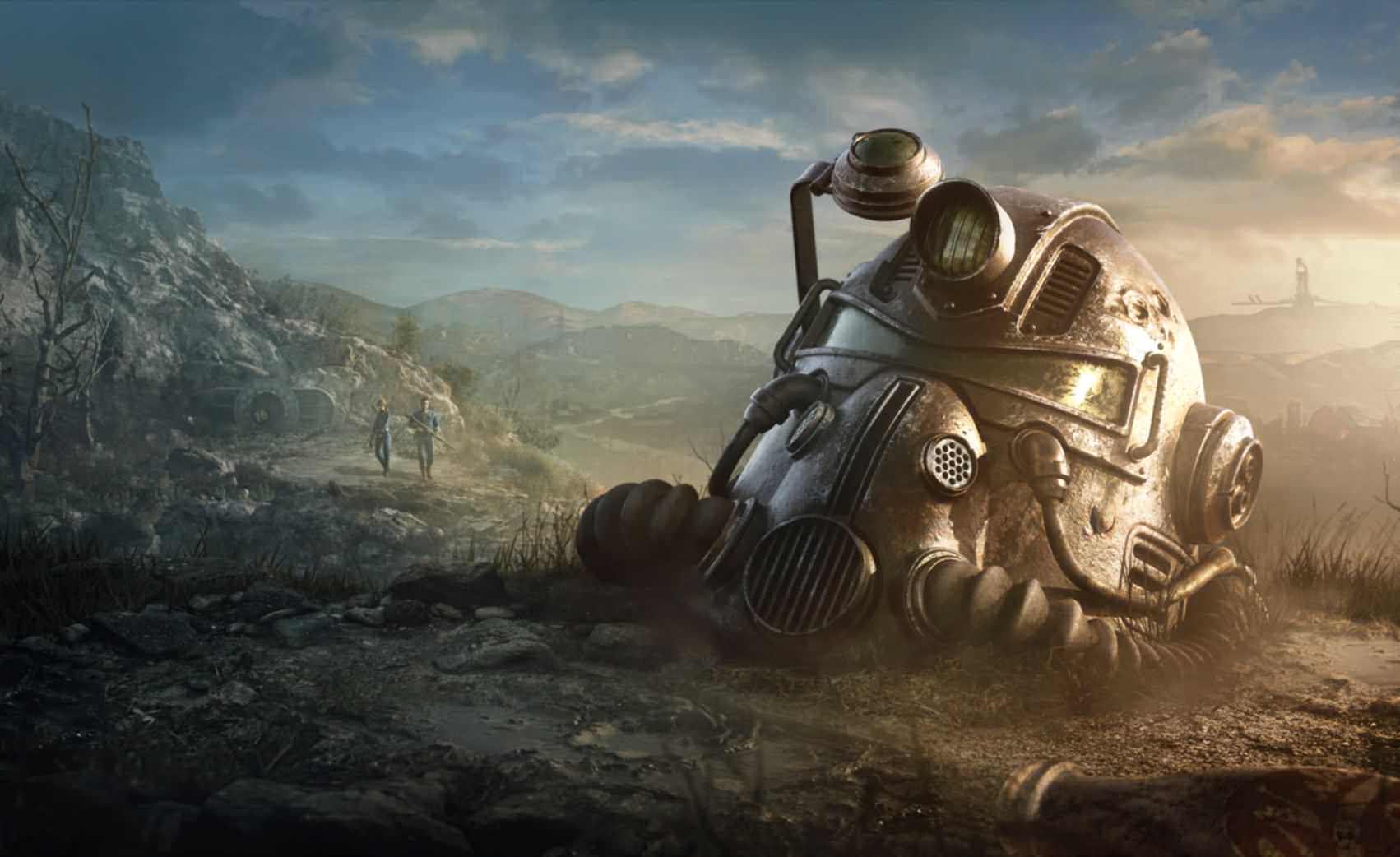 That lack of NPCs also means that the staple Fallout enemies – Raider gangs – will not be found in 76's Wasteland either. Bethesda want the experience of running into other human survivors to feel special, that they are real humans. When you and your friends leave Vault 76, you really are the first humans back in the world. Nuke kids on the block, so to speak.
Although our sherpa is advising us to follow a more sensible path to levelling up and survival, we choose instead a route more likely to lead to a quick death in a higher-level area. We want to visit our actual location, The Greenbrier (renamed The Whitespring), and set off in that direction via a few small skirmishes with feral ghouls and armed ghouls called The Scorched. All OXM has is an axe, the ubiquitous Fallout pipe-revolver and very, very little ammo. Bullets are scarce, weapons are scarce, Stimpaks even scarcer. Previous Fallouts practically threw weapons and ammo at you via Raider encounters, rendering their crafting mechanic for such things as little more than a pointless metagame. Here, crafting is going to be hugely important. There are public workbenches out in the world, where you can also scrap the junk you've picked up. All that found-crap was more evidently useful in Fallout 4, but here it's vital. But, your inventory is limited, so while you might be carrying that old desk fan around, quickly scrapping it for the springs and fixings will free up your carrying space.
Atomic kittens
You can read up to 3 premium stories before you subscribe to Magzter GOLD
Log in, if you are already a subscriber
Get unlimited access to thousands of curated premium stories, newspapers and 5,000+ magazines
READ THE ENTIRE ISSUE
December 2018