THE ULTIMATE APPLE MEDIA GUIDE
Make the most of the Music app in Catalina — and master TV, Podcasts and Books too
WHETHER YOU SUBSCRIBE to Apple Music or keep it old– school with your own collection on your Mac, the Music app — introduced in macOS Catalina — is your go–to program for all your musical needs. Much like the old iTunes app, Music enables you to rip, play, sync, stream and download your tunes, watch music videos and buy items from the iTunes Store.
What the Music app doesn't do is provide a home for your movies, home movies, TV shows, podcasts or audiobooks anymore — these have been hived off into separate apps named, unsurprisingly enough, TV, Podcasts, and Books. This guide will explain how to make the most of them too.
So, open your Mac, fire up the Music app and read our 14–page ultimate guide. There's plenty here to entertain you.
Get started with the Music app
It's not called iTunes anymore, but you shouldn't have much trouble finding your way around
CATALINA MAY HAVE split media across separate apps, but for music little has changed. All songs and playlists from the iTunes library on your Mac are imported when you first run the new app. This might include tracks you ripped from CDs, bought as MP3s, or bounced from the masters that time you collaborated with Skepta. As before, you can use File > Import to add more files from any connected storage, or even import CDs if your Mac has access to a CD drive (see bit. ly/impfcds). Music > Prefs > Files > Import Settings affects new but not previous imports.
You should see all the music you've previously bought from iTunes. If not, make sure you're signed in to your iTunes account on the Account menu and that this Mac is one of the five computers authorized to play protected content (Account > Authorizations > Authorize This Computer). This is separate from your Apple ID and iCloud settings in System Prefs. You can switch accounts at any time, but you'll only see purchases from one. To keep a purchase playable on your Mac regardless of which account it belongs to or whether you're online, download it by clicking the cloud icon to the right of any item in the Library views. The iTunes Store is now accessed from Music's left sidebar.
By default, everything you download or import is stored in your Music folder, which stays in the same location as for iTunes: look in Music > Preferences > Files. However, if you unchecked "Copy files to Music Media folder when adding to library" before adding items, Music will continue to access them from their original location, when available.
At the top of the sidebar are tabs for Apple Music, a service requiring a subscription (see page 18). If you have no interest in this, you can hide it: select Music > Preferences > Restrictions > Disable > Apple Music. You can similarly hide the iTunes Store by unchecking Music > Preferences > General > Show > iTunes Store.
>>> What happened to iTunes?
2001
RIP, MIX, BURN
To complement the Mac's ability to play and burn music CDs, Apple acquires the SoundJam MP app and relaunches it as iTunes for Mac OS 9.
2001
iPOD, YOU POD
With the debut of the first iPod in October, iTunes 2 — running on Mac OS X — is now the only way to sync MP3 files and ripped CDs.
2003
SYSTEM OF A DOWNLOAD
Steve Jobs gets the music industry to agree to the iTunes Store, allowing Mac users to buy tracks in iTunes and transfer them to iPod.
2006
VISION ON
Full–length videos become available on the iTunes Store in iTunes 6 (music videos were added in 2005). Content includes TV box sets; films come later.
2007
FREE MARKET
iPhone and iPod touch introduce wireless access to the iTunes Wi–Fi Music Store, so connection to a Mac running the iTunes app is not required.
2015
STREAM ENGINE
Apple Music's launched, updating iOS' Music app (separate from the iTunes Store and TV apps, unlike in macOS) to support it. The app is redesigned in iOS 9.
2019
WORLD'S END
Catalina renames the iTunes app Music and moves support for video, audiobooks and podcasts into separate apps. Everyone has a meltdown.
EXPLAINED… The Music app interface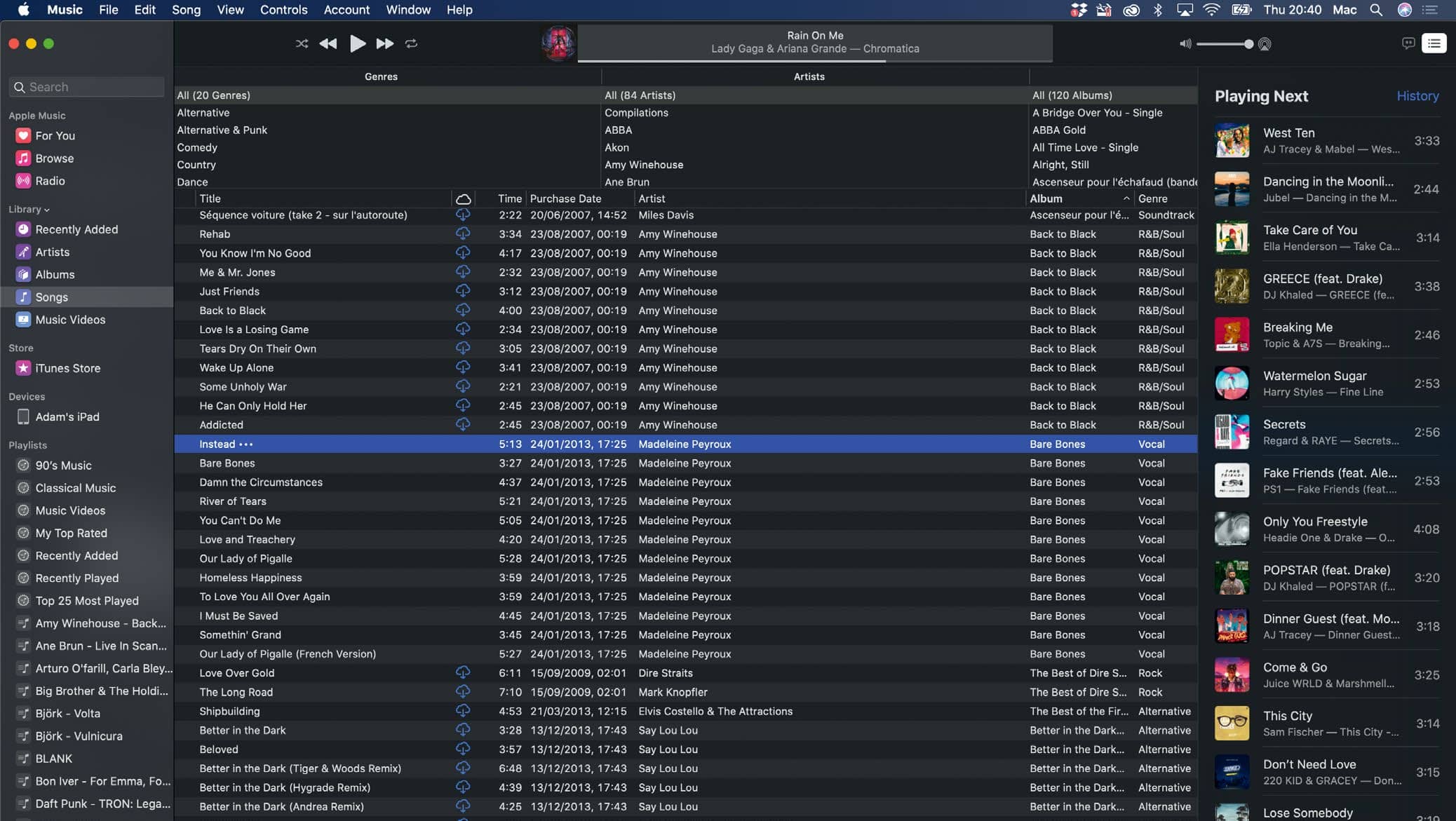 MUSIC ONLY With the removal of audiobooks, podcasts and video to separate apps, iTunes' button bar and drop–down menu are gone.
SEARCH Search has moved from top–right to top–left. Clicking in the box or pressing Cmd+F switches the main view to show results.
APPLE MUSIC The subscription service now heads the Music app's sidebar, with your own Library and the iTunes Store listed below.
BROWSE Without an Apple Music subscription, you can browse the content but you can't play tracks, and there are no preview clips available.
YOUR SONGS Selecting Songs under Library gives a familiar track list view. Press Cmd+B to show or hide the column views at the top.
PLAYING NEXT The icon to show your list of cued–up tracks is now here, and the Lyrics display (for the current track) gets its own button.
Apple Music: I stream, you stream Why buy music when you can pay per month and hear it all? Even better, you can do both
APPLE MUSIC IS separate from the iTunes Store. It costs $9.99 a month, $4.99 for students, or $14.99 for a family of six. You can browse 60 million tracks and stream them live from Apple's servers, and add tracks to your library so they're listed alongside those you own as music files. You can then download them to your Mac, iPhone or iPad and play them offline. You can also add tracks from Apple Music to your playlists, with or without adding them to your library. If you stop subscribing, these additions are greyed out for 30 days, during which time you can resubscribe, then deleted.
Your subscription also enables iCloud Music Library. This syncs music files in your own library, imported into Music from sources other than Apple, to all your devices. This is automatic as long as Music > Prefs > General > Sync Library is selected, and doesn't count against your iCloud storage. If you want this without Apple Music, get iTunes Match instead, at $21.99 a year.
>>> Apple Music versus Spotify and other streaming rivals
OVER HALF OF Spotify's nearly 300m users are on its ad–supported free tier, something Apple Music lacks. Otherwise, both services cost the same, offer similar range and support Mac, Windows, iOS, Android, web browsers, Bluetooth and AirPlay, Siri, and Alexa.
Spotify also works on Google Home, Xbox and PlayStation. Spotify used to feature more unsigned indie artists, but some now prefer Apple Music and many upload to both. The biggest difference between the two is Apple Music's ability to host, sync and stream your own collection.
Among other rivals, Amazon Music mostly appeals to Prime subscribers, who get a fraction of its full library; Unlimited costs $79 a year extra, or $7.99 a month alone. The free option is basically a personalized radio station, similar to Pandora, which has a $9.99 tier with a good library but is US–only.
HOW TO Sing along with lyrics
1 Show lyrics
Click the speech bubble at the top–right to show lyrics for the track that's playing (not just selected). Lyrics will be found for all tracks, where identified and available, not just those you're playing from Apple Music.
2 Live lyrics
Some Apple Music tracks have live lyrics, which appear in larger text. You may find some tracks from an album have live lyrics but others don't. Each line is highlighted as the track plays, and you can also scroll.
3 Lyric controls
Three dots indicate an instrumental intro, gradually highlighting as it completes. Click here or on any line of lyrics to jump to that point. Sadly, you can't maximize the lyrics pane for a karaoke experience.
HOW TO Get the most from Apple Music in the app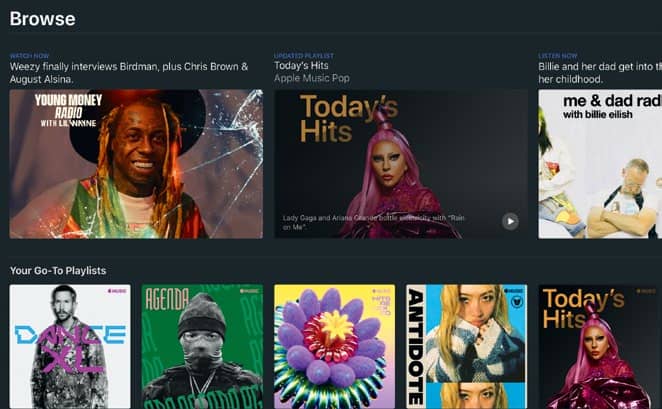 1 Check out Apple Music
If you're not yet a subscriber, clicking Browse at the top of the app's sidebar lets you explore everything on Apple Music — you just can't play it. Unlike the iTunes Store, there are no preview clips.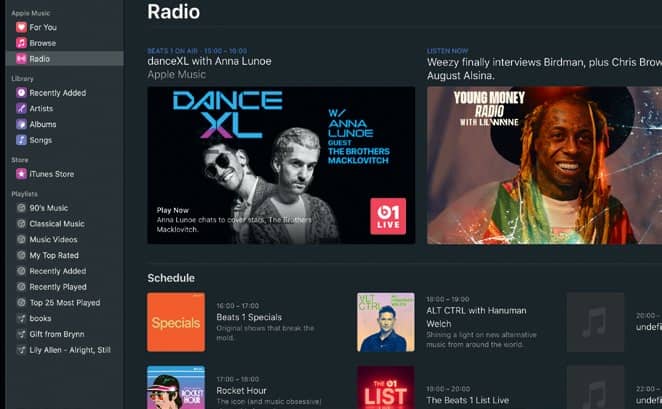 2 Turn on the radio
The Radio tab shows what's playing now and coming up on Apple's Beats 1 station, plus on–demand specials, but without a subscription they won't play. Scroll down for free third–party radio.
3 Try Music for free
Clicking a track in Browse, or For You in the sidebar, gives you a link to a three–month Apple Music trial. You're notified when this expires; if you don't cancel, your iTunes account is billed monthly.
You can read up to 3 premium stories before you subscribe to Magzter GOLD
Log in, if you are already a subscriber
Get unlimited access to thousands of curated premium stories, newspapers and 5,000+ magazines
READ THE ENTIRE ISSUE
October 2020