Detox Your Mac And iOS Devices
Mac running slow or short on space? This feature will show you how to clear out the rubbish and keep hold of the important stuff
One thing that's as sure as death and taxes is the fact that your Mac's hard disk will eventually fill up. These days it may be an SSD or Fusion Drive, but regardless of the nature of the hardware it can only hold a finite number of gigabytes. And the more files you add — whether new apps, downloads, music and videos, your photo collection, work files or anything else — the less space will be left. And the same goes for your iPhone or iPad.
As we so often say about macOS and iOS, remember that there's only a problem when there's a problem.
There's generally no need to worry about unwanted files existing, or to install software that promises to remove them. These files won't break anything or slow anything down. But when you try to save or download a file and get a warning that your drive is almost full then yep, you'll need to do something about it.
In this article, we look at all the kinds of content that are likely to be taking up storage unnecessarily, where to find them, and how to get rid of them safely. Finally, in case it feels like time for more drastic action, you'll see how to wipe your drive and start again.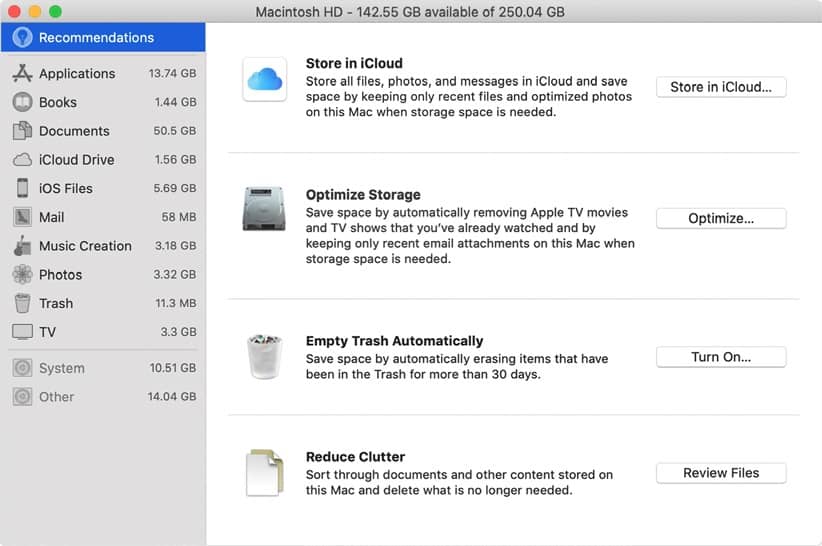 Step one: Identify space hogs and optimize storage
The bigger the file, the more you'll gain by trashing it
YOUR MAC'S BUILT–IN primary drive, called Macintosh HD by default, is where all your files are stored, unless you saved them to an external drive. Check both for anything you don't need to keep.
1 Get an overview
The status bar at the foot of any Finder window (show or hide it with Cmd+/) lists free space on the current drive. For more detail, choose About This Mac from the Apple menu and click the Storage tab.
Wait for the chart to update fully and you have a color–coded breakdown of all drives. This doesn't reflect how files are arranged on the disk, just how much space they use. If it shows that photos and/or music are the major space hogs, turn to page 24.
2 Manage documents
Click Manage to open the Storage Management window. You'll see that the first of the panes listed on the left is Recommendations. As well as options to keep more content only in iCloud, which we'll look at over the page, this lets you set the Trash to auto–empty and offers a Review Files option to "reduce clutter". This opens the Documents pane, which deals with files stored anywhere in your Home folder.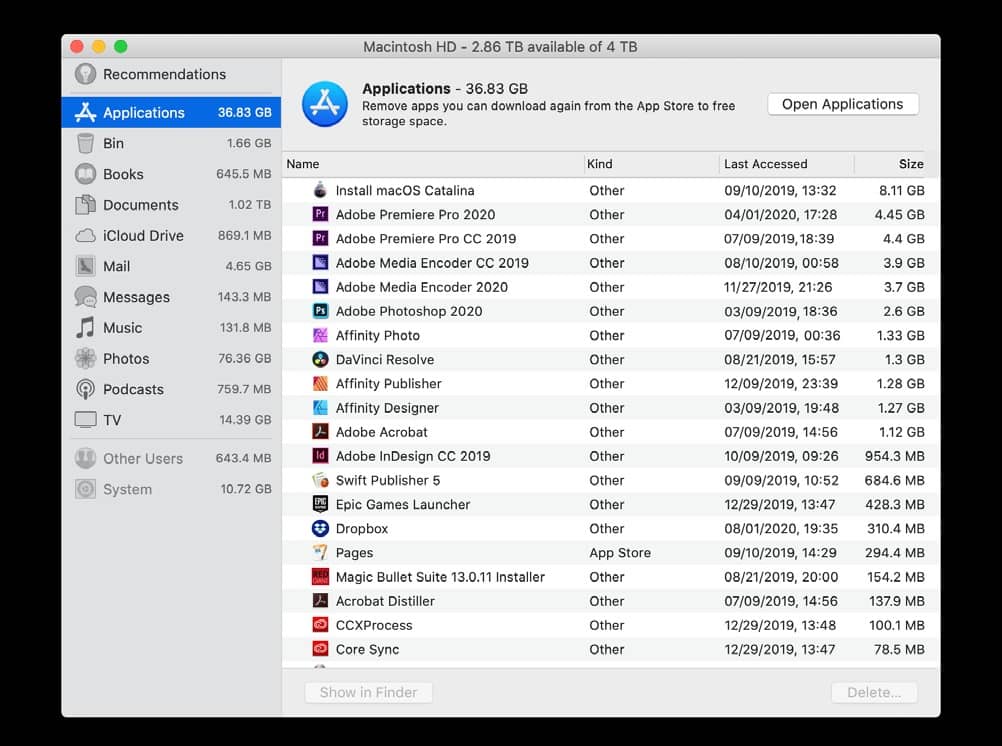 Large Files lists only the biggest. Simply click a file to show its location; click Delete to erase it. File Browser shows which folders contain the most data. However, if you keep work outside your Home folder, none of this may help much.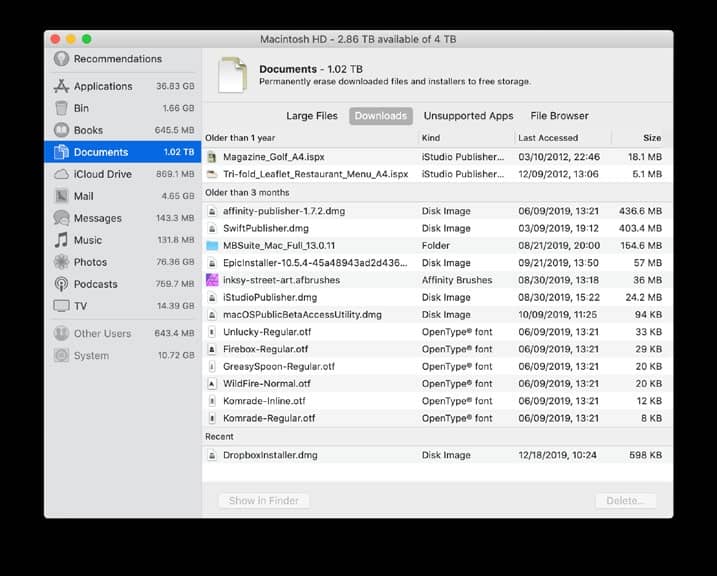 3 Delete downloads
The Documents pane also has a tab or your Downloads folder, which often contains disposable files such as installers. You can also open Downloads from its icon in the Dock, or from your Home folder in the Finder.
Click the Size column heading (Opt– click any heading and check Size to add it) to order by file size, clicking again if necessary to get the biggest first. Starting from the top of the list, delete anything you don't need.
Find large files
To search more widely for files worth removing, open a new window in the Finder (Cmd+N) in List view (Cmd+2). Click a drive or folder in the left sidebar and press Cmd+F. Notice that you can switch the search between the current location and the whole system (This Mac).
Click Kind and change it to File Size, then switch "equals" to "is greater than" and set a size, such as 50MB. Click the Size column heading (twice if necessary) to see the biggest files first. Click any you don't need and press Cmd+Left Arrow to delete.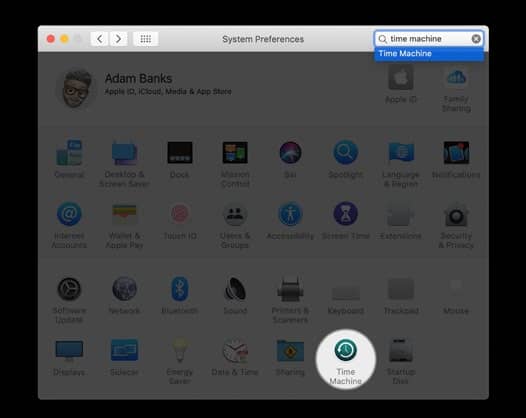 HOW TO BACK UP WITH TIME MACHINE
1 Time Machine Prefs
Be sure you have a backup before you start deleting files. Time Machine is an easy way to keep a backup of your Mac and attached drives. Open System Preferences and click Time Machine.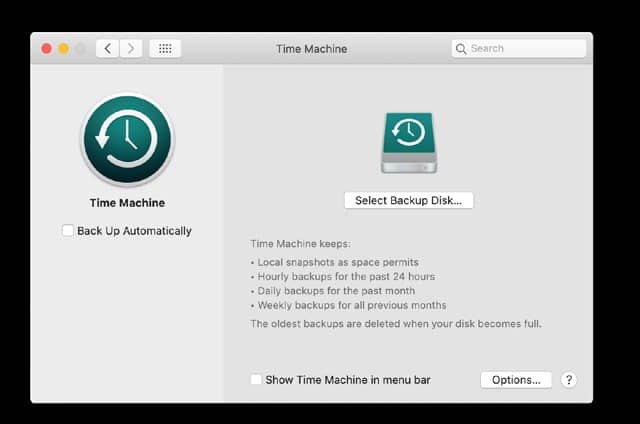 2 Select a backup drive
Use a Mac OS Extended (Journaled) formatted USB or Thunderbolt hard disk or SSD, an Apple AirPort Time Capsule, or a NAS unit with Time Machine compatibility. Click Select Backup Disk.
3 Check available space
Eligible drives are listed showing free space. Time Machine can share a drive with other files (no need to partition it). Aim to select a drive bigger than all the space you're backing up. Click Set Up.
4 Start backing up
Check Back Up Automatically. Your first backup will start in the background. This takes time but future updates will be quicker. Check "Show Time Machine in menu bar" to add an icon in the menu bar.
5 Restore files
In future, select a file in Finder (if you've deleted it, select the folder it was in). On the Time Machine menu, click Enter Time Machine. Use the arrows to pick a dated version, then click Restore.
Take out the Trash
1 Go through your bin
As you remove unwanted files, you might notice you're not gaining any space. That's because anything you've deleted will normally still be sitting in the Trash, which means it's still taking up storage. Opt–click the Trash icon, at the right–hand end of the Dock, and choose Open.
2 Rescue any trashed files you need
Check through the list of files. If there's anything you've deleted by mistake, Opt–click it and choose Put Back to return it to its original folder, or drag it to another location.
3 Delete the rest
To be cautious, you can delete individual files from the Trash: Opt– click and choose Delete Immediately. To get rid of them all, Opt–click the Trash icon and choose Empty Trash.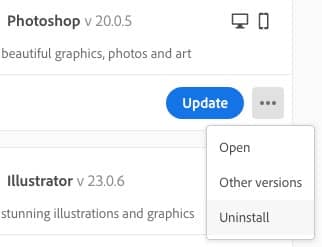 Step two: Remove unwanted apps, add–ons, malware, and adware
Decimated your documents? Now pulverize some programs
Check dodgy extensions
Browser plug–ins can have undesired effects, such as redirecting you to advertisements.
In Safari, go to Safari > Preferences > Extensions. There may be nothing here, but if there's anything you don't recognize, uncheck it to see if that solves the problem; you can then click Uninstall to remove it. Other browsers have their own plugin options so you'll need to check online for how to go about managing those.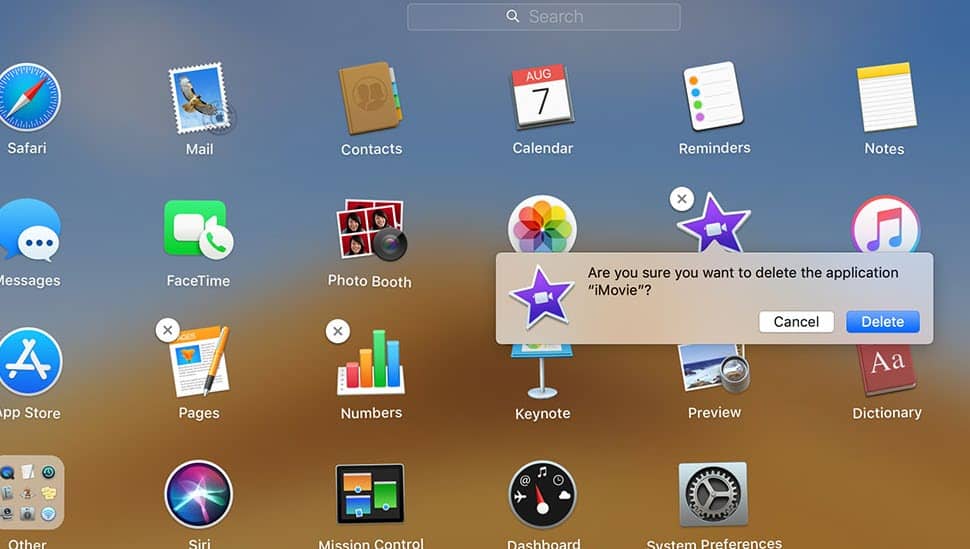 BESIDES DOCUMENTS, YOU could be losing space to apps, plugins and other functional files that you no longer need. And then there's malicious or annoying software you may have inadvertently added.
1 Delete tidy apps
Most Mac apps consist of a single file either in the main Applications folder (if installed for all user accounts) or the folder of the same name in your Home folder. Select the app in the Finder, press Cmd+Left Arrow and it's gone. Or open Launchpad from the Dock, click and hold on the app until the icons jiggle, then click the cross.
This applies to all apps from the Mac App Store, and many more. Any data left behind (such as preference or log files) is usually too small to be worth worrying about, but see "Temp files, preferences and caches" on the opposite page.
2 Uninstall fussy apps
Third–party apps sometimes come with an installer, which may add more significant content elsewhere, so use the developer's manager or uninstaller software to remove them; the same goes for third–party plugins. Removing apps doesn't affect files saved from them, but of course you won't have the app to reopen the files. Some apps, including games, may incorporate save data that's lost if you delete the app.
3 Maul malware
Malware is uncommon on Macs. It shouldn't be possible for any software to run unless you agree to install it, entering your password to do so. So the only likely way to get "infected" is if you're tricked into downloading and installing an app that pretends to be something else, such as an updater for Adobe Flash. Even then, macOS will warn you if it contains known malware.
Most unusual behavior in macOS, such as slowdowns, has more innocent causes. But if you think you may have installed malware, the most important thing not to do is go online, do a search and install any tools you see recommended to remove it. These may themselves be malware! Instead, go directly to a reputable security software company, such as Bitdefender. Its free Virus Scanner for Mac (see bitdefender.com/toolbox or the Mac App Store) will scan for known malware.
HOW TO TAKE CONTROL OF iCLOUD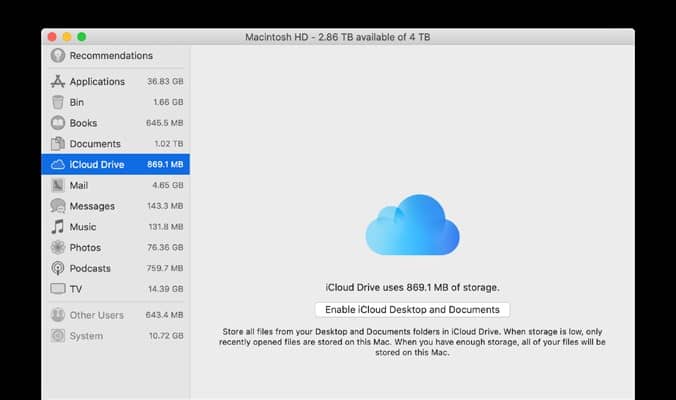 1 Use Storage options
From the Apple menu, select About This Mac, click Storage, then Manage to open Storage Management. Select iCloud Drive for the option to Enable iCloud Desktop and Documents.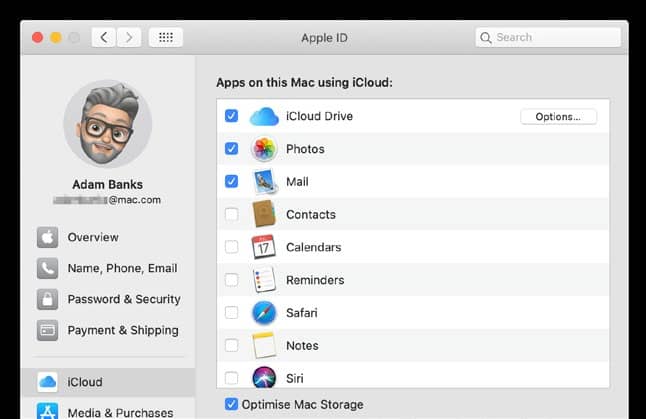 2 Use System Prefs
Or open System Prefs and, in macOS Catalina, click Apple ID, then iCloud; in earlier versions, click iCloud. Beside iCloud Drive, click Options. You'll see Desktop & Documents Folders.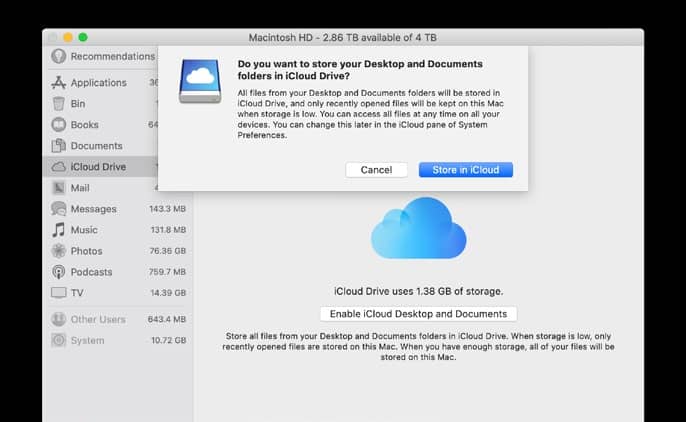 3 Enable iCloud sync
Enabling this will sync the contents of Desktop and Documents folders (in your Home folder) to iCloud Drive. This gives you an offsite backup, but also has a space-saving benefit.
4 Automatic offload
You can read upto 3 premium stories before you subscribe to Magzter GOLD
Log-in, if you are already a subscriber
Get unlimited access to thousands of curated premium stories and 5,000+ magazines
READ THE ENTIRE ISSUE
April 2020