Save yourself a trip to the Genius Bar — do your own diagnoses and sort out your Mac!
THE GREAT THING about Apple products is that they just work, right? Well, most of the time, yes, that's right (thankfully). But what happens if your Mac simply doesn't want to play ball?
Is your Mac refusing to start up? Has the display gone all stripey? Or is it switching on okay but being really slow to respond? Your first thought may be to go online (on another device, of course) and book yourself an appointment with an Apple Genius. Or arrange for an Apple Support call. Obviously, these guys are the experts — and it's fantastic that us Apple fans have these reassuring services to hand. But you could spend a while on the phone explaining the issue or you may not be able to book a Genius Bar appointment at a convenient time.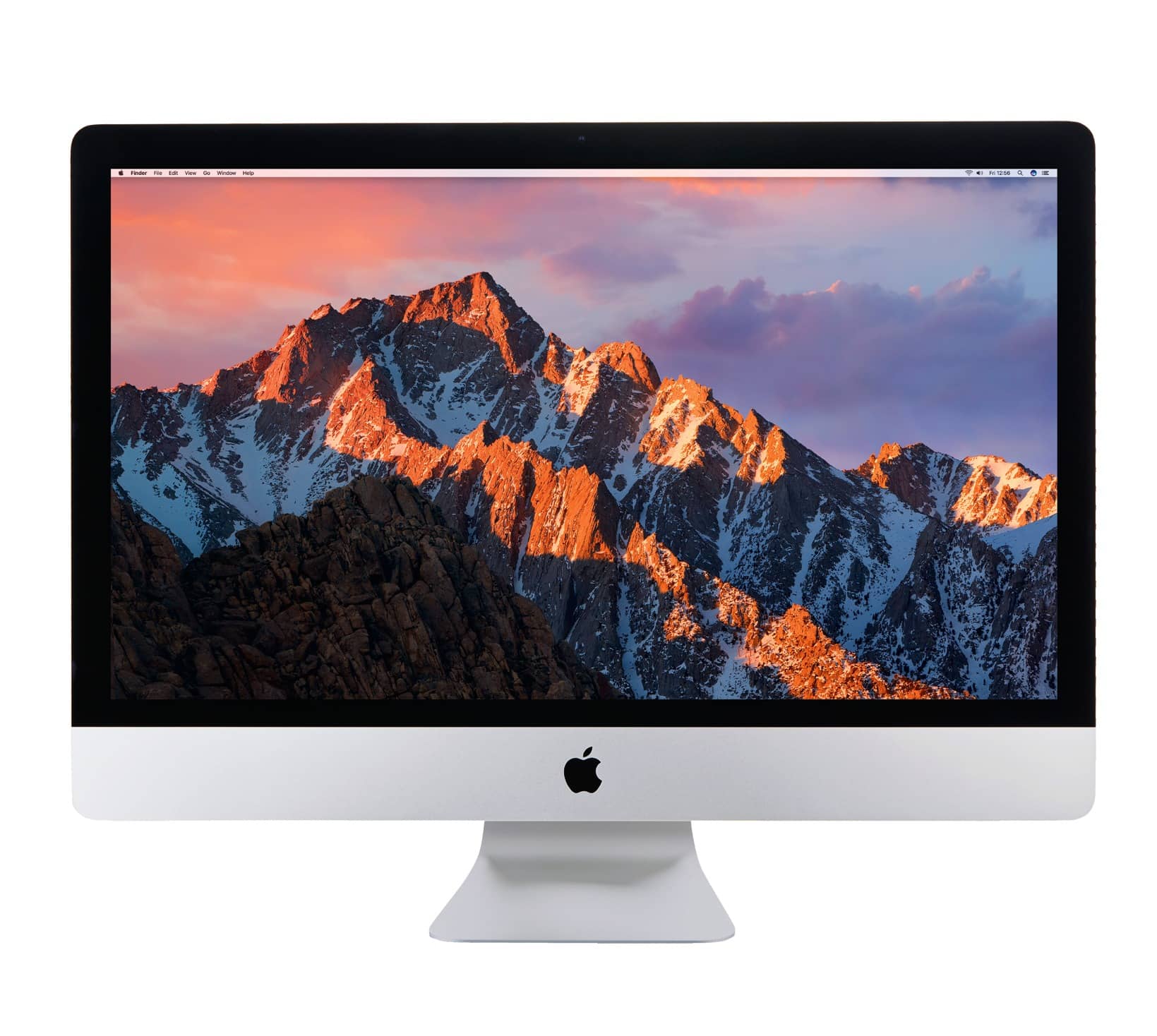 Well, once you've recovered from that initial "why isn't my Mac working?!" panic, you might be surprised to discover that some fixes are a whole lot easier than you would first think.
We've collated a comprehensive bundle of the most common Mac problems that can occur and — more importantly — how to fix them! You don't have to be a technical whizzkid or a network know–it–all. Just follow our simple steps, and you and your Mac can carry on "just working" in no time.
GETTING STARTED
When your Mac won't even power up
WHERE IS THE POWER BUTTON, ANYWAY?
A desktop Mac will have a physical power button, usually on the back, marked with the "standby" symbol, a circle broken by a line. MacBooks have a button at the top right of the keyboard; this includes Touch ID models, but to start from cold you'll need to hold the button down, not just touch it.
WHY WON'T THE POWER BUTTON RESPOND?
A common reason for not being able to power up your Mac is that it's already powered up but failing to wake from sleep. It's similar to when macOS hangs while you're working, usually because an app or Finder has crashed — it's just less obvious because you can't see what's happening. All you need to do is hold down the power button until the power cuts out, which may be felt as a faint clunk. Wait a few seconds, then press it and let go to start back up.
DOES THE MAC HAVE POWER COMING IN?
So pressing a key, the mouse or trackpad button doesn't wake up your Mac, and pressing the power button doesn't bring the screen to life. Do you hear a chime or whir, or see any lights, or a faint glow on the screen? If not, that could mean that there's no power. If it's a MacBook, make sure it's plugged in; try a different charging cable, and if possible another charger. For a wall–powered Mac, try a different cable. You should check the wall power socket too.
IS THE BATTERY THE PROBLEM?
Yes: as MacBooks get older, the batteries hold less charge and eventually start to fail, with various symptoms — see page 29. Specific problems with the 15–inch MacBook Pro (Retina, mid– 2015) and 13–inch MacBook Pro (non–Touch Bar, from October 2016) may require urgent repair, which Apple will do for free: see bit.ly/ apple-exchrepprog. Address battery issues promptly, as lithium–ion cells are prone to catching fire if faulty.
IS IT JUST THE DISPLAY THAT'S NOT WORKING?
What if the Mac shows signs of life but the screen stays dark? If it's a separate monitor, unplug, reconnect and swap its cables. Check built–in menu options, such as input selection. If you haven't used it before, look online for info on compatibility; even if the manufacturer recommends it, others might have discussed problems on forums. If it's a MacBook screen and your model has no known display issues, reset the SMC (see page 22).
WHY DOES THE SCREEN APPEAR GARBLED?
This can happen with a 15– inch MacBook Pro made between 2011 and 2013 due to GPU failure resulting in a "stripey" screen. Apple no longer offers free repairs for these units, and working around the issue is tricky (see bit.ly/mlmbp2011gpu). For other models, go to "More startup snags" on page 26.
THE MAC STARTED UP WHY IS THE SCREEN STAYING GREY?
This can happen when macOS detects problems and tries to clean things up, so be patient and it may eventually start normally. If not, try starting up in safe mode. No? Reset the SMC (see page 22). Still no? One possible cause is a faulty memory module, so if you've added any to your Mac, turn it off, remove the extra modules and try again. If it works, try again with the RAM, but you may need to replace it. For other "More startup snags", turn to page 26.
NOTHING APPEARS EXCEPT WEIRD TEXT — WHAT'S HAPPENED?
A grey screen overlaid with blocks of scary–looking text means your Mac has suffered a kernel panic. It may be fine after you turn it off and on again. If not, restart in safe mode (page 23) and update macOS. If it won't start at all, unplug all peripherals and try again, then add back one at a time.
HOW TO CHECK ACTIVITY MONITOR
1 Open Activity Monitor
Activity Monitor is provided as part of macOS and lives in the Utilities folder inside Applications. To open it quickly, just hit Cmd+Space Bar to launch Spotlight, type "activity" and, when it comes up, hit Return.
2 Look around the system
On the left, you'll see all the processes running on your Mac. You'll recognize some of these as apps, with their icons. Others will be more obscure. Pick Windowed Processes from the View menu to see only apps.
3 Browse for info
Click the Process Name column header to put everything in alphabetical order, or another heading to sort by what resources each process is using. Click the Disk tab at the top to see what's accessing storage.
4 Spot the slowcoach
Click the CPU tab and rank by "% CPU" to see what's taking up a lot of processor time, potentially slowing down your Mac. If you see "nsurlstoraged", that's Safari: close pages you don't need and see the % drop.
5 Scan for outliers
Spotlight updates its index using processes named "md" (for "metadata"). Consider adding drives to System Prefs > Time Machine > Options to exclude them.
6 May contain nuts
If "kernel_task" is hyperactive it may be trying to stop the CPU overheating. If you're not doing something fancy in an app, try resetting the SMC (see page 22).
AN APP IS BEHAVING WEIRDLY. WHAT SHOULD I DO TO FIX IT?
Close the app using File > Quit, Cmd+Q, or if necessary force–quit (see below). Open it again. If it's still not okay, check its menus, the App Store or its website for updates to install. Install any updates to macOS (in Catalina's System Preferences, or in App Store > Updates. Restart your Mac and open the app. Still not okay? In the Finder, go to ~/ Library/Preferences (see "Where's my library?" on page 21) and drag anything named after that app to the Trash. If it works, you may lose some settings.
HOW CAN I MAKE AN APP CLOSE WHEN IT REFUSES?
To avoid clogging memory, quit an app when you stop using it (File > Quit or Cmd+Q). If the app's "hung" and ignores you, hold Opt, click and hold the app's icon in the Dock, and pick Force Quit. Or choose Force Quit from the Apple menu (Opt+ Cmd+Esc) and pick an app. Unsaved work may be lost.
FILES AND BACKUP
Get your drives and documents sorted
WHY CAN'T I EMPTY THE TRASH? IT KEEPS GIVING ME AN ERROR
Emptying the Trash (Ctrl–click it for the option) erases any files in it forever, freeing disk space. However, if a process has marked a file as in use, it won't be able to remove it. Get information on the file (Cmd-I) and ensure Locked is unchecked. Hold Opt while emptying, or press Shift+Opt+Cmd+left key. If this fails to work, you will need to try a restart of your machine.
I CREATED A FILE, BUT WHERE DID I PUT IT?
When you lose track of something, just press Cmd+Space Bar to launch Spotlight and type all or part of the sensible file name you gave it… or failing that, any text that you think would be in the document. Scroll through the results and double–click the one you want, or press the Down Arrow key down to it and hit return.
WHAT IF I STILL CAN'T SEEM TO FIND THAT PESKY FILE?
In a Finder window, go to the drive the file should be on, or ideally the folder it should be in. In the search box (Cmd+F), enter part of the file name or content. In the bar below, select the drive or folder (not This Mac). Too many results returned? Set the options below to filter by kind, date, or other criteria.
I'VE DELETED A FILE THAT I NEEDED — CAN I GET IT BACK?
Usually, yes — that's why we have the Trash (aka Bin). Click its icon at the right–hand end of the Dock to open it as a folder, Ctrl–click the file you want and select Put Back. If it's not there, try Time Machine.
And if you're not using Time Machine, you should start now! See bit.ly/apple-buwtm for more information.
HOW TO CHECK A DRIVE'S HEALTH WITH DISK UTILITY
1 Launch Disk Utility
Like Activity Monitor, the Disk Utility app can be found in Applications/ Utilities, but it's easiest to open it via Spotlight (Cmd+Space Bar). It opens showing you all the drives inside or attached to your Mac on the left.
2 Volumes and devices
By default, Disk Utility shows "volumes", partitions within drives that are visible to macOS. To see which drives they're on, choose Show All Devices from the View menu (or press Cmd+2; Cmd+1 shows volumes).
3 Startup drive
You can select any drive or volume, but if it's the one where macOS lives, Erase, Restore and Unmount are greyed out. You can run First Aid to check the drive, but repairs may need Recovery mode (see page 22).
4 First Aid
When you run First Aid on any other drive, it'll automatically repair any minor issues it finds, having asked you to confirm the action before it starts. It'll also let you know if any problems are found that it can't fix.
5 Disk Permissions
Until OS X 10.10 Yosemite, Disk Utility had an option to verify permissions. These were often responsible for glitchy behavior like settings being ignored or apps failing to run, but are no longer an issue now.
6 Restore
Select an empty drive and use Restore to duplicate the contents of a chosen drive. Try this for a drive that has unrepairable problems, then erase it; this may fix it. Again, for a startup volume, use Recovery.
Continue Reading with Magzter GOLD
Log-in, if you are already a subscriber
Get unlimited access to thousands of curated premium stories and 5,000+ magazines
READ THE ENTIRE ISSUE
March 2020