87 Time–Saving Tips For Mac Users
Discover smart shortcuts, and be more productive with your Mac
Macs are famed for their ease of use: "it just works" was always so much more than a marketing slogan. Macs are made to do things elegantly and efficiently, and the more time you spend discovering what you can do, the more you'll be able to get things done.
Every Mac is jam-packed with useful features that are designed to make things easier, faster or both. Once you've discovered the ones that suit you, your days will be brighter, your work more efficient and your hair more glossy. We're only lying about that last one… From Safari's shortcuts to Mission Control's multiple desktops, from fiddling with the Finder to mastering Mail, these tips will help you get even more from your Mac.
STARTUP FASTER!
1 Start more quickly
The more things launch when your Mac starts, the slower it'll be. To remove unwanted startup items, go into System Preferences > Users > Login Items, and you can see and change which items automatically launch and log in.
2 Start automatically
You can get your Mac to start up or wake up at a specific time: just go into System Preferences > Energy Saver > Schedule to create a schedule that applies to what you require on an everyday basis or just specific days.
3 Log in with your Watch
You can unlock your Mac with your Apple Watch. Go to System Preferences > Security & Privacy > Allow Your Apple Watch To Unlock Your Mac. If you'd rather use your phone, you'll need a third-party app.
Desktop makeovers
1 SIDECAR (CATALINA ONLY)
Sidecar gives you even more screen real estate by enlisting your iPad as an additional monitor. To send an app to Sidecar from your Mac desktop, go into the Window menu and you'll see a "Move to" option detailing the available iPad(s).
2 HIDE YOUR DOCK
If the Dock is getting in the way of your apps, Ctrl-click on it and select Dock Preferences. Use these options to make it hide when it isn't in use, to relocate it to another part of the display, or to adjust its size and magnification.
3 NIX NOTIFICATIONS
If you're overwhelmed by your Mac's app notifications, change how they behave and appear on a per-app basis in System Preferences > Notifications — including setting Do Not Disturb hours when they won't interrupt you.
4 USING STACKS
Desktop in dire need of decluttering? Ctrl-click on any empty bit of it and select Use Stacks. This automatically organizes everything into clickable, themed Stacks — music, images, PDF documents, etc — to keep everything tidy.
5 MULTIPLE DESKTOPS
Run multiple virtual desktops, aka Spaces, in your Mac with Mission Control. Launch it with the key on your Apple Keyboard, the Dock icon, or with a three or four-fingered trackpad swipe. Use the "+" button to add a new Space.
6 KEEP IT ORGANIZED
If your desktop icons are all over the place and you don't want to file everything in folders, Ctrl-click on the desktop and choose Clean Up to tidy them up. Use Clean Up By if you want to organize them by type, size, tags, or date.
FINDER TIPS & TRICKS
Make more use of Finder's handy helpers
CREATE YOUR OWN tags in Finder's Preferences to make it easy to classify and find related files.
1 Change how your folders are displayed
To change how Finder displays a folder, open any folder in Finder and then click on View > Show View Options. Choose how the contents should be grouped and sorted, and also specify if you want the folder to always open in ListView. You can also use shortcuts: Cmd+1, 2, 3 or 4 displays icon view, list view, column view, and gallery view.
2 Declutter your desktop
Show View Options also works on the desktop to set Stack and sorting options, icon sizes and spacing, and the size and positioning of text labels.
3 Change global settings and sidebar
You can adjust global settings for the Finder in its Preferences panel. This lets you specify whether external disks and devices should appear on the desktop, which folder new Finder windows should open in, and whether new folders should be opened in new tabs rather than new windows. This section also enables you to specify which tags and links should appear in the sidebar.
4 Transform the toolbar
Ctrl-click over the toolbar to switch between icon, text, and icon+text views, or pick which buttons appear.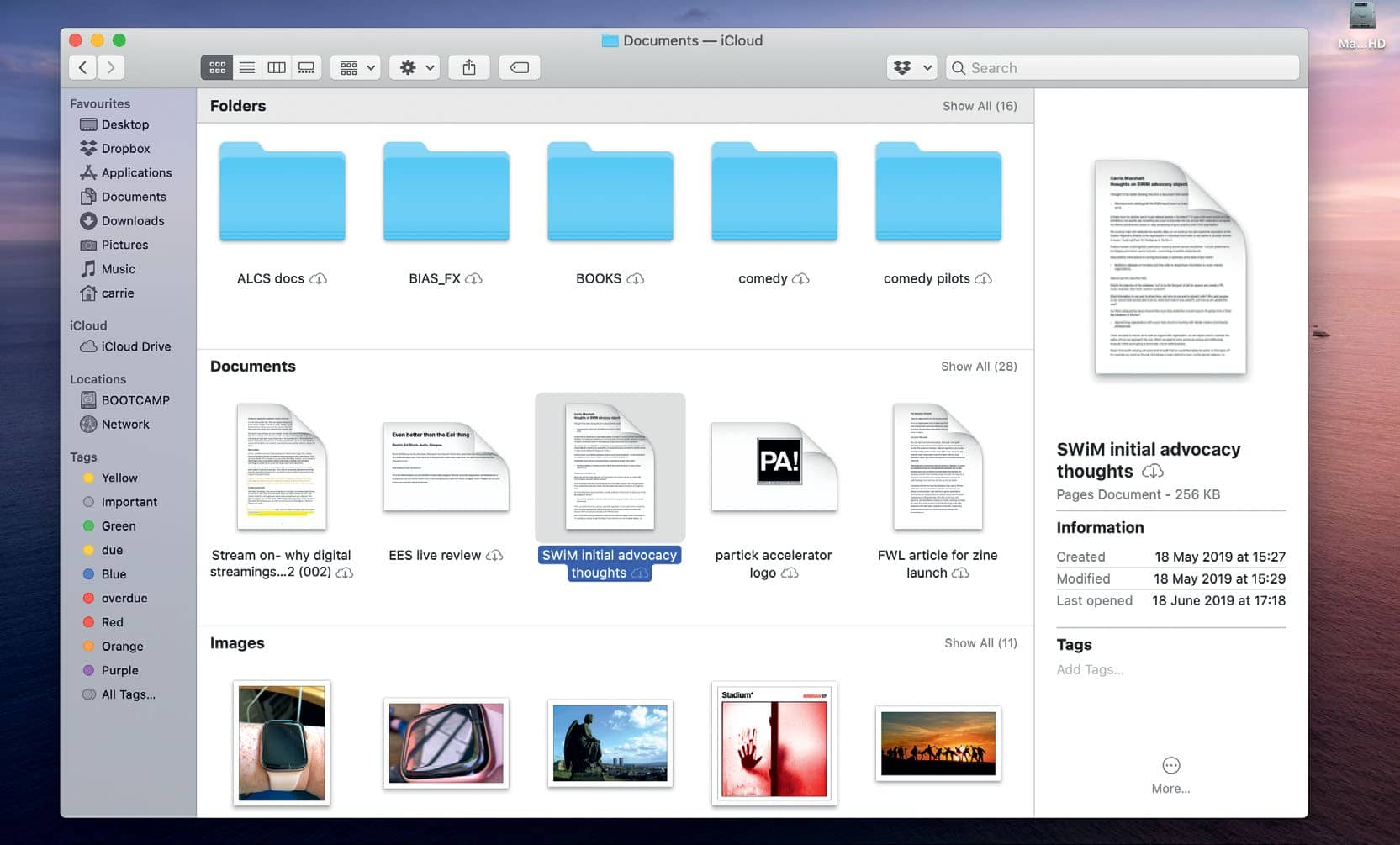 5 Pick a Path
If you'd like to see the location of the currently selected file or folder, make the Path Bar visible from View > Show Path Bar. You can open a folder from the Path Bar by Ctrl-clicking on it and selecting Open In New Tab.
6 Show your status
You can also show and hide the Status Bar from the same menu.
7 Unhide the Library
You can access commonly used folders such as Pictures and Applications from the Go menu, but Library isn't there. Hold down Opt and it magically appears.
8 Get tagging
Finder's Tags enable you to quickly apply one or more tags to something. For example, you might tag a document as a work file and tag it with a particular project name too. You can edit tags and create new ones in Finder's Preferences.
9 Edit Extensions
The Extensions preference pane lets you adjust the options that appear when you click on the Share button. Third-party apps tend to add themselves in here, and you can disable them again by unchecking them. If you have apps that integrate with the Finder, such as Dropbox or OneDrive, you can disable unwanted ones in Finder Extensions.
10 Take a look at Today
The Today section specifies which apps get to appear in the Today view of the Notifications panel. You can disable the ones you don't want – so, for example, we'd rather see the Fantastical widget than the macOS Calendar one, so we've changed that. Whether you're changing the Finder actions, the Today view or the Share sheet, you can re-order items by dragging and dropping them.
VOICE CONTROL
One of Catalina's accessibility features is very useful: if you enable Voice Control in System Preferences > Accessibility you can control your Mac with voice commands such as "move to the end of the paragraph". You can insert emoji, navigate, or get your Mac to do anything else you say out loud.
HOW TO Hack your keyboard
1 AUTOCOMPLETE ENTRIES
In System Prefs > Keyboard > Text, you can create automated text snippets; e.g. when we type "; shrug" it prints ¯_( ツ )_/¯. We also use it to autocomplete addresses and stock replies.
2 CREATE SHORTCUTS
Shortcuts enables you to create shortcuts on a system-wide or per-app basis. For the latter, press the "+", select the app you want to create a shortcut for and pick the menu command.
3 ADD OTHER KEYBOARDS
If you want to use multiple keyboard languages and layouts, go to the Input Sources tab to set up multiple keyboards for the same Mac. You can also set up Bluetooth keyboards here.
Continue Reading with Magzter GOLD
Log-in, if you are already a subscriber
Get unlimited access to thousands of curated premium stories and 5,000+ magazines
READ THE ENTIRE ISSUE
January 2020