Technology Ushering In A New Era In Education
DataQuest
|
August 31, 2015
The education sector is aggressively going digital and looking at mobility and cloud to meet its future demands and improve the country's education system at the grassroots level.
A few years back, a campaign by Idea Cellular themed 'Education for All' had created a positive buzz. The advertisement featured Abhishek Bachchan as an institution's head, who feels challenged by the capacity of physically bound classrooms to provide admissions to more children who are in need of education. He then decides to use mobile phones as a means to spread quality education and make it accessible to students in the remotest corners of the country.
The advertisement perfectly puts in context how IT can fulfill the vision of providing quality education to the bottom of the pyramid. For a country like India, which is plagued by the issues of abysmal student-teacher ratio, poor accessibility in rural areas, and lack of quality teachers, technology can, no doubt, prove to be a wonder drug.
To get a clear picture of challenges ahead for Indian educational institutions, let's consider some statistics: By 2030, India will be amongst the youngest nations in the world, with nearly 140 mn people in the college-going age group, according to a report by Ernst & Young. The report asserts that by 2030, the already existing challenges for Indian higher education—access, equity, and quality—will only be greatly exacerbated unless we significantly transform our education model. And this goes without saying that technology will be at the center of this transformation.
Given this scenario, the sector's investment in IT has been on the rise. According to Gartner, the sector's IT spending will grow at a CAGR of 12.3% between 2010 to 2015. Increased thrust by the government on technology led transformation in the education sector is also driving IT spending. The focus can be gauged from the fact that in budget 2015, the Government of India allocated $23.6 bn for the education sector. Since FY07-08, the allocation for education has almost doubled.
Moving towards a Digital Future
The growing penetration of high-speed broadband and the proliferation of low-cost computing devices are spurring the growth in digital learning. According to industry reports, Indian e-learning market is expected to grow at a CAGR of 17.4% from FY13-18.
With digitization, education is moving out of campus-based learning model to learning and assessment through online tools and collaboration over video. A very interesting example is of Massive Open Online Courses (MOOCs), which have revolutionized the field of distant education as they not only provide traditional course material such as videos and lectures, but also include collaborative discussion on forums, online quizzes, etc. Most importantly, anybody can complete the courses available online for free.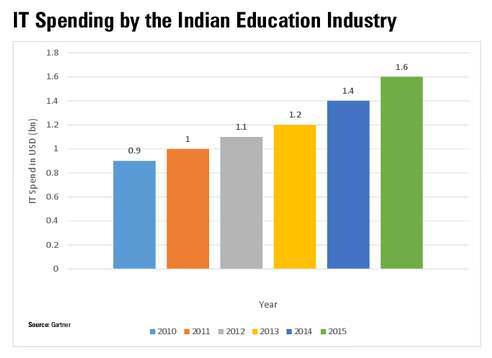 Premier institutions like IITs and IIMs have taken the lead to push the bar for quality online education in the country. IIT Bombay and IIM Bangalore have already launched MOOCs with an aim to provide equal opportunity to deserving talent. Further, IIT Kanpur is developing its own platform for MOOCs called MOOKIT. Couple this with research findings that Indians are among the most aggressive users of MOOCs and we know that this can prove path breaking in reaching out to the largest possible number of learners.
Another noteworthy initiative by IIT Bombay is Spoken Tutorial, which is a 10-minute audio-video tutorial on IT topics, such as basic IT literacy, Tux Typing, KTurtle, C++,Java, PHP, Linux, etc. Aimed at improving employment potential, Spoken Tutorial videos are dubbed in 22 Indian languages and can be downloaded free of cost. The massive reach of the project can be gauged from the fact that IIT Bombay has already trained 4 lakh students using the Spoken Tutorials program.
Huge strides in the start-up environment in the online learning space is further aiding the education sector. For instance, take the case of Coursera, an education platform that partners with top universities and organizations worldwide to offer courses, which anyone can take for free.
You can read up to 3 premium stories before you subscribe to Magzter GOLD
Log in, if you are already a subscriber
Get unlimited access to thousands of curated premium stories, newspapers and 5,000+ magazines
READ THE ENTIRE ISSUE
August 31, 2015