Van mounts on the rise
Cranes & AccessFebruary 2020
We are constantly being reminded about the damage we are all doing to the planet and how we should be reducing our carbon footprint by changing to cleaner, renewable energy. The move towards electric power in the work at height sector is gaining substantial momentum with almost every manufacturer now either offering or looking to add a hybrid/electric option to their model range. This is particularly true for van mounted platforms - where simple hybrids are becoming increasingly popular - particularly as most of them work in the urban environment.
The main reason for using an enclosed van mounted lift is that it provides a method of working at height up to around 17 metres along with secure storage that can double as a mobile store, workshop or lockup. The 3.5 tonne truck mounted lifts above 20 metres on the other hand, have little if any spare payload capacity for tools or equipment.
The van mounted lift was originally developed for street lighting contractors and telephone engineers which carry electrical components to work on lights or overhead wires, while having the ability to carry out work on the ground in a dry environment. More recently other trades have come on the scene that appreciate such convenience, such as close circuit camera installers and maintenance contractors as well as urban tree care companies. Street lighting generally requires heights of up to 11 metres for town centres and amenity lighting and 12.5 to 17 metres for lights along major roads or highways. Security camera work typically requires working heights of 12 to 13 metres with around five to six metres outreach.
The van mounted lift is most popular in the UK, France and some Nordic countries with sales growing at a steady rate. In the UK for instance the number of van mounts in the top rental fleets - according to the C&A Top 30 rental company survey - has gone up by 27 percent over the past two years and 58 percent over the past 11 years. As a comparison, truck mounted platforms increased by 42 percent since 2017 but just 11 percent since 2008. Major powered access rental companies now included 1,400 van mounted lifts in their fleets compared to 868 truck mounts.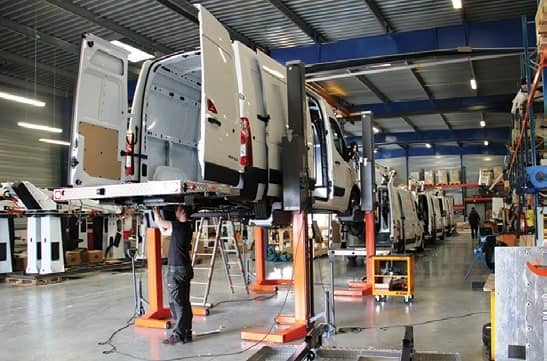 Klubb pushing to be number one?
For many years Versalift has been the clear market leader in Europe, often dominating the market, however French manufacturer Klubb - which only began making its own machines in 2016 - is now claiming to be the market leader in Europe. Klubb was formed out of Versalift dealer and licensee Time France, which had been the dominant player in France for more than 10 years taking Versalift booms and turrets, mounting them locally and adding additional components such as platforms. With aspirations to expand outside of France and the Francophone market, it decided that making the rest of the boom and turret was not such a big deal and so in 2015 began to seek out fabrication suppliers and look for a suitable production facility.
Revenues in its first year are said to be €40 million and it employed more than 150 employees. By 2019, thanks to a wider product range, increased sales and a couple of acquisitions revenues had - according to the company - increased to €100 million and employees had more than doubled. Klubb says that it delivered 1,800 vehicle mounted platforms last year, putting it on a par with truck mounted lift manufacturers such as Multitel.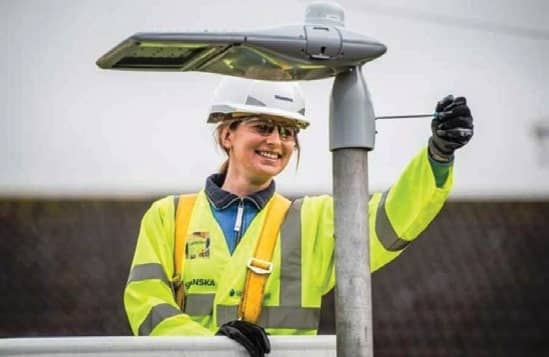 In 2018 Klubb acquired its UK distributor CPL which sold no van mounted lifts at all that first year, as it concentrated on producing almost 170 pickup based platforms. Last year CPL says it sold about 250 pickup mounted platforms, but also built almost 100 van mounted lifts. This year it is forecasting van mounted sales in the region of 150 to 200 units.
Over the past two years the proportion of electric vans has increased dramatically, with manufacturers estimating that this year four out of every 10 van mounts sold will have battery powered uppers. In addition to which a good number of likely to be all electric as demand for electric vans for local authority work increases, given the demand to cut their carbon footprint by 40 percent over the next five years.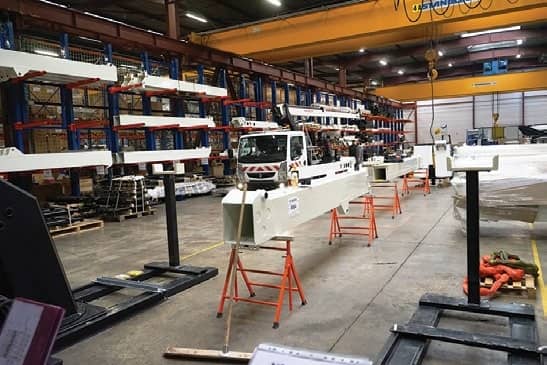 "As a group we have the largest range of hybrid and electric conversions in the world, ranging from compact units like the K20 Goupil up to the K42p mounted on a long wheel base van," says Paul Murphy, managing director of CPL. "We are also seeing a rise in the number of compact vans for city maintenance work. The K20 eNV200 with a 10 metre working height and 4.1 metre working outreach is popular for maintenance applications. The one-man composite platform has a maximum capacity of 120kg and a travel range of just over 100 miles between charges but with the new 40kWh battery pack this will increase to 175 miles."
"The K26 Renault Master ZE which has 11.8 metre working height and 6.8 metre outreach is popular with companies that need to carry more equipment. The cutaway option is starting to take off as it is easier to manoeuvre in cities and busy towns, has no outriggers and takes less time to set up and stow."
"We converted more than 340 vehicles in 2019, double the previous year due to improvements within the facility, new processes and support from the Klubb group. We look forward to pushing on to achieve 500 plus builds per annum in the future."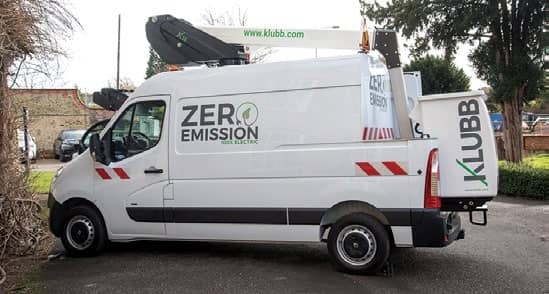 More variations
You can read up to 3 premium stories before you subscribe to Magzter GOLD
Log in, if you are already a subscriber
Get unlimited access to thousands of curated premium stories, newspapers and 5,000+ magazines
READ THE ENTIRE ISSUE
February 2020