More Tech Hotspots in America
Certification Magazine
|
July 2020
It's our second list of six U.S. states where IT pros should look for work
In 2019, an estimated 307,000 tech jobs were created in the United States, according to the Cyberstates2020 report compiled by tech industry association CompTIA. This works out to an increase of roughly 2.6 percent over 2018. CompTIA estimates that net tech employment stood at 12.1 million in 2019.
In our previous article on this topic — printed in the January 2020 issue of Certification Magazine — we listed the top U.S. states for IT job seekers in terms of net tech job gains and innovation in our previous article. Now we're back to take a look at the six next-best states.
In Colorado and Illinois, for example, the tech industry is attracting a diverse mix of potential employers. Michigan has shown a lot of promise as an IT-hub-in-waiting. These states are more affordable than California, New York, and Washington, for tech employees as well as companies.
It's impossible to predict how the U.S. tech sector will perform in 2020. There's widespread social unrest stemming from the police killing of George Floyd. A highly charged presidential election is waiting in the wings. And that's to say nothing of the ongoing and massively disruptive presence of a highly infectious disease.
The impact of the COVID-19 pandemic on both the global economy and the tech industry is still unfolding. Some technology providers, however, are finding their services more in-demand than ever before.
With large numbers of people working from home, demand for improved telework and video conferencing software is already surging. Contact-free biometric identification, such as iris detection and facial recognition, seems likely to gradually replace contact-based identification such as biometric fingerprint readers.
Demand for telehealth services has increased and is expected to rise further. The emphasis on monitoring COVID-19 infections and contact tracing is leading to innovations in location-tracking technology. Going forward, there could be more jobs for specialists in these fields.
Software and web development was the fastest-growing segment of the IT workforce in the United States in 2019. The thirst for apps and other web-based conveniences accounted for the largest chunk of tech industry jobs at 1.6 million. Most of the job and industry stats quoted here are from the Cyberstates2020 report.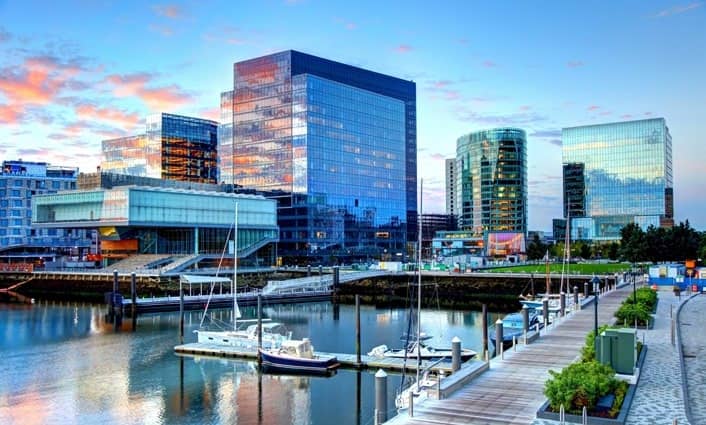 Massachusetts
Cyberstates2020 has Massachusetts ranked seventh in net tech employment gains, eighth in net tech employment, and tenth in innovation. The Bay State has the highest concentration of tech workers in the United States.
Tech workers comprise 11.5 percent of the workforce in Massachusetts, and in 2019 the number of tech jobs in the state increased by 11,544. CompTIA estimates that the median tech salary is $95,377, which is 73 percent higher than the median state salary.
Tech majors Microsoft, IBM, and Google, as well as numerous small ICT companies, have a presence here. According to Boston Landing, the state is a hub for SaaS, mobile technologies, cloud computing, robotics, nanotechnologies, video gaming, telecommunications, and Web2.0 enterprises, and home to several tech startups.
You can read up to 3 premium stories before you subscribe to Magzter GOLD
Log in, if you are already a subscriber
Get unlimited access to thousands of curated premium stories, newspapers and 5,000+ magazines
READ THE ENTIRE ISSUE
July 2020