THERMAL MANAGEMENT IMPROVEMENT WITH COMPOSITE MATERIALS IN THE DASHBOARD
Auto Tech Review
|
July 2020
Within the framework of the EU project Optemus, the Fraunhofer Institute for Structural Durability and System Reliability (LBF) worked on the topic of "air-conditioning of the driver and passenger interior of the vehicle without high energy consumption." Fraunhofer LBF developed, produced and analysed a special composite material. This material was used in the dashboard panel of a prototype electric vehicle. Important aspects of the development of the material were the increase of the isotropic thermal conductivity and the suitability for use in the interior.
PAUL BECKER, M.Eng. PROF DR-ING. ANDREAS BUTER
THE WISHES OF CAR USERS
General the prices for hybrid and electric vehicles (EV) are higher than those for conventional vehicles with combustion engines. For this reason, the automotive industry should increase the attractiveness of EVs for customers. According to studies, car users consider safety aspects, low purchase and operating costs and environmentally friendly mobility, but also corresponding comfort in EVs, when they order a new car. Nowadays, hardly anyone can imagine a car without power steering or air-conditioning. In particular, the air-conditioning of the vehicle now plays an important role for the end consumer.
Many road safety studies also show that "heat stress" is an increased risk during driving. Finally, it would make sense to offer air-conditioning in cars as standard equipment. However, air-conditioning of the vehicle brings with it certain disadvantages, since additional components must be accommodated for the realisation. In addition, there is the additional weight, the higher costs of purchase and maintenance. Especially for EVs, air-conditioning decreases their range dramatically.
Engineers are looking for new ways to remove the heat generated during operation and by solar radiation from the interior of the vehicle and thus either support or even completely replace conventional air-conditioning. The areas of the dashboard, door trim and vehicle seats are particularly suitable for this purpose. The engineers at the Fraunhofer LBF have concentrated their research on the air-conditioning on the dashboard panel, dealing with the question of "How best to dissipate heat?"
For this reason, the Fraunhofer LBF developed a special formulation for a composite material, which enables a significant reduction in the surface temperature in the dashboard panel area. In the research and development phase, the first investigations under real conditions already showed that this material could significantly reduce the dashboards surface temperature compared to the conventional materials.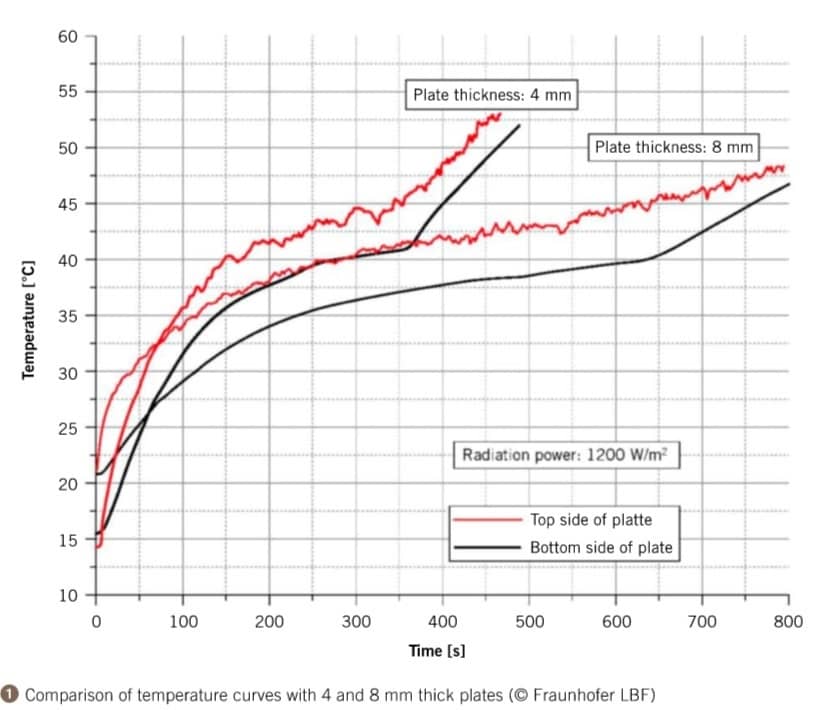 PRODUCTION OF SEMI-FINISHED PANELS FROM THE NEW COMPOSITE MATERIAL
You can read up to 3 premium stories before you subscribe to Magzter GOLD
Log in, if you are already a subscriber
Get unlimited access to thousands of curated premium stories, newspapers and 5,000+ magazines
READ THE ENTIRE ISSUE
July 2020