FREUDENBERG ENABLING CLEANER, CONNECTED INNOVATIONS ACROSS AUTO INDUSTRY
Auto Tech Review
|
July 2020
The Freudenberg Group is a large conglomerate comprising of numerous companies that it has acquired over the decades. In India, the group has been expanding organically with its innovative products and solutions. This report takes a look at the developments and innovations of the Freudenberg Group companies in India in pre COVID times. Barring SurTec, we spoke to representatives of Freudenberg NOK Sealing Technologies, Freudenberg Filtration Technologies, Klüber Lubrication + OKS and Corteco to provide an overview of Freudenberg's role in the automotive context in India as well as the new innovations being developed across segments of the industry.
FREUDENBERG INDIA
In India, the company is focussing on the future growth, with a change in commitment, technology, material and process. The company is looking at supporting various types of powertrain and their mixes that are expected in the future. However, internal combustion engines (ICE) will have a strong presence over the next few decades, noted Georg Graf, Managing Director & CEO, Freudenberg Regional Corporate Centre India.
New Mobility: In terms of new development, Graf observed that the industry is in the midst of a mobility transformation, which aims to be safer, efficient and comfortable. Freudenberg plays a major role in enabling the mentioned characteristics, for which it is innovating together with customers. Eventually, it is customers that drive mobility and innovations, he pointed out. The solutions that are being developed and provided by Freudenberg are based on expertise in technology and a broad understanding of future mobility. This helps the company to support future mobility, stated Graf.
With regards to the implementation of BS 6, this emission norm has been carried down from Euro 6 emission norms, with some level of tweaking and customisation to suit India's local requirements. Graf believes powertrain that leverages batteries and fuel cells will be the future. Freudenberg has 10 years of experience in battery technology, and 20 years of experience in fuel cells, and these will enable it to build on such innovations for the automotive sector. The limitation of combustion engines to address ever-increasing stringencies in emissions regulations globally will open up other drivetrain technologies, he remarked.
Strategies: The Freudenberg Group has been strategising globally as well as locally to adopt sustainability through a two-dimensional approach of drastically reducing the footprint as well as the handprint. The goal is to be as environmentally-friendly as possible with regards to all forms of production and operation. The company is also paying more attention towards digitalisation, where it is aiming to enhance efficiency of internal and customer processes in the journey towards gaining new customers.
There is also a need to scale up pace of work in terms of development and manufacturing of solutions & technologies, noted Graf. The company's new plant in Chennai, which has been set up for sealing technologies, will be focussed on quicker turnaround of products. The 20212023 period is a strategic review period for the company globally during which major milestones will be announced. Freudenberg plans to expand its manufacturing footprint with three new locations in India, where the use of new technology will enable sustainability. In terms of further enhancing sustainability, the company is also revamping its existing and old plants to make them cleaner through processes such as recycling sewerage and water, as well as adopting solar power.
According to Graf, the industry has understood that new mobility will make a difference to the business in future, for which there is knowhow, but there also needs to be a show-how, which means partnerships and knowledge-sharing are required in a big way. The increased share of new products will form one-third of the company's business globally. The Freudenberg Group has set a target to become the market leader financially, while also becoming good partners in the society with CSR activities – it is also focussing on an internal programme called e2 (e-squared) that works towards education and environment as its core focus areas.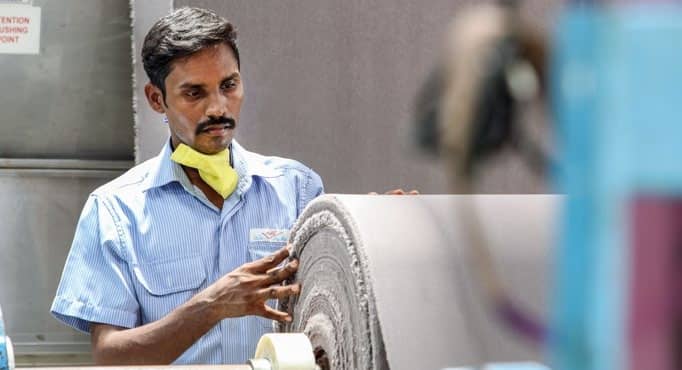 KLÜBER LUBRICATION
You can read up to 3 premium stories before you subscribe to Magzter GOLD
Log in, if you are already a subscriber
Get unlimited access to thousands of curated premium stories, newspapers and 5,000+ magazines
READ THE ENTIRE ISSUE
July 2020