AVAILABILITY OF CRITICAL RAW MATERIALS FOR ELECTRIC VEHICLES
Auto Tech Review
|
July 2020
Battery-electric vehicles and fuel-cell vehicles require raw materials that have so far been of little or no relevance to automotive engineering. On behalf of the State Agency for New Mobility Solutions and Automotive e-mobil BW, Sphera investigated the considerably increasing demand and the future availability of critical raw materials & derived recommendations accordingly.
ALINE HENDRICH,DR-ING. BENJAMIN REUTER
STUDY ON CRITICAL RAW MATERIALS
Battery Electric Vehicles (BEVs) and Fuel-cell Electric Vehicles (FCEVs) are key technologies, when it comes to the decarbonisation of the transport sector [1, 2]. However, both of these vehicle technologies require raw materials, which previously were of little relevance (or of far less relevance) to this sector and whose demand is set to increase considerably in the future. The use of a raw material generally involves a complex profile of global supply chains – a fact which presents a variety of challenges.
In a study entitled "Raw materials for innovative vehicle technologies – challenges and problem-solving approaches" [3], Sphera (formerly thinkstep), on behalf of the State Agency for New Mobility Solutions and Automotive Baden-Wuerttemberg, e-mobil BW, comprehensively investigated the raw materials which are vital for BEVs and FCEVs. In order to do so, a four-step approach was chosen: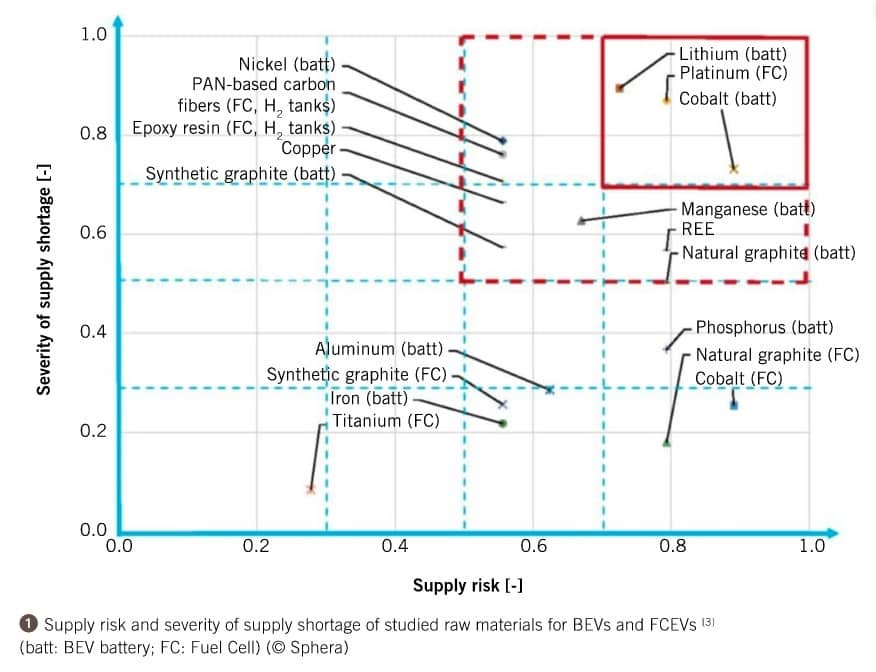 1. Firstly, the relevance of the raw materials used in the vehicles was evaluated using the criticality concept;
2. Subsequently, the main aspects of each relevant raw material were considered individually;
3. The results were then analysed at a vehicle level;
4. Finally, conclusions were drawn from the findings of the study and recommendations for action were derived for various actors.
This article focusses on steps 1, 3 and 4. The study can be accessed in full on the e-mobil BW website [3].

IDENTIFICATION OF THE RELEVANT RAW MATERIALS
The criticality is described using two independent parameters based on the VDI 4800 guideline [4]:
:: Quantitative evaluation of the supply risk based on global market-related and geological indicators;
:: Quantification of the consequences of a potential supply shortage by means of expert surveys.
In order to identify the relevant raw materials, lithium-ion batteries were examined in BEVs, Proton-exchange Membrane Fuel Cells (PEMFCs) were examined in FCEVs, while the electric motor and wiring assembly were examined in both technologies. 1 shows the results for the raw materials examined. According to this, lithium and cobalt are of particular relevance to BEVs, as is platinum to FCEVs. Due to the probability of their increasing relevance in the future, nickel, Rare Earth Elements (REEs) and copper were also examined within this study.
You can read up to 3 premium stories before you subscribe to Magzter GOLD
Log in, if you are already a subscriber
Get unlimited access to thousands of curated premium stories, newspapers and 5,000+ magazines
READ THE ENTIRE ISSUE
July 2020