Vloggers Learn Sailing In Subic Bay
Yacht Style|Issue 53
We're offering this story for free to read so that you can stay updated on the COVID-19 outbreak
Before the restrictions on boating in Subic Bay due to Covid-19, the Europa Sailing School invited two 'vloggers' for an introductory course to see if sailing really can be deemed affordable and accessible.
For a lot of people, the 's' in Subic Bay stands for 'sun, sea and sand', but you can now add 'sailing' to that list. Following the recent inauguration of the Europa Sailing School at the Subic Bay Freeport Zone (NEWS, Issue 51), this activity – often viewed as a pastime only for the wealthy – has become more accessible.
To find out whether or not sailing is for anyone, 'vloggers' Janina Manipol and Lexi Mendiola headed to Subic Bay to experience what it was like for a novice – or two video bloggers – to learn how to sail for the first time.
Both ladies are quite athletic and live physically active lifestyles, yet sailing was a new frontier for them, so they were excited to learn the ropes of the sport under the guidance of the school's top sailing instructors.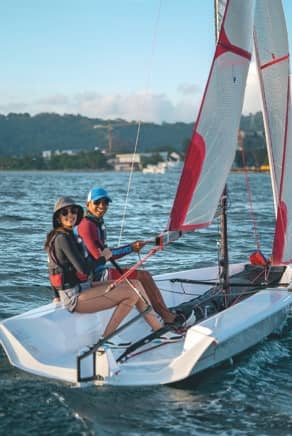 The Subic Sailing School is located at the beautiful Lighthouse Marina Resort. Lexi and Janina arrived while balmy weatherhighlighted the beauty of the surroundings and the bay's calm waters beckoned people to play in the water. It was an opportune time for them to try their hands at the sport, backed by a film crew from Maldavar Films.
The duo embarked on the Europa Sailing School's two-day sailing programme, a foundational course for students to get a feel for sailing. Just one of several courses offered by the school, the starter programme teaches fundamental manoeuvres and procedures such as how to steer a boat using a tiller, how to raise the sails and how to manipulate a vessel's rigging.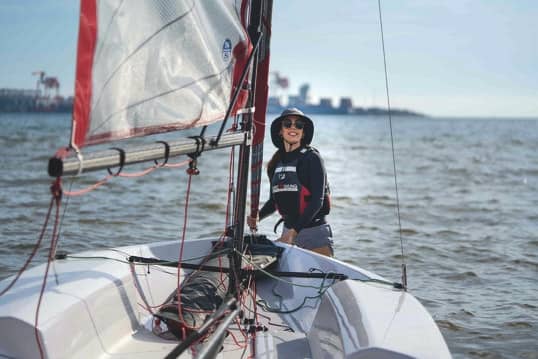 MORE FUN WITH A FRIEND
Lexi, a certified scuba driver, said she had always wanted to learn how to sail, but had never had the opportunity.
You can read up to 3 premium stories before you subscribe to Magzter GOLD
Log in, if you are already a subscriber
Get unlimited access to thousands of curated premium stories and 5,000+ magazines
READ THE ENTIRE ISSUE
Issue 53