The Ideal Match
The Black Powder Cartridge News|Summer 2020
In February 1903, the National Board of the Promotion of Rifle Practice directed that the first National Trophy Match would be fired at Sea Girt, New Jersey, in September of that year. A paltry 15 teams were mustered to compete.
Waiting at the firing line at the 1905 Sea Girt matches.
With plenty of notice, the Second Annual Matches were scheduled to be shot at Fort Riley, Kansas. It must have been obvious that while Fort Riley was a geographically central location, it was prohibitively distant from the population centers on the coasts to draw an abundance of competing teams. Attendance at the Fort Riley meet was as disappointing as it was predictable. Only 14 teams posted at Riley.
When the matches were moved to the range at Sea Girt for the August 1905 events, the number of competitors overtaxed the range facilities by three times; 650 shooters stood in line to fire the 200-yard National Individual Match alone. In 1904, there were 36 contenders for the National Invitational Match; 657 entries in 1905.
John Barlow, representing his Ideal Manufacturing Company in New Haven, Connecticut, was at the Fort Riley meet as an observer, a student and merchandiser. He was well aware of his status as an industry personality, and as a generous, likeable man with an innate flair for making friends. The affable Barlow was respectfully known within the trade as "The Ideal Man."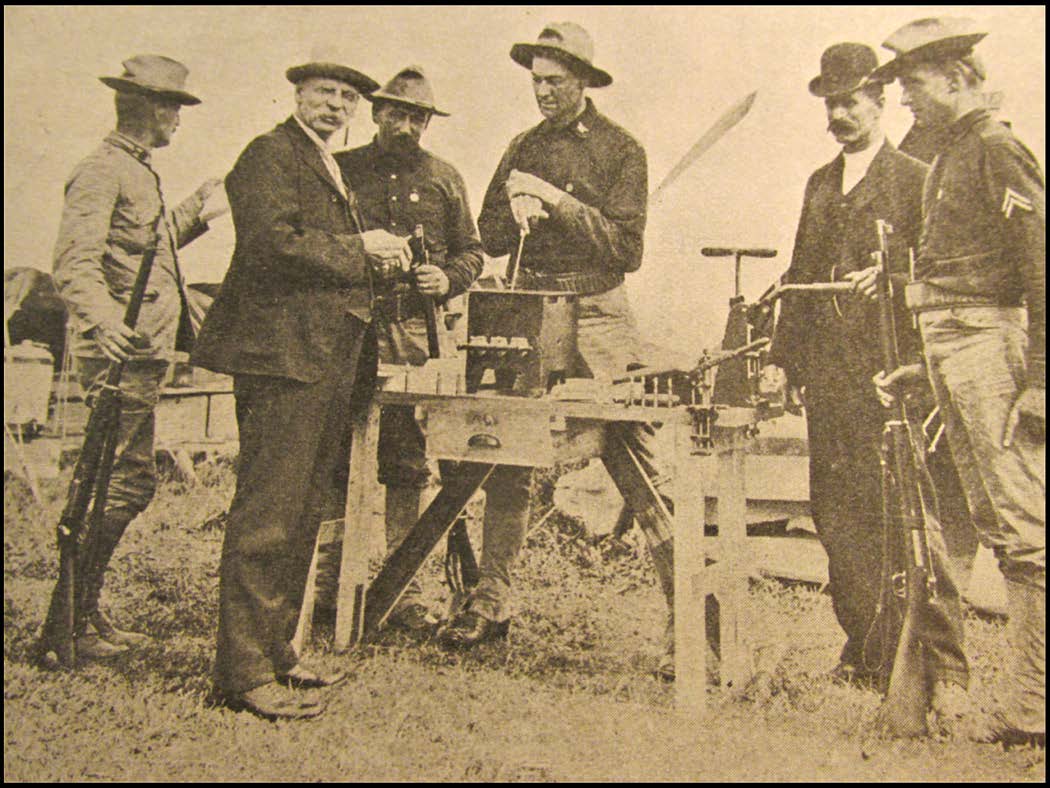 John Barlow displays his wares at Sea Girt in 1905. Behind him and to his right, is standout Captain C.B. Winder of the Ohio National Guard, Leech Cup winner in 1903 and 1908 Olympic Rifle team member.
Barlow had set up a booth on the sidelines, and he and his assistants spent the entire 11-day stretch of the matches displaying his line of reloading tools to a steady stream of visitors, meeting his repeat mail order customers and acquainting with potential regulars. His Ideal "Armory" outfit, on the market for just a year, consisted of a heavy-duty press with full-length sizing capability, a gas-fired smelting furnace, an eight-cavity bullet mould and a powder measure.
This grouping of implements was directed at the National Guard units that had high volume practice ammunition requirements that his regular tong tools could not handle. Barlow and his crew were kept busy demonstrating the goods and encouraging hands-on operation of each step of the reloading process. They passed out the newly printed 32-page booklet of instructions for loading .30-40 Krag cartridges.
Barlow found a continual need to address the fallacy that reloading shells for high-power rifles was not a safe practice. Winchester had indicated as much by printing "These shells cannot be reloaded" on some of their late 1890s smokeless powder cartridge boxes and the public's apprehension endured. Every day Barlow clarified that the trouble had been with the mercuric primer that was used. When fired, he explained, the quicksilver made the brass too brittle for a safe second loading. With the 1898 adoption of the non-mercuric FA-48 Government primer and use of the top-of-the-line Frankford Arsenal brass, this lingering concern was unwarranted. Reloading was perfectly safe if one followed Ideal's instructions, Barlow maintained. Many skeptics were converted at Fort Riley, and numerous ordnance officers and noncommissioned officers walked away with their eyes opened.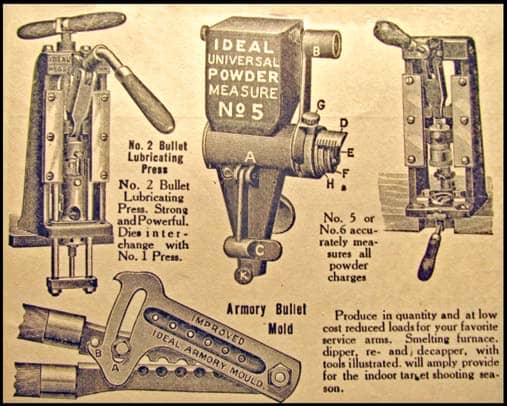 The Ideal Armory Outfit intended to be used in National Guard Armories to load practice .30-40 Krag shells. It put ordinarily idle drill time to good use.
It seems that during Barlow's attendance at the Fort Riley match, that the germ of an idea for an exclusively cast bullet rifle match occurred to him and developed with increased consideration. Canvassing input from intimates and the common shooters themselves, he made a plan to go forward with the idea. Also, the rumor that Winchester desired to initiate a competition similar to the Kuzer Match, as a quasi promotional venture may have bolstered Barlow's confidence in his plan.
It had been common knowledge that the New England National Guard units were using the industrial strength Ideal "Armory" press, moulds and tooling to load practice ammunition on a wholesale level, and these were the same units that invariably headed the winner's lists at the bigger National Guard shoots. The Army doled out practice ammunition very miserly. Implementing Barlow's notion could illuminate a solution to overcoming the "practice cartridge" shortage, and encourage industrious practice shooting.
To sell his idea, Barlow was at the right place and was surrounded by the most influential military officers in their jurisdictions. Each one was familiar with him by reputation and with his work in promoting economical rifle "practice" shooting by way of reloading. Barlow went home confident that ultimately such a match as he proposed would be on next year's program.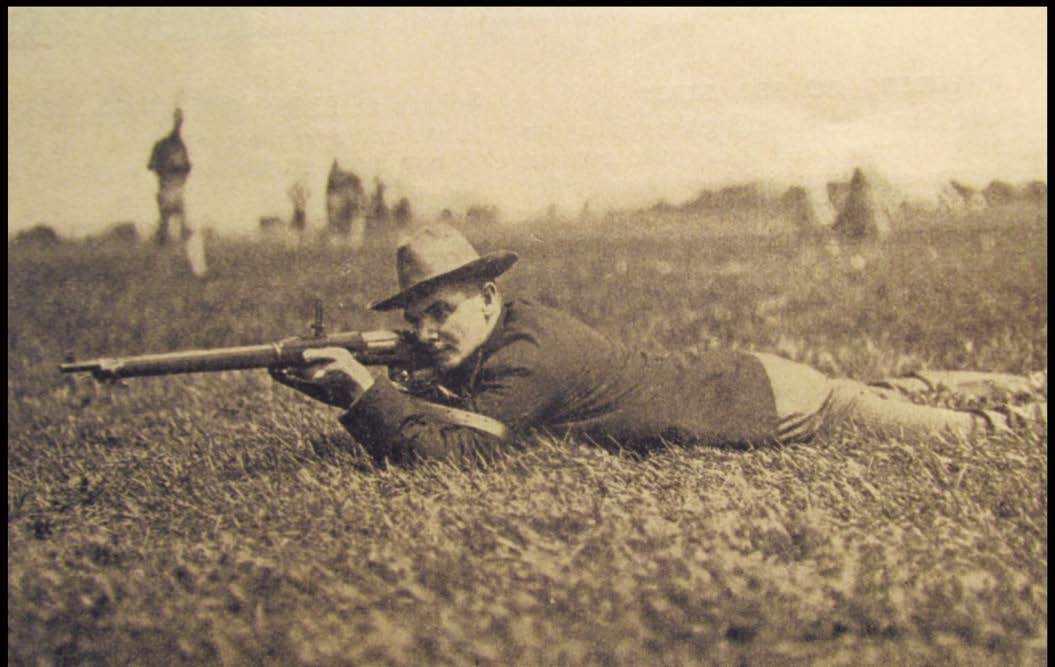 Dr. Walter Hudson poses for the camera at Sea Girt, September 1905.
You can read up to 3 premium stories before you subscribe to Magzter GOLD
Log in, if you are already a subscriber
Get unlimited access to thousands of curated premium stories and 5,000+ magazines
READ THE ENTIRE ISSUE
Summer 2020