Product Review
The Black Powder Cartridge News|Summer 2020
I*XL Bowie Knife from Sheffield - Mike Nesbitt
A new I*XL Bowie knife, still made in Sheffield, England.
Before, during and after the Civil War, the I*XL Bowie knives were well-known for carving their way across the American West. Those I*XL knives were made by the George Wostenholm family in Sheffield, England, and they adopted the I*XL trademark (which is short for "I Excel") in the 1820s. However, this review isn't just about knife history; the I*XL Bowie knives are still being made in Sheffield, England. Even so, a brief history of the I*XL brand might be appreciated.
George Wostenholm died in 1876. By then, the American market was contracting due to the influx of more product from American cutlery manufacturers. By 1914, the Wostenholm company employed about 400 people and nearly went bankrupt in the mid-1920s. The partial destruction of the Washington Works, at Sheffield, during World War II meant that the company had even more trouble trying to compete after the war. In 1971, the Wostenholm company was finally bought by their rivals, Joseph Rodgers & Sons, and by 1978, the Washington Works shops were completely demolished. The name and trademarks of George Wostenholm were then bought by the Egginton Brothers, who still make Sheffield cutlery using the I*XL mark today.
A detailed description of this new I*XL Bowie knife must include the 6-inch carbon steel blade. The handle, measured from the front of the guard, measures 4.5 inches to the end of the pommel. Those measurements give the knife an overall length of 10.5 inches. At the back, the blade is just over 3⁄16th inch, which helps this sturdy little Bowie weigh in at 9.2 ounces. That makes it a fairly hefty knife for its size. The blade is nicely hollow-ground, but the top edge, which is narrow and tasteful in shape, is not actually sharpened. The knife can easily be sharpened if that's what the buyer wants. The sharpened lower edge is 5.5 inches.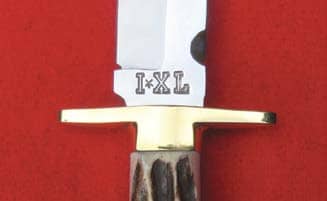 The I*XL trademark on the blade.
Let me add that this knife shows evidence of being handfitted, which I really appreciate. The pommel and guard were not perfect fits, and although the fitting was very good, some handwork with a file was needed to make the brass and stag pieces come together. Of course, the stag slabs are very attractive, enough so that I hope my photography does this knife justice.
You can read up to 3 premium stories before you subscribe to Magzter GOLD
Log in, if you are already a subscriber
Get unlimited access to thousands of curated premium stories and 5,000+ magazines
READ THE ENTIRE ISSUE
Summer 2020