Defining Djokovic - Where Does the World No.1 Go From Here?
In a year of peaks and valleys, where does the world No. 1 go from here?
Has a tennis player ever claimed that he likes the fact that Wimbledon follows so hard on the heels of the French Open? For decades, pros and fans and supporters of sane scheduling have cried out for more than two meager weeks between these very different major tournaments. Yet as soon as our wish came true and Wimbledon moved back a week, along came Novak Djokovic to make a strong case that the events are just fine as they are. Couldn't be better, really, as far as he's concerned.
"I think it's actually great that after a couple of weeks we have another Slam," Djokovic said at Wimbledon this year. "It's very good because you get back in the competitive mode right away. You come here and feel the importance of this event; you can't think about what happened at the French Open."
It's hard to say whether any other player shares, or will ever share, Djokovic's enthusiasm for the blink-of-an-eye turnaround from clay to grass. But maybe that's because so few of them could ever hope to do what he has done the last two years: Shake off the memory of a bitter defeat in the French Open final by coming back to beat Roger Federer for the Wimbledon title a little more than a month later.
Djokovic has long been the rubber-band man of tennis. With him, the term is appropriate both for physical and psychological reasons. During a rally, he can stretch and flex and contort his body into positions that have never been dreamed of by tennis instructors or textbook writers. And during a match,where he is prone to wild swings in mood and form, he has a unique and if you're a fan of his, heart-attack-inducing ability to bend nearly to the breaking point, before snapping back into place just in time to win.
Now we can add the French Open and Wimbledon finals to his bounce-back list. Few champions have ever returned to the victory stand in London so quickly and convincingly after such devastating defeats in Paris. The question now, and the one that will ultimately define Djokovic's legacy, is which of those performances—the wins at Wimbledon or the losses at Roland Garros—will become the norm for him.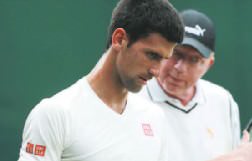 For much of 2015, it looked as if Djokovic would not have many problems at all. He won 41 of his first 43 matches, including 28 in a row. Djokovic's 2011 season, when he went 70–6 and won three of four Slams, has been called his miracle campaign; by May 2015, he was making the miraculous look routine.
"It seems that he's inhuman, a machine that's unbeatable," John McEnroe said this spring.
Djokovic may or may not have agreed with that statement, but by the time he had won the Rome title in May, even he had to admit that he had reached a career summit.
You can read up to 3 premium stories before you subscribe to Magzter GOLD
Log in, if you are already a subscriber
Get unlimited access to thousands of curated premium stories, newspapers and 5,000+ magazines
READ THE ENTIRE ISSUE
Sept/Oct 2015