Triple Peak In The United Kingdom
TRAIL|Issue 35
We all have those friends. You know the ones.
The ones who reply to your message saying "Check out this hectic event!" with an email confirming your entry. We love them, but they will kill us.
I mentioned to Nicky Meredith – one of those friends – that there was this interesting thing I had read about years ago that looked wild... Her response was to forward me the official confirmation of our dates from the UK Three Peaks Challenge Society. We were doing it!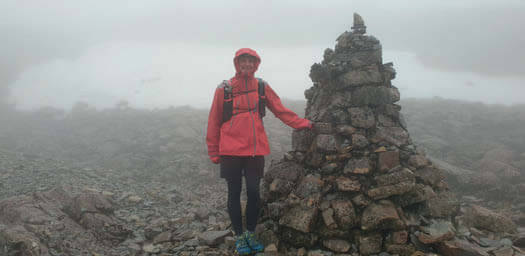 The Three What?
The UK Three Peaks Challenge is an official but informal challenge, perhaps similar to the fastest known time (FKT) contests that have become the Strava rage.
It entails summiting the highest peaks in the contiguous United Kingdom. Ben Nevis in Scotland (1,345m), Scafell Pike in England (978m) and Snowdon in Wales (1,085m) all within a 24 hour period.
Registration and certification admin are simple. Being Britain, there is an official Society. You provide some basic personal details, submit your dates, and pay a registration fee of £6 (about R120). On completion, you submit your GPS track and, provided everything is in order, you are issued an official certificate. Racing snakes can compete for records and podium positions from a range of categories.
The Society runs regular organised group Challenges on fixed dates throughout their summer for those not wanting or unable to do it on their own. For the self organised Challenges, you are free to choose your own dates and to follow any order or route you choose.
The most efficient route is north to south, from Scotland, through England and finishing in Wales. That meant starting with the toughest mountain of the three, the mighty Ben Nevis.
Bring it on! Nicky and I met up in Glasgow the day before, catching an easy legstretching run along the River Clyde and enjoying some true Scottish midsummer weather – grey skies and an icy drizzle.
The next morning was an earlyish start, fortified by a little too much Single Malt Scotch Whisky the night before, and we headed north. Grateful to be chauffeured by husband Jason, Nicky and I kicked back, enjoyed the beautiful rugged greenery of the Scottish Highlands, and worked on our strategy. Jason had just finished his own ultra marathon (The Wall 113km) and was looking forward to a couple of days of relaxing his legs in a warm car while we ran up and down three wet windy mountains.
Logistic Tip #1:
You can read up to 3 premium stories before you subscribe to Magzter GOLD
Log in, if you are already a subscriber
Get unlimited access to thousands of curated premium stories and 5,000+ magazines
READ THE ENTIRE ISSUE
Issue 35