Squat Right
TRAIL|Issue 36
Better running starts with the squat.
The invention of the chair was the beginning of the end for our natural ability to squat. The invention of the western toilet nailed the coffin shut.
Squatting in western societies became undesirable, not fit for upstanding citizens of an ever modernising world, not ladylike, something only still done in the most primitive corners of the world. In our pursuit of modernity, we have lost one of our most important natural human functions.
Squat necessity
The squat tells you a lot about your body. Someone that can sit in a comfortable squat position will be less prone to injury and be able to get more out of their body than someone that can't sit in a comfortable squat. Why?
The ability to squat tells you that you have good proportional leg strength, that your hips can flex and externally rotate sufficiently, that your knees can flex well, and that you have the minimum amount of dorsiflexion at your ankles and strength at your feet. Those things are important and will improve your running.
Most injury is caused by one or more of these four factors:
1. Accident
2. Over-use
3. Lack of mobility/flexibility
4. Poor technique.
Number three and four go hand in hand. If you have poor strength, mobility, or flexibility, your technique will more than likely be compromised, eventually leading you to injury.
Get good
If you can't squat, all is not lost! I too only have fairly recently regained my resting squat after many years of not knowing I was missing it. Do these exercises, drills, and stretches, and the squat will be yours soon!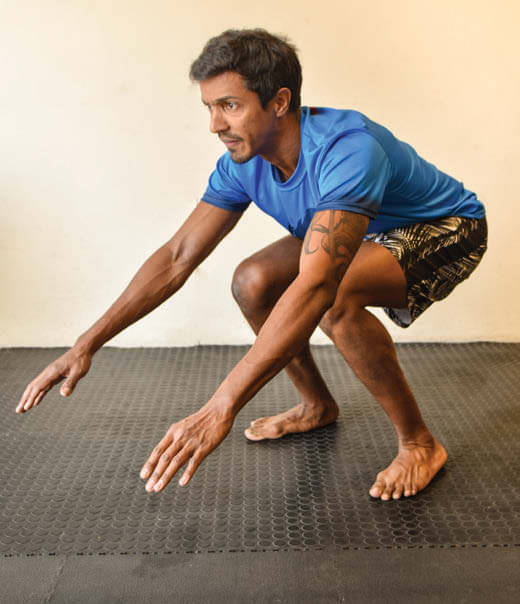 Pigeon stretch
You can read up to 3 premium stories before you subscribe to Magzter GOLD
Log in, if you are already a subscriber
Get unlimited access to thousands of curated premium stories and 5,000+ magazines
READ THE ENTIRE ISSUE
Issue 36