Race 2 Rhodes
TRAIL|Issue 36
We're offering this story for free to read so that you can stay updated on the COVID-19 outbreak
"We've made a safety call, we've withdrawn," I said quietly over the phone to Nicky's husband, Gerhard. Nicky cried openly as we hiked back to the Malekgolonyane Support Station. Dean and Peter were ashen, their disappointment written on their faces. I felt hollow.
Dean Barclay, Nicky Booyens, Peter Purchase, and yours truly spent five days on the trail from Pietermaritzburg to Rhodes village. In that time, South Africa had reacted decisively to COVID-19. The afternoon of Saturday 21 March was a reality check. Lockdown was going to happen – and soon. With 360km behind us, 120km to go, 36 hours left on the clock – anyone would have fought the odds for a chance to finish, or let the clock run out and cut in the field.
Except we didn't. We made a safety call. It was time to go home. The adventure was over. It was fortunate that we had friends in the area who had the ability to extract us. 'In the area' required a 12-hour round-trip drive for Paul and Kelly Freeth, arriving at 3 am on Sunday at the support station.
No precedent for failure
Nothing in life had prepared me for that moment. I cannot recall any situation where I have elected to quit or to voluntarily be removed from an environment. No appeasement offer sounds like anything but excuses for the DNF. But still, I believe we made the correct call.
By 6pm Saturday, after five and a half days of trekking and trotting, we had traversed 400km in total, 360 on the actual route, and estimated our sleep at under 10 hours. At that point 120km may have taken closer to 48 hours, and it appeared that we were not going to beat the clock, unless a miracle happened. We had run out of miracles.
After we left Malekgolonyane support station, we missed the trail down and to the left. We missed the next turn, and the next. Dusk settled quickly, and with it, a sense of panic.
We can't find the trail, we can't agree on basics and everyone is fighting each other. We are exhausted and in a zoned-out mental state, knocked down but still throwing punches at the route. This was an experiment, an adventure, a test run.
Call it what you will. A quest to see if we could find a long and challenging run to fill the gap Munga had left in our running lives. And along the way, finishing became more important than many other considerations we should have heeded.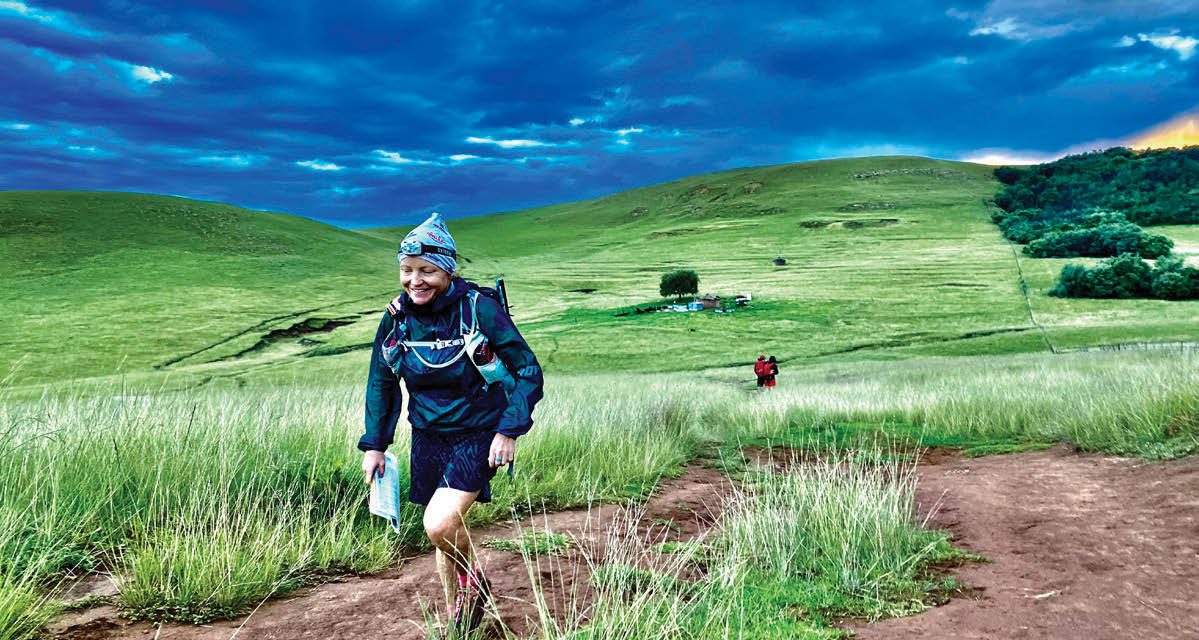 As Nicky messaged some days later: 'We made a lot of cock- ups. We know better for next time.'
Sitting in a field in the dark and calling for extraction was never considered an option. Failing was never planned or contemplated – and that won't change for future efforts. Even more so, I will build a mental wall against failure.
Somewhere in the middle of KZN in a field in the dark, three guys contemplate their position, the lady is sobbing big wracking sobs, quitting is not a part of her DNA. By tomorrow 6 am, at the latest, we should be leaving Vuvu support station to start the climb up Lehana's and make the finish at Rhodes before midnight – and that was the revised plan. The original was that we would be heading to Rhodes now.
Some rough field maths: 90km at our current two-day average would have taken 36 hours. Probability: cut-off at Tenahead with little sleep allowance – and almost a marathon remaining. We had made too many mistakes, lost too much time. Thrashing it out to see how far we could get? In an ordinary situation, without a doubt yes, continue! But life was getting real out there, and Dean, Peter and I agreed we needed to be driving back home on Monday, not running out of clock in 'the middle of nowhere' and then organising rescue.
If you and I both want to know, how I react to big picture stressors under duress – it is carefully: what option will cause the least damage?
Nothing prepared any of us for the disappointment of a DNF.
It's a bicycle race, how do you call this a DNF? Well we did enter a race, even if it was a bicycle race, and we did agree to the race rules and conditions, even if they were very slightly modified for our pedestrian locomotion. So when you withdraw or run out of clock, even as a runner in an MTB event, you simply: Did. Not. Finish. Rules are rules.
Unprecedented difficulty
You can read up to 3 premium stories before you subscribe to Magzter GOLD
Log in, if you are already a subscriber
Get unlimited access to thousands of curated premium stories and 5,000+ magazines
READ THE ENTIRE ISSUE
Issue 36