Metallica
Kill 'Em All and Ride the Lightning have fueled many heated sessions over the years. Now Metallica is ten albums deep spanning over their 35-plus years existence. Hardwired… to Self-Destruct fits right in with their early albums and they've been promoting it by playing smaller venues around the world, giving their fans an intimate experience to blow out their eardrums. James Hetfield took some time before playing Oakland's Fox Theater to talk about technology, the symphony and longevity.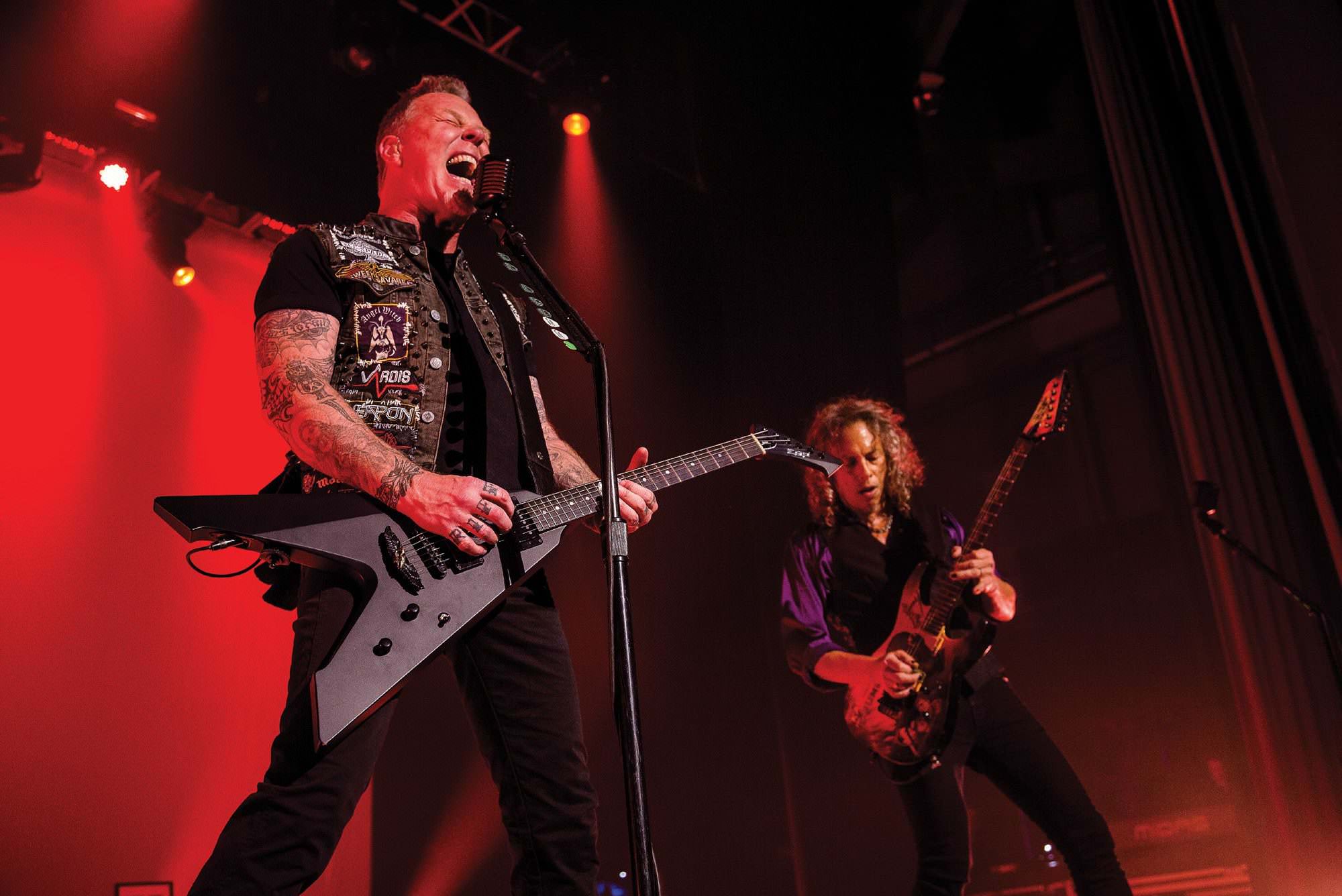 You've done huge stadium tours and festivals but recently you've been taking it back to smaller venues. Does playing a venue like the Fox bring you back to the Kabuki days in the '80s?
Ha! Almost like that. Dude, it's so fun. This is the last date on the promo tour. We've just been doing promo all over the place: New York, LA, London, Paris, Berlin, here—doing smaller gigs to get the vibe pumped up. Playing new songs, getting people excited, getting them out to see music, you know, metal music. I'd rather see a band in a small place. I love this place. The Fox is awesome. I've taken my kids to see plenty of gigs here. This is probably the biggest one of the clubs we've done recently. They've been between 150 to this, so we've had fun. Over in London we played the House of Vans.
I was there. That was an awesome show.
It was cool. It didn't sound the best but you're in a freaking tunnel.
It was a legit London dungeon. At that show you guys opened with Budgie's "Breadfan." I think its awesome how you guys pay tribute to other bands and have collaborated with other artist like Lou Reed. What does it mean to you to cover these songs and work with these artists?
Yeah, you know, we have our influences and every generation has their influences. It's not like we have to school anybody on anything. For us, it's exciting to work with people like that. People that are kind of outside of the box. Doing cover songs for us is always fun. Paying homage to all of the bands that have helped us on our path to Metallica, you know? From the Misfits to The Ramones to Motörhead to Blue Öyster Cult to all these underground New Wave of British Metal bands. So yeah, we don't have to school people but I don't know—I guess I school my kids in a different way. Like riding to school, "Hey, this week we're doing the Beach Boys, next week we're doing the Ramones, next week AC/DC." I just play some stuff. They don't have to like it but at least know it.
So when you're driving no one else gets to touch the radio?
Well, in most of my hot rods they don't know where the radio is. It's all hidden.
Both Metallica and Thrasher started in 1981 and have been going strong. What's the secret to your longevity?
Well, honesty for sure. Doing what you want and playing what you feel good playing. When you put out the good vibes and you put out the honesty in your art, people show up. We learned pretty early on that there was no party for us so we made our own. We made a party and everyone's invited. If you don't like the party, don't come. Simple as that. I think Thrasher's the same way. It's making a huge impact these days. My kid's wearing Thrasher stuff. I had nothing to do with it and I asked him, "Where'd you get that?" He's, like, "Uh, I think it's cool."
You guys kind of broke the mold with the release of Hardwired… to Self-Destruct.
You can read up to 3 premium stories before you subscribe to Magzter GOLD
Log in, if you are already a subscriber
Get unlimited access to thousands of curated premium stories, newspapers and 5,000+ magazines
READ THE ENTIRE ISSUE
MARCH 2017