Aidan Campbell
KID CALIFORNIA
What's up, Aidan? How was Christmas and shit?
It was tight. I just went down to my parents' house and hung out for a couple days.
I probably know you the least of the dudes on Foundation, wouldn't you say?
I would say so, yeah. We haven't been on too many trips.
We haven't been on no trips.
Yep. Oh, we went to Vegas.
I guess that counts.
Yeah, we never really been too far.
How many trips did you go on filming for this video? We went on one Foundation trip. But how many trips have you taken yourself or with some of the other guys to put this part together?
I'm gonna say four, I think. I went out to SF a bunch of times, went to Duffel Land. I'm gonna say about four.
Four trips and two of them were to Duffel Land?
Yeah. And then Vegas and then we're gonna go up to Sac on the third of the month.
Oh yeah. And you went to Chicago.
Oh shit. Yeah, I did go to Chicago.
How do you feel about your part? Is it coming together? Because you're filming for three things at once, right? You're filming for the Etnies video, you're filming for Skate Locos and then you're filming for Oddity.
I'm psyched on the footage I have with Don. I mean, I feel like any project always feels like it's never done. There's always stuff that you want to do or that you haven't been able to land and stuff like that. But I'm super psyched on the stuff I've got for Foundation, for sure.
I'm psyched too. All of the stuff I've seen has been really good and I think people will be psyched to see it. Because this will be your first part for Foundation, right?
Yep, besides the welcome part.
Is this your first full-length part in an actual skate video?
Yeah, it's my first one in a video and I'm really psyched about it. Because I feel like growing up that's all I saw and I feel like right now it's kind of dying, videos themselves. It's all Internet stuff so I'm super psyched to actually get in a full-length video.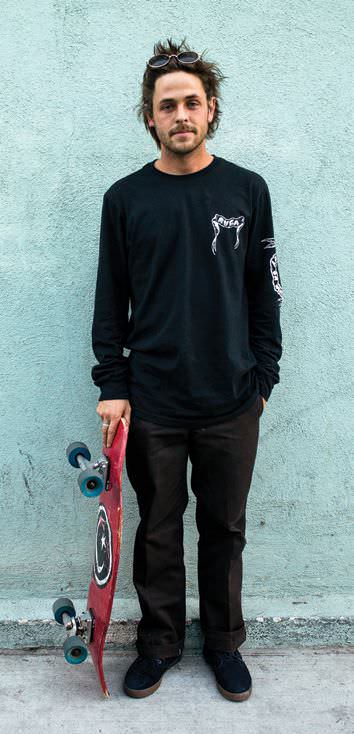 Do you know we've got another video coming out in 2017? Have you heard the rumors yet?
I have heard the rumors. I'm psyched about it.
So after this video drops we're gonna drop another one next holiday, so be ready.
Another full length?
No, it's gonna be a different style video. It'll be a full team video but it's not gonna have nine parts, you know what I mean? So then the Etnies video, tell me a little about that. When is that supposed to come out?
I haven't heard any deadlines yet but we've been filming for quite a while now, like a little over a year. It's their first video since High 5, so everyone's super stoked that that's coming out. We got a cool team, you know? And all the stuff that I've seen so far is really, really gnarly.
Who on the current Etnies team is gonna outshine Penny in High 5?
I'm gonna have to say maybe Nick Garcia. He's been doing some crazy shit, man, he's been doing some really cool stuff.
That's rad. He's smooth too. I like him.
You can read up to 3 premium stories before you subscribe to Magzter GOLD
Log in, if you are already a subscriber
Get unlimited access to thousands of curated premium stories, newspapers and 5,000+ magazines
READ THE ENTIRE ISSUE
MARCH 2017