At Your Own Risk: Finding Waves In Dangerous Waters
Reconciling the perfect waves and terrifying truths of Runion Island's shark-laden coast.
Words and Photography by Alan Van Gysen
It was just a few days before our departure to Réunion Island when we heard the news: 13-year old local surfer Elio Canestri had been fatally attacked by a bull shark on the island's west coast near Saint-Gilles. Every surfer on the island knew Canestri, and the tragedy struck a painful chord within the local surf community. "Elio was one of our best up-and-coming surfers," said fellow Réunion native Jeremy Flores. "Words can't describe how sad and angry I am… It's heartbreaking news."
Canestri's death sent shockwaves throughout the island that were still being felt when I stepped off the plane with California surfer Dillon Perillo and South Africa's Brendon Gibbens. Outside of Roland Garros Airport near Saint-Denis, we bumped into a Réunion local who eyed our board bags incredulously. "You here for surf ?" he asked in his thick Réunion-French accent. "Er…yeah," replied Gibbens hesitantly. The man put his hands in front of his face, opening and closing them in the universal symbol of a shark bite.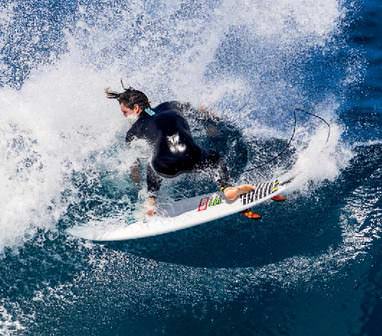 I could almost see the blood drain from Gibbens' face as he turned to me. He was silent, but his eyes spoke volumes: "Why did we come here?"
Perhaps the non-refundable tickets had something to do with it. Most surfers would have reconsidered going on a surf trip to Réunion in light of the recent events, but we knew there would be inherent risk even before we booked our flights. We went against the urging of our families and our own better judgment, tricking ourselves into thinking that Réunion's world-class waves were worth the risk, the same way the handful of core locals still rationalizes paddling into those troubled waters.
If you've been following the news in Réunion, you might think that the island is the shark attack capital of the world. Almost, but not quite. According to the International Shark Attack File, Réunion ranks No. 8 for attack activity between 2005 and 2014. Since 2011, the small Indian Ocean isle has been rocked by 17 shark attacks, almost all involving bull sharks and seven of which have been fatal. That tally doesn't include the sightings, of which there have been many, or the rumors that have been circulating around the island, like the one about the dog playing fetch and being eaten by a bull shark after his owner threw a stick into the water.
We tried to put those stories out of our minds as we headed to the beach at Saint-Pierre for our first session. The wave we came to surf was supposedly the safest on the island, located on Réunion's south coast far from the most recent attack. As an extra precaution, Perillo had painted black stripes on the bottom of his board. He had read about this strategy called biomimicry; it's a kind of pseudo-science that asserts that black stripes on a board will remind sharks of a certain poisonous fish. Perillo didn't need much convincing, and he arrived on the island with a striped quiver. But while striped surfboards may or may not deter sharks, they certainly don't do much to quell anxiety.
"I wasn't really worried about it until we were at the beach about to paddle out," Perillo says."Then it was all I could think about—all the attacks and what the likelihood was of that happening to me."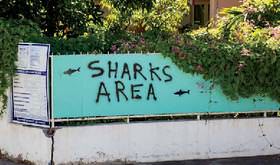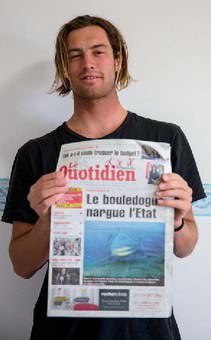 You can read up to 3 premium stories before you subscribe to Magzter GOLD
Log in, if you are already a subscriber
Get unlimited access to thousands of curated premium stories, newspapers and 5,000+ magazines
READ THE ENTIRE ISSUE
September 2015