Alternate Origins - Surfing In Morotai, Indonesia
In the vacuum of an isolated Indonesian island, a different kind of surf culture has taken shape.
George Matthews, photographs by Jason Childs
In a weathered hut near a crescent shaped beach, Bapak Carel lit his lantern and began telling us the story of his island. Carel had lived on Morotai his whole life and thought he was somewhere between 98 and 109 years old; he couldn't say for sure. His voice was shaved down by the ages to little more than a whisper, and he told us about a very different time in his small village when he was a young man. Back then, he was strong enough to climb trees to fetch coconuts, which he was often asked to do by the Japanese soldiers camping in the jungle nearby.
At the time, there were hundreds of Japanese soldiers living on the island. It was 1944, Morotai had strategic importance in the Pacific War, and the Japanese soldiers had been tasked with defending it from American forces. But when the Allied landing party of more than 50,000 troops reached the island, the Japanese were quickly overrun.
Carel doesn't remember much of the fighting. He said it took place mostly in the swamps to the southwest of his village, where the landing craft didn't have to worry about incoming swell. But Carel did remember two of the soldiers: one Japanese, and one American.
The Japanese soldier was Teruo Nakamura, who was famously the last Japanese soldier to surrender during World War II. After the initial attacks, Nakamura retreated into the jungle, where he built a hut and lived from 1943 until his eventual surrender in 1974. Carel brought him coconuts from time to time throughout the 31-year ordeal.
The other soldier was a young black Marine whom Carel remembers only as "Sam." Unlike the rest of the Marines, Sam had stayed on Morotai after the battle, married one of the villagers, and fathered five children, eventually dying of natural causes. Sam changed the course of Morotai's history, says Carel, because he was the one who taught the villagers how to surf.
Long before I found myself in Carel's hut, I had heard stories of the Morotai surfers from photographer Jason Childs. Childs is based in Bali, but has explored much of Indonesia in search of waves. It was one of these reconnaissance missions that first led him to Morotai. He didn't find world class surf on the island, but he did find one of the most unique surf cultures in the world one that had developed in total isolation.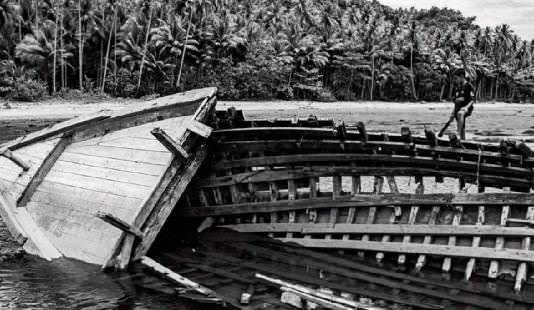 In a globalized world where communication is unimpeded and ideas cross oceans instantaneously, I was curious about how a surf culture would evolve if left to its own devices. I wondered what boards these surfers would ride, and how they would ride them. I wanted to look into this cultural petri dish and see what had grown without the influence of magazines and movies, world champions and Instagram celebrities.
The problem with traveling to a place that isolated is that there is no easy way to do it. Our journey from Bali was filled with grueling inter inter island flights and bumpy car rides, and the closer we got, the more ponderous our mode of transport became. We took a plane so small that the pilot had to leave his jungle-survival kit on the runway to make room for our boards. Later in the journey, we had to drive our car onto a tiny bamboo raft to cross a dark lagoon. The ferryman seemed confident that the raft could keep us afloat, but the water lapping against our hubcaps suggested otherwise.
When we finally arrived on Morotai, we were on the opposite end of the island from the village and had to drive four hours through a dense, smoldering jungle. The landscape looked prehistoric, and the foliage grew at us from all angles,
threatening to reclaim the tiny dirt road. As we edged closer to the village, the sky
You can read up to 3 premium stories before you subscribe to Magzter GOLD
Log in, if you are already a subscriber
Get unlimited access to thousands of curated premium stories, newspapers and 5,000+ magazines
READ THE ENTIRE ISSUE
October 2015