The Art Of Cheteshwar Pujara
Sportstar|October 19, 2019
The India Test No. 3 talks about his form in the shorter formats, how he prepares for series, playing spin bowling and the favourite innings he has played.
As the India Test No. 3 batsman, the comparisons to Rahul Dravid were inevitable for Cheteshwar Pujara, more so because of his classic technique and temperament. But the Saurashtra player brushes those aside, citing his predecessor when he says: "Try to be who you are, rather than trying to copy someone."
No-one of the most experienced Indian players in Tests, Pujara talks about his form in the shorter formats, how he prepares for series, playing spin bowling and the favourite innings he has played.
In the times we live in, with social media, comparisons are inevitable, especially in the sporting arena. It happened with you as well; as soon as you hit the cricket scene, you were tagged as the "next Rahul Dravid." Both of you were tabbed as defensive batsmen even though you have all the strokes in your repertoire and can play at all tempos. How do you navigate through these stereotyping and not let that affect how you approach your batting?
I do not believe in comparisons. Rahul bhai is someone I grew up watching. It is an honour to be compared with him and I've learned so many things from him. He was very helpful when I became part of the team. He was playing when I made my debut. It was one of my dreams to play alongside Rahul bhai. Even after he retired, through his roles as coach of the India A team and mentor of other teams, he has always helped me and has always been approachable. I've learned so many things from him, but I wouldn't like comparing myself to him. He has also advised me to "try to be who you are, rather than trying to copy someone." I've always believed in playing my natural game, and yes, there are so many similarities, especially when you are batting at No. 3 because you have to see through the new ball; you have to bat for a time if the pitch is difficult. I don't believe it is the right comparison because he has scored more than 10,000 runs in Tests and ODIs (One-Day Internationals), and I still have a long journey ahead.
You are a veteran in the side — the third most experienced after Ishant Sharma and Virat Kohli. With experience, you know who you are and how to compartmentalize the comparisons and other things. But when you were new in the side, how did you process through the comparisons and stereotyping?
Even when I was younger, I focused on things which I had to do to be successful at the international level. It is a journey, being an international cricketer. You know there are so many things that will follow you through your career, and to make progress, you have to learn this game. So, as a youngster, I focused on learning this game and progressing in my career rather than worrying about whether I'll be able to fi ll Rahul bhai's shoes or be as successful as him. I never thought about any such thing. But as I said, I've always wanted to learn from great players like Rahul bhai. I learned a lot from Sachin (Tendulkar) paaji. All these players guided me a lot and that's all you could want as a youngster in the side.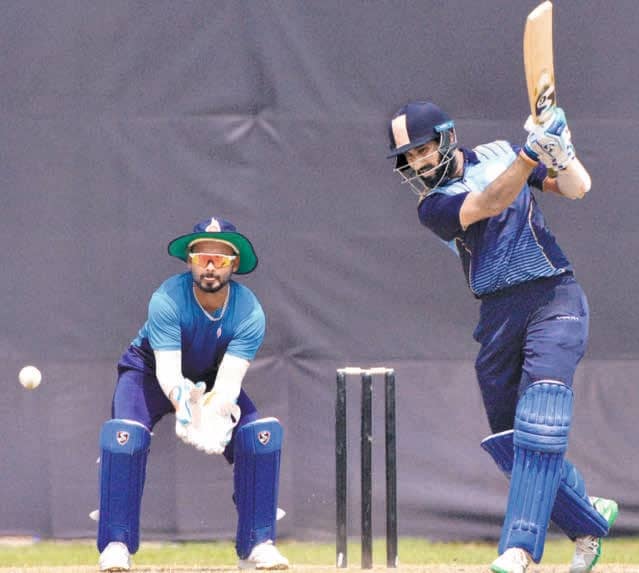 There is also another stereotype that Pujara is not suited for T20s (Twenty20s) and that "he can't play T20." It is not a criticism of you, but people say things. It's possible that playing T20s may not even be on your radar or that you may not be willing to sacrifi ce your Test batting to suit T20s because we have seen batsmen trying to change their techniques to play T20s and end up not successful in any of them or only succeeding in some formats. How do you approach that?
If you look at recent domestic T20 cricket, you'd see that I'd scored some runs. I've always believed that I can play white-ball cricket; there is no doubt about it. I am still learning — there is a lot to learn about batting in the shorter formats since I specialised in Test cricket. At the same time, it is only marginal changes you have to make in your game to be successful in shorter formats, which I have done. I have seen the success in domestic cricket and I am confi dent that I'll be successful if I get an opportunity in any of the IPL (Indian Premier League) teams. I scored enough runs in white-ball cricket when I played in (English) county cricket. So, it is not about being successful in the shorter format. My List A record is quite good. I am very confi dent that I can be successful in all formats of the game, but my priority will always be Test cricket.
I would like to get inside the head of one of the successful batsmen in the world right now. I've spoken to former batsmen who've talked about the need to switch on and switch off, and to conserve energy so that one could focus for longer periods. One anecdote was from a former Indian opener who said when playing against Shoaib Akhtar, he wouldn't look at him till the last few steps of his long run-up and that's when he would switch on.
What is your "switch on-switch off" process?
You can read upto 3 premium stories before you subscribe to Magzter GOLD
Log-in, if you are already a subscriber
Get unlimited access to thousands of curated premium stories and 5,000+ magazines
READ THE ENTIRE ISSUE
October 19, 2019