Spinning Away With Ashwin!
Sportstar
|
October 3, 2015
"It is very exciting, the South Africans are a great side. To compete with them here at home and do really well is going to be one of the challenging aspects for this Indian team, which is quite inexperienced," Ravichandran Ashwin tells S. Dinakar in this candid chat.
Ravichandran Ashwin is learning by the day and has become a far improved bowler.
Ravichandran Ashwin is flying high these days.The Man of the Series in India's triumphant Test campaign in Sri Lanka recently, the 29-year-old off-spinner is looking at the future with confidence.
His 21 scalps during the three Tests in Sri Lanka played a huge role in India roaring back to nail the series 2-1. Ashwin struck telling blows.
The Chennai cricketer, who has 145 wickets at 28.44 and 1103 runs at 32.44 in 28 Tests, has grown in stature and belief. He is also relishing the responsibility of being India's spin spearhead.
Sportstar caught up with Ashwin in Chennai recently.
Question: You had a wonderful tour of Sri Lanka. The delivery with which you dismissed Kumar Sangakkara in the second innings of the second Test, one that curled in to the left-hander before spinning away, should, probably, rank as the best in your career.
Answer: Probably yes. But you never know. I would like to surprise myself in the future. Maybe yes. The Hashim Amla ball will be very close to that, the Twenty20 World Cup ball. It was a carrom ball from round the stumps and was considered to be one of the balls of the century.
The delivery I bowled to Jehan Mubarak on the first day morning at Galle is something I would really like to remember. I got Sangakkara out at silly point. Thirimanne out nicking to slip. Then I put a short-leg in place and bowled an over-spinning ball. He played for the spin and it went to short leg. I thought that was a classical offspinner's dismissal. Someone who bowled really well and constructed a dismissal.
Setting up a batsman and planning his dismissal is a key element in a spinner's success…
It is. Like Angelo Mathews' wicket in the first Test of the series. I came back after a small break. Angelo was well set and batting well. He was looking to drive me. I put a long-on, a mid-wicket and a deep square-leg. He stepped out to drive, the ball dropped on him and he nicked it to short-leg and Rohit took a great catch.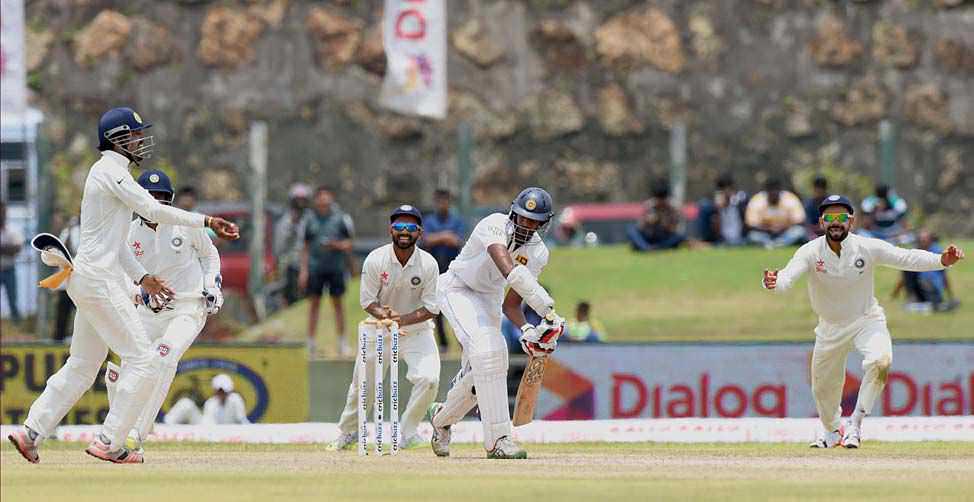 A dismissal from the recent Sri Lankan series that Ashwin (Not in pic) Cherishes... Jehan Mubarak caught by Lokesh Rahul at short leg in the first innings of the first Test in Galle.
How's your chemistry with India's Test captain Virat Kohli?
Kohli gives me a lot of freedom. I am always telling him what I am trying to do. I give him clarity about my plans. Give him a clear picture of what fields I need. He is more than happy to give me the fields I want. On occasions he differs. He tells me why he differs and there is a mutual consensus. The communication channels are so clear that even differences of opinions don't matter.
The series against South Africa represents a big challenge for the Indian team. How do you look at the long home series?
It is very exciting, they are a great side. To compete with them and do really well is going to be one of the challenging aspects for this Indian team, which is quite inexperienced. The advantage we have is that we will be playing at home. But it doesn't matter. That advantage is taken away somewhat because the South Africans have done really well abroad. They have travelled to every destination very well, they come hard in every single Test match that they play. It is going to be a real test of our character. We have to start well and keep the intensity levels high. If we win and put a positive result on the board we would have taken a big stride in our careers.
The busy season culminating in the World Twenty20 could be a physical and mental test…
If you look at it as a whole year, it is going to be mentally very draining. So what we do as international cricketers is look at one game at a time. One Twenty20 match, second Twenty20 match, one one-day, second one-day, one Test, the next. It is very important for you to stay in the moment. If you stay in the moment, the chances of you improving over a period of time are higher. To look at it as a long season is not quite the right way. If we are playing South Africa here, you cannot straightway look at the Test series without looking at the Twenty20 series. If you look at the Test series at this stage, you will lose focus of the current scenario.
Can you tell us how you have worked with India's bowling coach Bharat Arun?
You can read up to 3 premium stories before you subscribe to Magzter GOLD
Log in, if you are already a subscriber
Get unlimited access to thousands of curated premium stories, newspapers and 5,000+ magazines
READ THE ENTIRE ISSUE
October 3, 2015