On The Front Foot
Sportstar|October 19, 2019
While a month in England taught her many lessons, Jemimah Rodrigues is now gearing up for a busy season.
Jemimah Rodrigues is your girl next door! She loves travelling on the Mumbai locals, is in love with her guitar, and is the batting mainstay of India's women's cricket team!
All of 19, Jemimah — Jemi to her teammates — has made her presence felt on the Indian cricketing circuit with her smart batting style. After enjoying success at the international level, she had a memorable outing for the Yorkshire Diamonds in the Kia Super League in England, where she finished second among the run-scorers with 401 runs, behind only Danielle Wyatt's 466. While the month in England did teach her many lessons, Jemimah is now gearing up for a busy season. In conversation with Sportstar, the opener speaks about her game, life and more...
From being a talented cricketer in Mumbai to being India's batting mainstay... How would you describe the journey so far?
I still remember that the first bat was gifted to me by my grandfather when I was just three. It was a plastic bat and I would play with my brothers, Enoch and Eli. That's how I started playing cricket. Then I slowly got selected for Mumbai, then for the zonal, then for India under-19 camps. Looking back, I didn't expect that I will reach so far so soon, but everything fell into place. The right people came into my life — the coaches, the mentors, my father (Ivan) coaches me— so everything just went well. I still can't believe that I have reached here today. I am grateful for that.
What are the areas that you have particularly worked on?
In the last one year, I have worked on my batting like I have never before. I got into the Indian team and then toured South Africa. I did well, but I realized that if I have to be the best, I need to raise the standard. I did not want to be just one of the players; I wanted to be one of the mainstays of India. If I do well, my team will also do well. That was the main focus... International cricket is more of a mental thing as well. So I worked on both these aspects. I started working on hitting sixes and my strike rate — developing some new shots, working on some particular areas. I was just a front-foot player. But in Indian cricket, you can't just survive being a front-foot player, you need to work on your back foot as well. I then started working on bouncers, short-pitched deliveries and obviously pull shots. After every tour, it was a different experience and I also knew what I needed to work on. I used to sit with my dad and he would advise me on how to go about it. I wanted to get better!
You spoke about being a front-foot player. Is it a Mumbai thing? Because most of the players in the Mumbai cricketing circuit have this tendency...
I think it is because of the wickets we play on in Mumbai. Normally, we get low wickets and playing on the front foot is always the best thing on such wickets. One of the major reasons is that and also in women's cricket, when you play domestic, most of the people keep bowling ahead. Every team has a plan to bowl on a good-length spot. Nobody has so much pace to bowl it short and bring it to the batswoman. That was one of the reasons why I didn't work too much on the back foot before playing for India. Once I got into the Indian team, I realised that people study your game a lot and they bowl at the areas which are not your strength. That's when I started working on the back foot.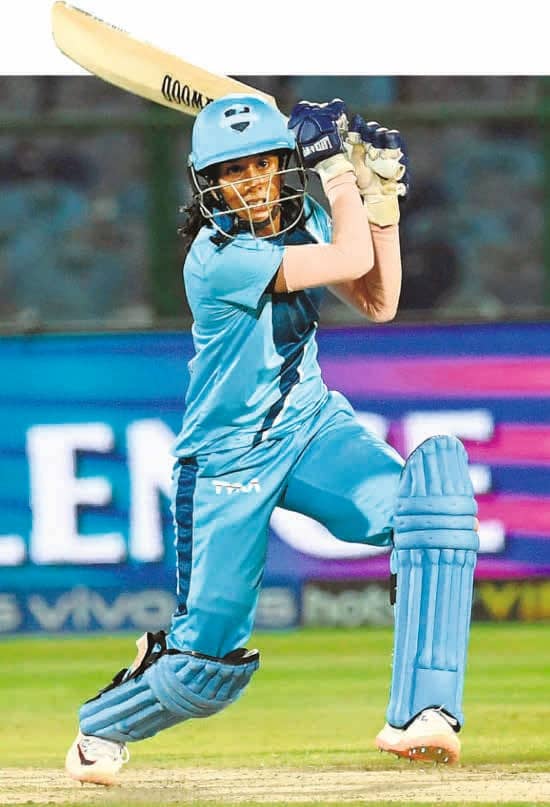 You had a session with Sachin Tendulkar. What did you talk about?
I still remember my first meeting with Sachin Sir. I was thinking that there are so many people in the world who just want a glimpse of him and I was blessed to have met him at his home. Before going to South Africa, everybody would congratulate me and the second line would be: "Oh, you are going to South Africa. There will be bouncy wickets, which will benefit pacers." I thought that instead of giving a 17-year-old girl confidence, why were they adding pressure (laughs)? Their intention was good — they wanted me to go all prepared — but somewhere it added to the pressure. Sachin Sir asked me whether I was nervous and I told him yes. It was my first time in South Africa and that too with the Indian team... He said: "It's good that you are nervous. That means you care for your game." That put me at so much ease because I realised it's fine to be nervous.
You can read upto 3 premium stories before you subscribe to Magzter GOLD
Log-in, if you are already a subscriber
Get unlimited access to thousands of curated premium stories and 5,000+ magazines
READ THE ENTIRE ISSUE
October 19, 2019