Meet The Glamorous Champions
Sportstar
|
November 14, 2015
In India, womens golf continues to be seen as A weekend affair for pretty girls. This, despite the growing influence of Asians, especially from Korea, Thailand and Japan, in world golf.
On the final day of the Indian Open golf for women, the sparse crowd at the DLF Golf and Country Club kept following a particular trio. Normally, such attention at major golfing events across the globe is reserved for the leader group — players at the top of the leaderboard and with the best chance of winning the title. Here, however, it was different. A young woman with a famous surname, who kept getting in and out of the top-five through the weekend but ultimately finished runner-up, was the cynosure.
If ever there was a need to be reminded that women's golf, despite the big strides it has made in recent years, remains name-oriented and not game-oriented, this was it. The moment Cheyenne Woods finished her final round — with a double bogey — the crowd dispersed. And by the time Emily Kristine Pedersen putted for the title, there were only a handful of club regulars present to applaud the Dane's efforts. The attention had simply drifted away.
There is no denying that golf in India has tried very hard to shake off its elite tag. While men's golf has moved on with some success, women's golf continues to be seen as a weekend affair for pretty girls in shorts. This, despite the growing influence of Asians, especially from Korea, Thailand and Japan, in world golf.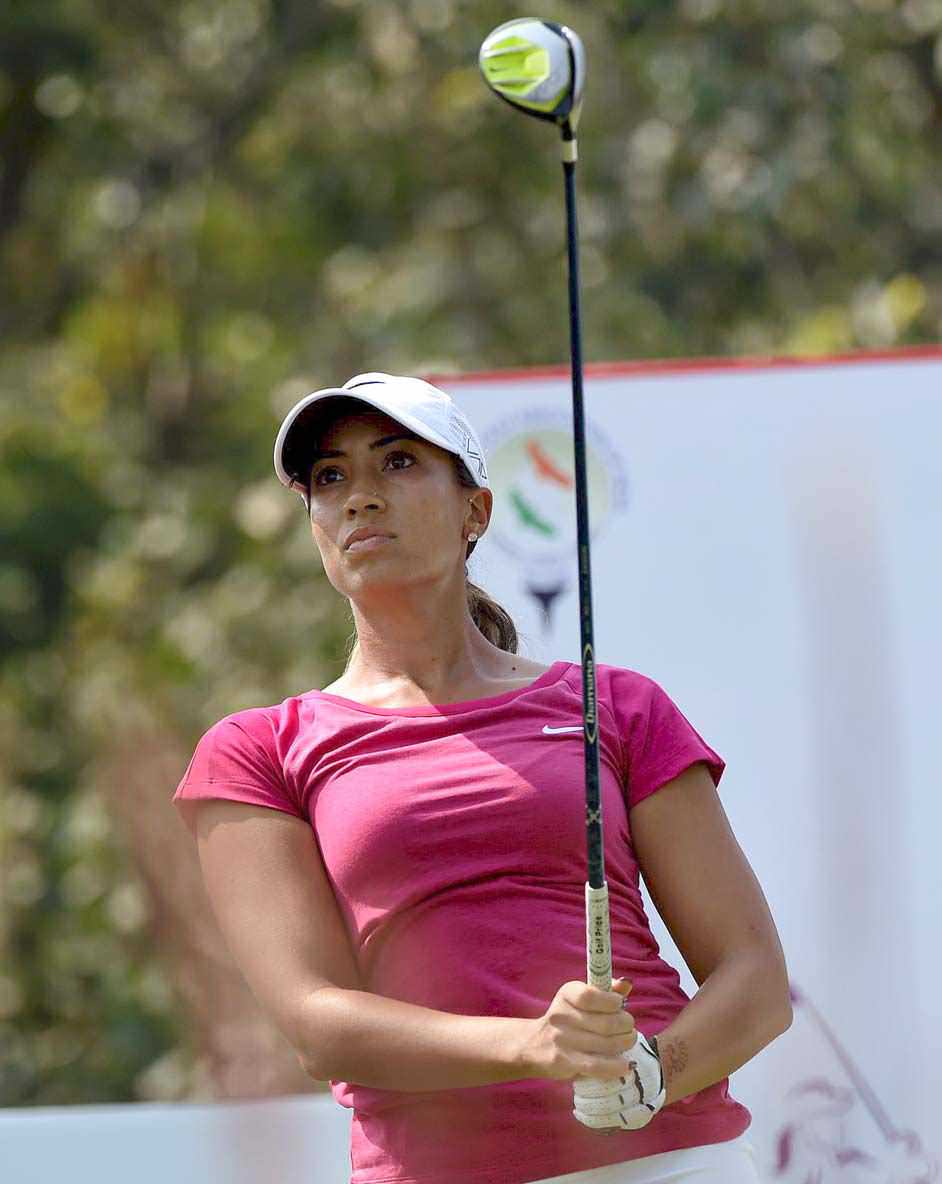 Cheyenne Woods… "I have learnt after so many events on the tour that it is not about your reputation, your driving or anything else on the course — it's about how many putts you make and pars you save."
"Sat Sri Akal India," says Cheyenne Woods. She is charming, carefree and curious to know the world around her. At 25, she is keen on making a mark in her chosen field, is serious about her career but loves to experiment in life. In short, she is every bit a normal, modern youngster. Except for the surname that she carries — Woods.
That famous last name would have been a heavy load to carry anywhere in the world. On a golf course, Cheyenne admits it is the proverbial Sword of Damocles, hanging forever over her head, as people wait to judge her. Tiger Woods' niece is more than aware of the legend that her uncle is on the greens and the fairways.
"I think a lot of people have a lot of expectations, but I don't know if I should say there is pressure (of being Tiger's niece). I haven't played with Tiger; we see each other only about once a year. But it helped having Tiger in the sport. I've always watched him on TV as a young girl and I always wanted to play with him," says Cheyenne, who was in India for the marquee Indian Open recently.
The Woods surname does help Cheyenne set her targets high. She admits it is definitely an advantage on the professional tour in terms of recognition, but denies it ever helps in her game.
"I have a lot of expectations of myself. At the end of the day, it's golf and I have to go out and execute it to the best of my ability. I have to work as hard as anyone and out there on the course, it's just you, the course and your caddy. The name doesn't help in improving performances. Everyone has his personal pressures and expectations, mine are just a little more public," she says.
You can read up to 3 premium stories before you subscribe to Magzter GOLD
Log in, if you are already a subscriber
Get unlimited access to thousands of curated premium stories, newspapers and 5,000+ magazines
READ THE ENTIRE ISSUE
November 14, 2015